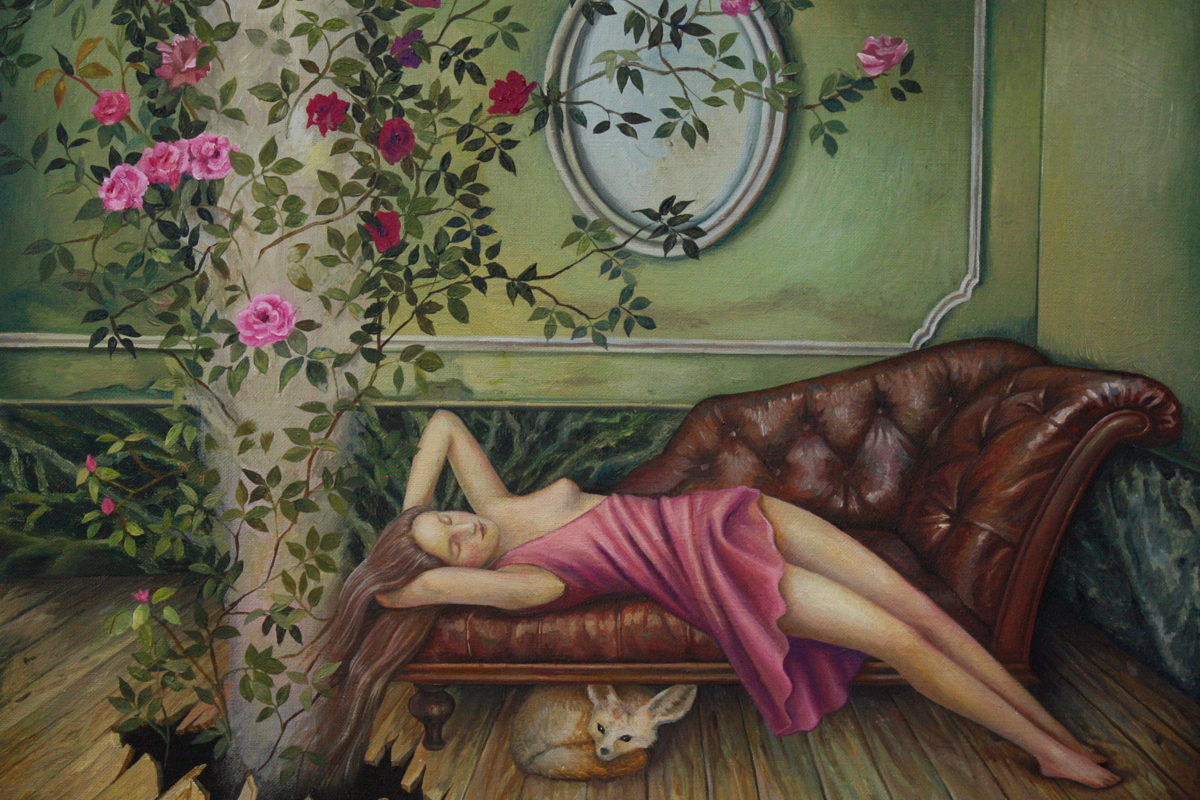 Inaugurazione giovedì 25 maggio
ore 18.30
YOU MAY NOT BELIEVE IN MAGIC…
Amy Crehore, Ilaria Del Monte, Camille Rose Garcia, Anne Siems
a cura di Michela D'Acquisto
Antonio Colombo Arte Contemporanea è lieta di presentare You May Not Believe In Magic…, mostra collettiva a cura di Michela D'Acquisto.
I lavori delle artiste Amy Crehore, Ilaria Del Monte, Camille Rose Garcia e Anne Siems sono pervasi da una rarefatta atmosfera di mistero che sovverte l'ordinarietà degli scenari raffigurati, collocandoli nel territorio liminale dove apparenza e verità, compenetrandosi, coesistono.
È un quid non facilmente definibile quello che, nell'insinuarsi sottilmente all'interno di composizioni rese con dettagliata accuratezza, conferisce una qualità straniante all'altrimenti lucida raffigurazione del mondo: una confluenza di elementi magici, ascrivibili tanto al filone letterario della favola quanto al folklore popolare e al mito.
L'armonia atemporale della rappresentazione viene disturbata da particolari che trascendono le regole della logica; ci si trova dunque di fronte a opere che sovrappongono in trasparenza realtà sensibile e realtà visibile, svelando così gli aspetti meravigliosi di quest'ultima e rendendo innegabili le strutture nascoste che la governano – «you may not believe in magic but something very strange is happening at this very moment». [1]
Eredi di quel Realismo Magico che, a partire dal primo ventennio del Novecento, ha posto l'accento sull'incanto intrinseco del mondo, le artiste si lasciano influenzare alla stessa maniera da Neue Sachlichkeit e da Valori Plastici, dai racconti di Jorge Luis Borges e da quelli di Dino Buzzati, rivisitando tali suggestioni secondo la propria cifra stilistica: i lavori risultanti invitano a un risveglio della sensibilità e propongono una visione della realtà mediata dal sublime.
In galleria saranno presenti dipinti, lavori su carta e ukulele dipinti a mano.
[1] LEONORA CARRINGTON, The Hearing Trumpet, London, Penguin Classics, 2005.
Amy Crehore nasce in Virginia nel 1953 e cresce fra Pennsylvania e il New Jersey, ritornando nel suo stato natale per studiare arte: dopo un BFA in Communication Arts And Design presso la Virginia Commonwealth University, si trasferisce sulla East Coast – e, per un breve periodo, in Inghilterra – per poi stabilirsi definitivamente in Oregon, dove attualmente vive.
A partire dal 1991 comincia a collaborare come illustratrice per Esquire, Playboy, Rolling Stone e altre importanti riviste e case editrici.
I suoi lavori, vincitori di numerosi premi, appartengono a prestigiose collezioni private e sono stati esposti in gallerie internazionali e musei americani, tra cui si ricordano: 2016, 11th Blab! Show, Copro Gallery, Santa Monica; 2016, Christmas Circus, Antonio Colombo Arte Contemporanea, Milano; 2015, Ephemeral – Territory Of Girls, Jiro Miura Gallery, Tokyo; 2011, Buy What You Love, Marianne Boesky Gallery, New York; 2011, Song Of The Sirens, Last Rites Gallery, New York; 2009, Dreamgirls And Ukes, Thinkspace Gallery, Los Angeles; 2007, Art Benefit For Literacy, Portland Art Museum, Portland; 2007, Literartistry, Corey Helford Gallery, Culver City; 2006, Sweetest Taboo, Roq La Rue Gallery, Seattle; 2003, Dreams, Museum Of American Illustration, New York.
Ilaria Del Monte (Taranto, 1985) vive fra Matera e Milano, dove nel 2008 consegue la laurea in Pittura all'Accademia di Belle Arti di Brera e nel 2010 si specializza in Arti Visive presso la stessa.
Fra le principali mostre personali, si ricordano: 2015, Sussurri, Galleria Punto Sull'Arte, Varese; 2014, Out Of This World, Antonio Colombo Arte Contemporanea, Milano; 2013, Quando Teresa Si Arrabbiò Con Dio, Scatolabianca, Milano; 2012, P.G.R. Per Grazia Ricevuta, Riva Arte Contemporanea, Lecce; 2011, The Window's Tales, Roberta Lietti Arte Contemporanea, Como.
Tra le collettive: 2016, II Biennale Di Salerno, Palazzo Fruscione, Salerno; 2015, Imago Mundi, Fondazione Sandretto Re Rebaudengo, Torino; 2014, Aliens, Palazzo Dell'Ariosto, Ferrara; 2013, Shop Le Jeux D'Amour, Galleria Ostrakon, Milano; 2012, Something Else, Antonio Colombo Arte Contemporanea, Milano.
Camille Rose Garcia (Los Angeles, 1970) cresce nella periferia di Orange County, dove fin dalla giovane età di quattordici anni lavora come apprendista per la madre, pittrice murale.
In seguito al MFA presso la University Of California – Davis, intraprende una carriera artistica che la vede fra i protagonisti dell'arte Lowbrow internazionale.
Fra le principali mostre personali, si ricordano: 2011, Snow White And The Black Lagoon, Michael Kohn Gallery, Los Angeles; 2010, Down The Rabbit Hole, Merry Karnowsky Gallery, Los Angeles; 2008, Ambien Somnambulants, Jonathan Levine Gallery, New York; 2007, Tragic Kingdom, San Jose Museum Of Art, San Jose; 2005, The Saddest Place On Earth, Grand Central Art Center, Santa Ana.
Tra le collettive: 2010, Art From The New World, Bristol Museum, Bristol; 2008, In The Land Of Retinal Delights, Laguna Art Museum, Laguna Beach; 2004, Spinning Yarns, Riviera Gallery, New York; 2003, Recent Works, Roq La Rue Gallery, Seattle; 2002, Juxtapoz 8th Anniversary Show, Track 16 Gallery, Los Angeles.
Anne Siems (Berlino, 1965) nel 1986 studia per un anno negli Stati Uniti come exchange student vincitrice di una borsa di studio Fulbright, e, dopo il MFA in Pittura presso la Hochschule Der Kunste di Berlino, nel 1991 si trasferisce a Seattle, dove attualmente vive.
I suoi lavori, vincitori di importanti premi, fanno parte di numerose collezioni private e pubbliche: per citarne solo alcune, American Airlines, Seattle; Arkansas Art Center, Little Rock; Boise Art Museum, Boise; Hallmark Collection, New York; Microsoft Collection, Redmond.
Fra le principali mostre personali, si ricordano: 2016, Drawings, Walker Contemporary, Boston; 2015, Dream Lessons, Laura Russo Gallery, Portland; 2014, Old Growth, Grover Thurston Gallery, Seattle; 2013, A Careful Observation Of Daylight, Obsolete, Venice; 2011, Paintings, Littlejohn Contemporary, New York.
Tra le collettive: 2016, Her Story, Walker Contemporary, Boston; 2012, 200 Years Of Grimm Fairy Tales, Goethe Institute, San Francisco; 2011, Taste, Seattle Art Museum, Seattle; 2009, Visage: Face Revisited, Rockford Art Museum, Rockford; 1998, Works On Paper, The Armory, New York.