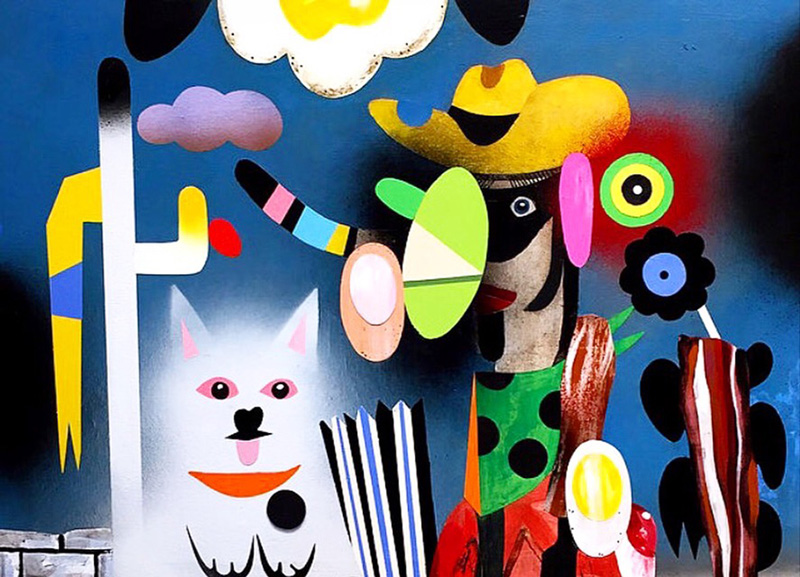 Luke Pelletier | T.L. Solien
Filling empty rooms
a cura di Michela D'Acquisto e Renato Montagner
Antonio Colombo Arte Contemporanea è lieta di presentare Filling Empty Rooms, la doppia mostra personale degli artisti americani Luke Pelletier e T.L. Solien, a cura di Michela D'Acquisto e Renato Montagner. Entrambi gli artisti vengono presentati per la prima volta in Italia.
Il giovane Luke Pelletier espone un corpo di lavori dalla vibrante energia pop, fortemente influenzati dalle culture punk e skate, in una celebrazione che al contempo è denuncia della società consumistica statunitense.
Residente a Los Angeles, ma nativo del North Carolina, Pelletier combina elementi caratteristici del suo home state, come coccodrilli e palme, con l'atmosfera decadente di LA : il risultato sono opere a metà strada fra opuscoli pubblicitari dalla grafica volutamente kitsch di qualche località turistica tropicale e improbabili nature morte ambientate in un tiki bar, composte da medicinali, ombrellini da cocktail e palle da biliardo.
Del resto, il quadro che presta il titolo alla mostra recita "lately, it's been feeling like, I've been filling empty rooms with questionable career moves", mantra della generazione dei millenials, e ben riassume lo spirito del tempo, commentato con tagliente ironia dall'artista.
Si tratta indubbiamente di una fresca contrapposizione alla maturità di T.L. Solien, uno dei protagonisti dell'arte americana dell'ultimo trentennio, che nelle sue tele fonde con abilità astrattismo e figurazione, creando così un linguaggio pittorico altamente personale con il quale affrontare i grandi temi della vita, filtrati attraverso l'esperienza autobiografica; per narrare la sua storia, infatti, Solien utilizza vivide pennellate geometriche reminiscenti delle tecniche di collage e stencil, che danno vita a personaggi simili a marionette, in un'agrodolce metafora sulla condizione umana.
Con il suo espressionismo rivisitato e corretto, carico di citazioni letterarie e contaminazioni della cultura popolare del secolo scorso, l'artista offre una disincantata interpretazione dello stato attuale delle cose, in particolar modo nell'America di oggi.
In mostra ci saranno più di trenta opere.
Luke Pelletier (Tampa, Florida, 1993) dopo il BFA presso la School Of The Art Institute Of Chicago si trasferisce a Los Angeles, dove attualmente vive.
Nel 2013 esordisce con la mostra collettiva Tonight We Fight presso la New Image Gallery di Los Angeles, a cui segue poi un'altra collettiva Everything's Cool and Nothing Sucks nel 2015. Sempre nello stesso anno inaugura la personale Tourist Seizin' e successivamente If It Floats nel 2016.
T.L. Solien (Fargo, North Dakota, 1949) vive a Madison, Wisconsin, dove attualmente insegna Pittura all'University Of Wisconsin-Madison.
In seguito al MFA in Pittura e Scultura presso l'University Of Nebraska-Lincoln, Solien intraprende una straordinariamente produttiva carriera artistica, che lo vede impegnato in importanti mostre internazionali.I suoi lavori fanno inoltre parte di numerose collezioni private e pubbliche: per citarne solo alcune, Art Institute Of Chicago, Chicago; Metropolitan Museum Of Art, New York; Tate Gallery, Londra; Smithsonian, Washington D.C.; Whitney Museum Of American Art, New York.
Tra le principali mostre personali, si ricordano: 2017, The Foreseeable Past, Tory Folliard Gallery, Milwaukee; 2009, To The West, Louise Ross Gallery, New York; 2008, Myths And Monsters, Madison Museum Of Contemporary Art, Madison; 2007, Drawings 1997-2004, Bockley Gallery, Minneapolis; 1983, Les Pierres Du Minnesota, American Center, Parigi.
Tra le collettive: 2017, Ocotillo, Tyler School Of Art, Philadelphia; 2016, Gotitforcheap, David Risley Gallery, Copenhagen/Steinslandberliner Gallery, Stoccolma/Haik Headquarters, Oslo/Agnès B Galerie, Parigi; 1989, Contemporary Drawings, High Museum Of Contemporary Art, Atlanta; 1987, Avant-Garde In The Eighties, Los Angeles County Museum Of Art, Los Angeles; 1983, Whitney Biennial, Whitney Museum Of American Art, New York.