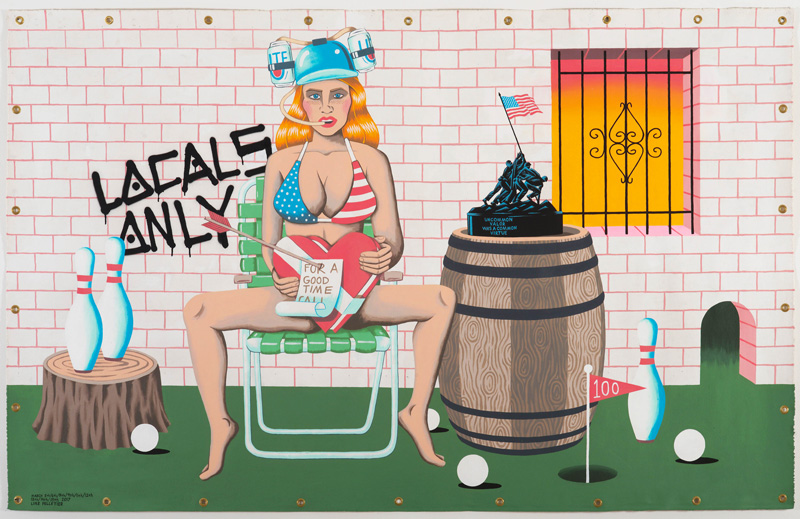 LUKE PELLETIER | T.L. SOLIEN
Filling empty rooms
curated by Michela D'Acquisto and Renato Montagner
Antonio Colombo Arte Contemporanea is proud to present Filling Empty Rooms, the double solo exhibition of the American artists Luke Pelletier and T.L. Solien, curated by Michela D'Acquisto and Renato Montagner.
The young Luke Pelletier exhibits a body of works with a vibrant pop energy, heavily influenced by punk and skate cultures, in a celebration that, at the same time, is also a denunciation of the American consumer society.
Based in Los Angeles, but native of North Carolina, Pelletier combines characteristic elements of his home state, such as crocodiles and palm trees, with the decadent atmosphere of LA: the result are works halfway between deliberately kitsch brochures advertising some tropical tourist location and unlikely still lifes set in a tiki bar, consisting of pharmaceuticals, cocktail umbrellas and billiard balls.
After all, the painting that lends the show its title reads "lately, it's been feeling like, I've been filling empty rooms with questionable career moves", mantra of the millennial generation, and well sums up the spirit of the time, commented with sharp irony by the artist.
It is undoubtedly a fresh contrast to the maturity of T.L. Solien, one of the protagonists of the American art of the last thirty years, who in his paintings skillfully blends abstraction and figuration, thus creating a highly personal pictorial language with which to tackle the big issues of life, filtered through the autobiographical experience; to narrate his history, in fact, Solien uses vivid geometric brushstrokes reminiscent of collage and stencil techniques, which give life to characters similar to puppets, in a bittersweet metaphor for the human condition.
With his revisited expressionism, full of literary references and influences of the popular culture of the last century, the artist offers a disenchanted interpretation of the current state of affairs, especially in today's America.
On show are about thirty works.
Luke Pelletier (Tampa, Florida, 1993) after a BFA at the School Of The Art Institute Of Chicago moves to Los Angeles, where he currently lives.
Solo Shows: 2016 If It Floats, New Image Gallery, Los Angeles; 2015 Tourist Seizin', New Image Gallery, Los Angeles.
Group Shows: 2015 Everything's Cool and Nothing Sucks, New Image Gallery, Los Angeles; 2013 Tonight We Fight, New Image Gallery, Los Angeles.
T.L. Solien (Fargo, North Dakota, 1949) lives in Madison, Wisconsin, where he currently teaches Painting at the University Of Wisconsin-Madison.
After a MFA in Painting and Sculpture at the University Of Nebraska-Lincoln, Solien undertakes a remarkably productive career, in which he is engaged in important international exhibitions.
His works are also part of numerous private and public collections: to name a few, Art Institute Of Chicago, Chicago; Metropolitan Museum Of Art, New York; Tate Gallery, London; Smithsonian, Washington D.C.; Whitney Museum Of American Art, New York.
Selected solo exhibitions: 2017, The Foreseeable Past, Tory Folliard Gallery, Milwaukee; 2009, To The West, Louise Ross Gallery, New York; 2008, Myths And Monsters, Madison Museum Of Contemporary Art, Madison; 2007, Drawings 1997-2004, Bockley Gallery, Minneapolis; 1983, Les Pierres Du Minnesota, American Center, Paris.
Selected group shows: 2017, Ocotillo, Tyler School Of Art, Philadelphia; 2016, Gotitforcheap, David Risley Gallery, Copenhagen/Steinslandberliner Gallery, Stockholm/Haik Headquarters, Oslo/Agnès B Galerie, Paris; 1989, Contemporary Drawings, High Museum Of Contemporary Art, Atlanta; 1987, Avant-Garde In The Eighties, Los Angeles County Museum Of Art, Los Angeles; 1983, Whitney Biennial, Whitney Museum Of American Art, New York.