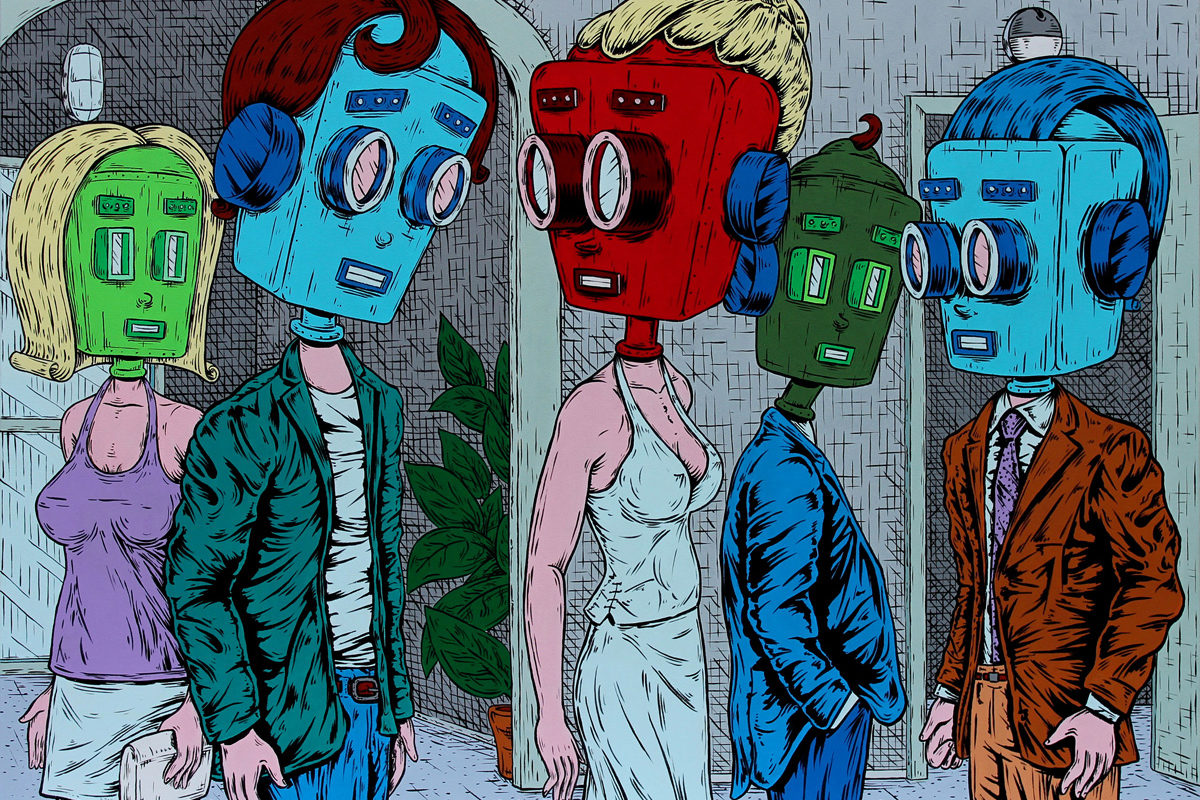 Opening on Thursday 6 April from 6.30pm
from 7th April until 20th May 2017
DAST 
FAR FINTA DI ESSERE UMANI
curated by Michela D'Acquisto
Antonio Colombo Arte Contemporanea is proud to present in Little Circus, the gallery space dedicated to special projects, Far Finta Di Essere Umani (Pretending To Be Human), the solo exhibition of the Italian artist Dast, curated by Michela D'Acquisto.
Dast proposes a series of works that, through the archetype of the robot, investigate the isolation of the contemporary man.
Concealing the identity of the protagonists of his works behind masks with features typical of Fifties' tin toys, the artist gives them the freedom to act according to their instincts, and meanwhile carries out a subtle analysis on the complexity of interpersonal relationships. Ambiguity and fiction, then, but in the first place solitude – meant both as an intrinsic condition of humanity and as a self-defense technique – are the aspects explored by the artist in his almost expressionist painting research.
Overtly influenced by the German avant-garde Die Brücke, to which the bold colors and the purely graphic stroke are attributable, Dast outlines a poignant reflection on the mechanisms that determine the relationship with the others and, in particular, with one's own inner reality.
On show paintings and works on paper.
Dast (Thiene, Italy, 1966), pseudonym of Danilo Strulato, lives and work in Vicenza, Italy.
After a degree in Painting at the Academy of Fine Arts Of Venice, he dedicates himself to art through self-publishing and the participation in numerous international magazines, such as the historic Frigidaire and Linus. During the same period he embarks on a collaboration with Mondo Bizzarro Gallery in Bologna, which publishes his volumes Horrorgasmo (2000), The Hell Inside Me (2001) and Mater Universalis (2003); his works are also published on the Lowbrow Art bible La Luz De Jesus 25 (2012), and in Robot. Il Grande Atlante Visivo Sul Robot (2016), curated by Luca Beatrice.
Selected solo exhibitions: 2012, Mutamenti, Fabrica Fluxus Art Gallery, Bari; 2009, Danze Macabre, Mondo Bizzarro Gallery, Rome; 2001, The Hell Inside Me, Mondo Bizzarro Gallery, Bologna.
Selected group shows: 2012, La Luz De Jesus 25, La Luz De Jesus Gallery, Los Angeles; 2012, Past Forward, Museo Civico, Bassano Del Grappa (VI); 2011, Vulpes Pilum Mutare, Museo Civico, Bassano Del Grappa (VI); 2005, Apocalypse Painting, Mondo Bizzarro Gallery, Bologna; 2003, Italian Pulp, La Luz De Jesus Gallery, Los Angeles.