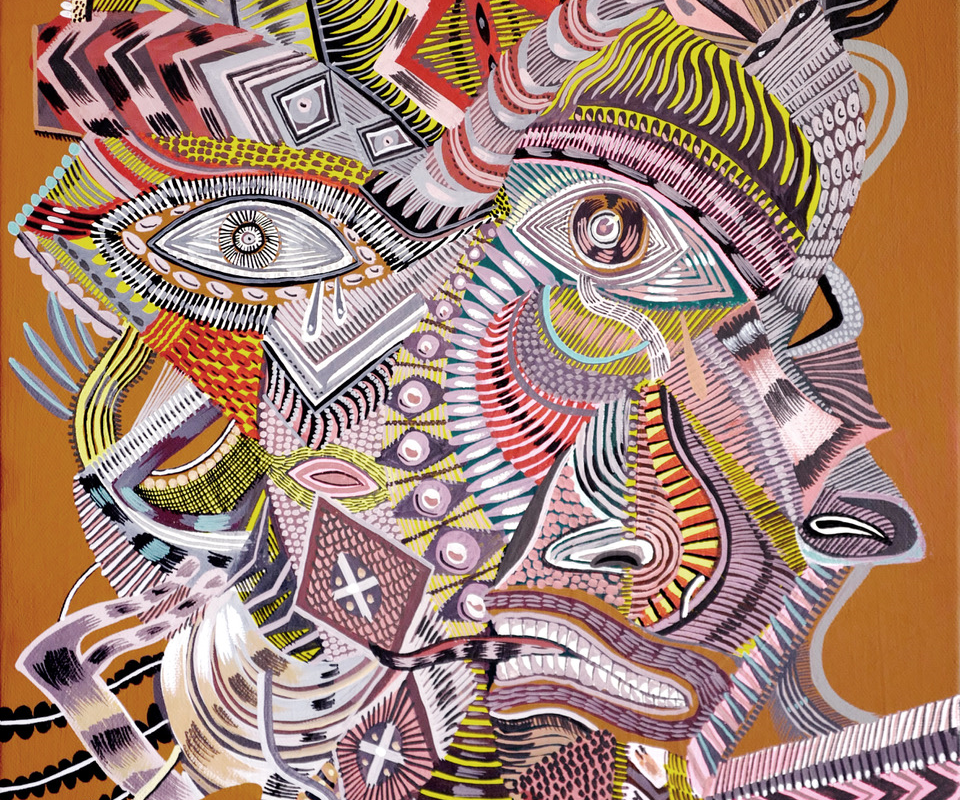 DANIEL GIBSON | ZIO ZIEGLER 
Picasso Post Punk
a cura di Luca Beatrice
Lo diceva Brian Eno, chiunque nella vita abbia ascoltato i Velvet Underground ha avuto la tentazione di formare una rock band. Allo stesso modo, chiunque si sia cimentato con la pittura almeno una volta si è sentito Picasso. Niente da fare, il genio di Malaga ha rivoltato la pittura come un calzino e nella sua lunga carriera ha posto le basi per influenzare le generazioni successive in un processo ben lungi dall'interrompersi, anche se sono passati oltre quarant'anni dalla sua morte.
Dopo aver attraversato le avanguardie europee, Picasso è "sbarcato" in America, influenzandone la produzione artistica almeno quanto Marcel Duchamp, dalle visioni surreali della stagione iniziale di Gorky, De Kooning e Rothko, fino al "primo pittore autenticamente americano", Jackson Pollock: in attesa di scoprire il Dripping che lo rese famoso, il talento maledetto così amato da Peggy Guggenheim rielabora segni e grafie intrise di picassismo.
Finisce lì? Niente affatto. Picasso si respira a lungo nella Street Art, in una versione alternativa e graffiante che ne esalta la più assoluta libertà creativa. Persino il regista-fotografo Larry Clark si interroga sulla contemporaneità di quest'opera così universale, intitolando una sua celebre mostra del 2003 (e un libro introvabile) Punk Picasso. Al tempo così scriveva Roberta Smith sul New York Times: "The show's title aligns his efforts with the 20th-century paradigm of histrionic autobiographical aesthetics. Dream on".
La suggestione attuale parte da qui. Siamo tutti Picasso? La risposta la offrono due artisti proposti da Antonio Colombo Arte Contemporanea. Il primo, Zio Ziegler è (si fa per dire) una vecchia conoscenza, l'altro, Daniel Gibson, una stagionale new entry.
Nato nel 1988 in California, Zio Ziegler, dopo la prima esposizione a Milano nel 2014 ha visto crescere esponenzialmente la sua carriera diventando un punto di riferimento nella cultura alternativa americana. La sua nuova produzione vira ulteriormente verso una pittura sempre più colta e consapevole dei propri mezzi, in cui le matrici sorpassano l'ambito della citazione per divenire vero e proprio stile, linguaggio. Dipinti come Back from the Grand Utah II, If you stand on your hands have
you lifted the earth I fanno esplodere la lezione picassiana, filtrata ovviamente dal linguaggio pollockiano, in un mondo surreale di colori e segni, mentre la serie Red Ground ne rende visibile un'ulteriore trasformazione verso la cultura urbana. Tutti questi lavori sono inediti e prodotti nel 2017.
Daniel Gibson è nato nel 1977 a Yuma in Arizona ma ha una storia artistica anch'egli prevalentemente californiana. Espone per la prima volta in Italia tele e carte che esaltano l'originalità del segno grafico, in gran parte in bianco e nero, quasi a prendere spunto dal Picasso di Guernica, ad esempio in Bull Fight, nell'ironico Her Studio Shot e nell'erotico Mina and Mao Mao. Un lavoro originale e intrigante, ancora da scoprire, che ribadisce una volta di più la necessità di un'origine colta per chi ha ancora voglia di cimentarsi oggi nella pittura. Per chi ci crede.
Ecco perché Picasso Post Punk. Contro ogni forma di accademismo, d'accordo. Ma la rivoluzione si fa studiando non improvvisando, lo spiegavano sia Marx che Gramsci, c'è da fidarsi.
La mostra inaugura giovedì 23 Novembre alle ore 18.30
E resterà aperta fino al 25 gennaio 2018
Da martedì a venerdì, dalle 10.00 alle 13.00 e dalle 15.00 alle 19.00 – sabato dalle 15.00 alle 19.00
Zio Ziegler, è nato nel 1988 a Mill Valley, California. Vive e lavora a San Francisco.
Ha studiato filosofia alla Brown University e pittura alla Rhode Island School of Design.
Tra le sue mostre personali ricordiamo nel 2017: Meta Species, Ochi Gallery, Sun Valley, Idaho, CA; nel 2016 The Hall of Mirrors, Solo Installation at Untitled Art Fair, Miami Beach, FL; Bernard Gwilliam & The Quantum Modernism, Jules Maeght Gallery, San Francisco, CA; To Arrive at the Truth, Ochi Gallery, Sun Valley, ID. Nel 2015 Paiting is the Pattern, Jules Maeght Gallery, San Francisco, CA; The Creative Dialectic, Artists Republic 4 tomorrow, Laguna Beach. Nel 2014: Chasing Singularity, Artists Republic 4 tomorrow, Laguna Beach, CA; nel 2013: The Infinite, Gallery 81435, Telluride CO, Chaos/ Clarity, Ian Ross Gallery, San Francisco, CA; nel 2012 Lost Illusions, Project Gallery, Hollywood, CA.
Tra le mostre collettive: nel 2015 group show, Wall Street Gallery Robertson, Los Angeles, CA; nel 2013 Winter Group Show, Stolen Space Gallery, London UK, Rise Above, Las Vegas NV, Neu-Folk, Lequivive Gallery, Oakland CA; Confluence, 5024SF Gallery, San Francisco CA, Complex Gallery, Portland, OR, Santurce es Ley, Museum of Contemporary Art Puerto Rico, San Juan Puerto Rico, Young Americans, Singapore Indonesia; nel 2012 FlashBang, Project One Gallery, San Francisco, CA; Primeval, Carmichael Gallery, Culver City, CA; and Chromatic: An Undeniable Experience, Roll-Up Gallery, San Francisco, CA.
Daniel Gibson nasce a Yuma, Ariziona, nel 1977. Attualmente vive e lavora a Los Angeles.
Alla prima mostra in Italia da Antonio Colombo Arte Contemporanea, vanta all'attivo diverse participazioni tra personali e collettive, tra cui: nel 2017, Always Be Drawing. 2017 survey, S.D.S.U gallery, Calexico, Ca; Tryin' to stay on the bull, New Image Art, Los Angeles, CA; Night Sweats, Current Projects, Miami, FL.; Wouldn't it Be Nice If We Could Dream Together, Diane Rosenstein Gallery, Hollywood.
Nel 2016, Always Be Drawing Vol1. O.N.O, Los Angeles, CA, Global Times Painting Painting To, Half Gallery, New York, NY; End of Semester, BBQLA. Los Angeles, CA; Fruit, LALAland, Hollywood, CA. Nel 2015, You got to come from somewhere, you don't just fall out of the sky. O.N.O, Los Angeles, Ca, The steak flew over the rainbow. BBQLA. Los Angeles, CA, LFPC Group Show. Daniel Rolnik Gallery. Santa Monica, CA.