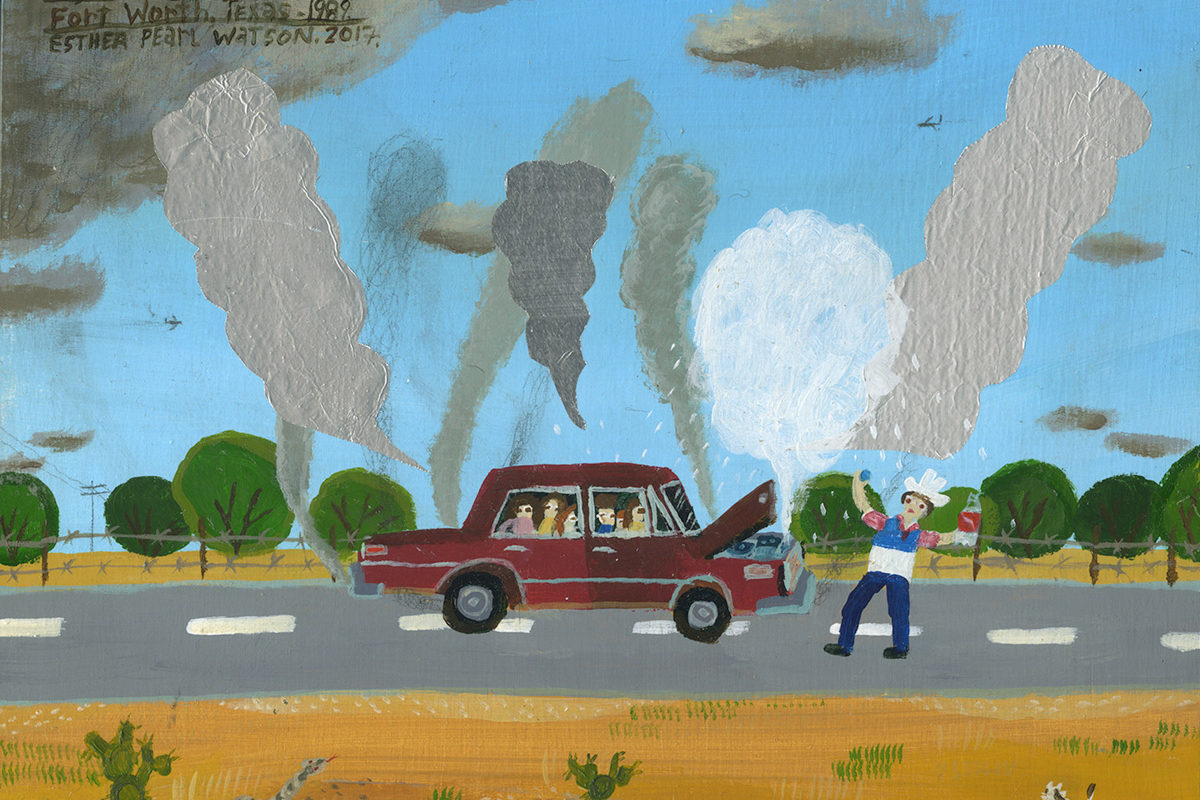 ESTHER PEARL WATSON
Starship Pegasus
Antonio Colombo Arte Contemporanea è lieta di presentare Starship Pegasus, la seconda personale di Esther Pearl Watson in galleria.
Nato dal nome di quella che era un'attrazione per viaggiatori, una navicella spaziale adibita a ristorante a tema, il titolo della mostra richiama la Monolithic Dome situata nella località di Italy, in Texas, in cui l'artista ricorda di essersi imbattuta, credendo di ritrovarsi nei pressi di un U.F.O.
Particolare è il rapporto che si è generato da questo incontro casuale: nei pressi dei luoghi dove Esther ha trascorso la sua infanzia, nello stato del Texas, la presenza di un'istallazione il cui nome rimanda alle origini italiane della sua famiglia, diventa un pretesto per ricordare.
Le opere in mostra presentano paesaggi pieni di queste memorie, di campi dove sognare il futuro sotto cieli stellati, delle strade di Ferno, percorse in bicicletta per andare ad osservare gli aerei decollare. Ad accompagnare le scene di vita quotidiana, i notturni mostrano come soggetti galassie, cieli stellati e agglomerati di stelle.
La ricerca dell'artista attorno al rapporto tra passato e futuro nasce dal convivere di queste suggestioni: stimolata da una visione di ricordi di infanzia, legati a quelle invenzioni del padre, inventore di dischi volanti costruiti con pezzi di motori e rottami, che costellano il suo passato con la loro rassicurante presenza, si evolve nell'intraprendere un viaggio verso un nuovo orizzonte futuro, di speranze e aspirazioni, da vivere in un'atmosfera di sogno e desiderio.
La mostra inaugura 23 Novembre alle ore 18.30
E resterà aperta fino al 27 Gennaio 2017
Da martedì a venerdì, dalle 10.00 alle 13.00 e dalle 15.00 alle 19.00 – sabato dalle 15.00 alle 19.00
Esther Pearl Watson (Francoforte, 1973) vive e lavora a Los Angeles.
È considerata dai critici un'artista insider-outsider, in quanto usa un linguaggio pittorico autodidatta, nonostante il diploma in pittura ottenuto al California Institute Of The Arts di Valencia (California).
Oltre a insegnare all'Art Center College Of Design di Pasadena (California), Esther è autrice di numerosi fumetti, fra i quali la pubblicazione di culto Unlovable. Oggi il fumetto è stato prodotto, in collaborazione con l'artista Mark Todd e Cartoon Network, come corto animato.
Tra le principali mostre personali: nel 2017 Webb Gallery, Waxahachie, nel 2016 Galactic Plains, Gregorio Escalante Gallery, Los Angeles, CA. nel 2015 Solo Exhibition, The Future Arrives, Galleri Galleberg, Norway, Two-Person Exhibition, Family Lexicon, Antonio Colombo Gallery, Milan, Italy (with artist Fred Stonehouse). Nel 2014, It's Not A Circus Without A Big Top, Webb Gallery, Waxahachie (Texas), With Open Eyes, Grafikens Hus, Mariefried, Sweden (with artist Mark Todd). Nel 2012, Fort Beavatron, CalArts Mint Gallery, Valencia (California); nel 2010 Big Dreams, Sandra Lee Gallery, San Francisco; nel 2009 Visions Of The Future, Billy Shire Fine Art, Los Angeles; nel 2007, The Weirding Field, La Luz De Jesus, Los Angeles.
Tra le principali mostre collettive: Nel 2017 Now More Than Ever, LACE Benefit Art Auction, Los Angeles, CA, For the Good Times, Sp(a)ce, Pasadena, Ca. Nel 2016 , Hearsay, Artists Reveal Urban Legends, LosJoCos Gallery, Los Angeles, CA. Nel 2015 Atrium, Amon Carter Museum of American Art, Fort Worth, TX, New Works, Webb Gallery, Waxahachie, TX. Nel 2014 Sky, Bedford Gallery, Lesher Center for the Arts, Walnut Creek, CA, (curated by DeWitt Cheng and Elizabeth Ferrer), Amazon Solitaire, Center for the Arts Eagle Rock, Eagle Rock, CA , Explorers, CSC Gallery, McLennan Community College, Waco, TX, Hexenhaus, 495 Alameda St, Altadena, CA nel 2013, Incognito, Santa Monica Museum Of Art, Santa Monica (California); nel 2012, House: Home, NYU Kimmel 8th Floor Gallery, New York; nel 2007, BLAB!, Copro Nason Gallery, Santa Monica (California).