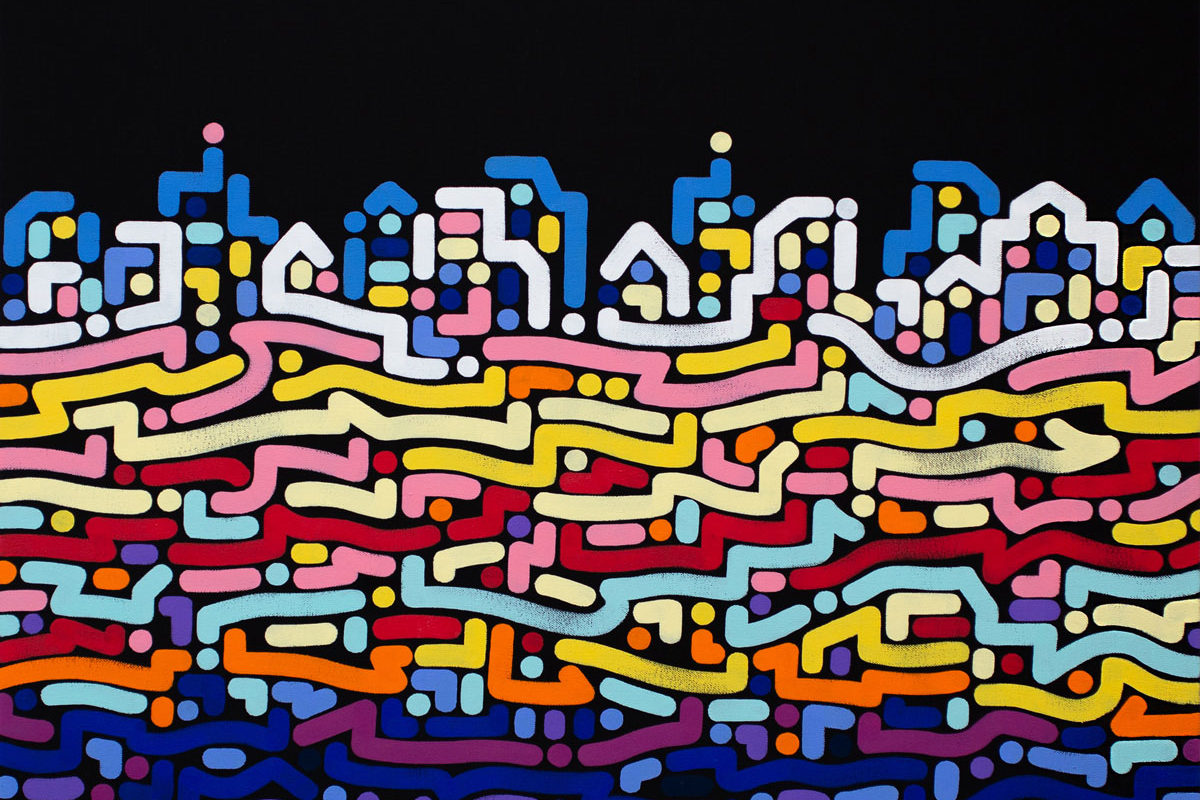 Inaugurazione mercoledì 3 aprile, ore 18.30
YOON HYUP – Innervisions
Antonio Colombo Arte Contemporanea è lieta di presentare, nel Little Circus, Innervisions, mostra personale dell'artista coreano Yoon Hyup.
Yoon ha iniziato la sua carriera di artista nei primi anni 2000, dipingendo muri e partecipando a live painting con DJ.
Influenzato dalla cultura urbana e dallo skateboarding, di cui è stato atleta professionista, Yoon ha affinato un personale modo di dipingere, fatto di linee e punti, ispirato in gran parte dalla ritmicità dello skeitare, ma anche dall'improvvisazione della musica jazz, funk e hip hop.
Yoon Hyup ha partecipato a mostre personali e collettive in gallerie d'arte e ha realizzato installazioni in spazi pubblici.
Ha lavorato per importanti realtà internazionali come Nike, Converse, Cinelli, Facebook e molti altri.
I suoi lavori sono esposti in numerose città del mondo, come New York, San Francisco, Tokyo, Seoul, Shanghai, Hong Kong e San Sebastian.
Per la sua prima mostra in Italia, Yoon Hyup ha realizzato una nuova serie di opere astratte, nate dall'esplorazione di differenti paesaggi urbani, dei quali l'artista ne riproduce il ritmo, il flusso e l'energia positiva.
Yoon Hyup (1982) è un artista Coreano, che vive e lavora a New York City.
Principali mostre personali e collettive: nel 2019 Midnight, GR Gallery, New York; nel 2018 Solo Show The Yard HQ, New York; Solo show, Huf NYC Store, New York; Kinetic, Kinfolk gallery, New York; nel 2017 Rhythm and Flow, 16 Shiduya, Tokyo; Pop&street –AN ANNUAL, Seibu Shibuya (Tokyo); nel 2016 Elevator art exhibition, Shinjuku Lumine 1 (Japan); Quest, Hpgrp Gallery, New York, mostra collettiva, Air Max Con, Hong Kong; nel 2015 The Treflip, Dennos Museum Center, Traverse City, Michigan; All is Art, All Bilbao, Spagna.
Ha inoltre collaborato con Nike, Cinelli, Wetransfer, NBA, Facebook, Rag&Bone e molti altri.