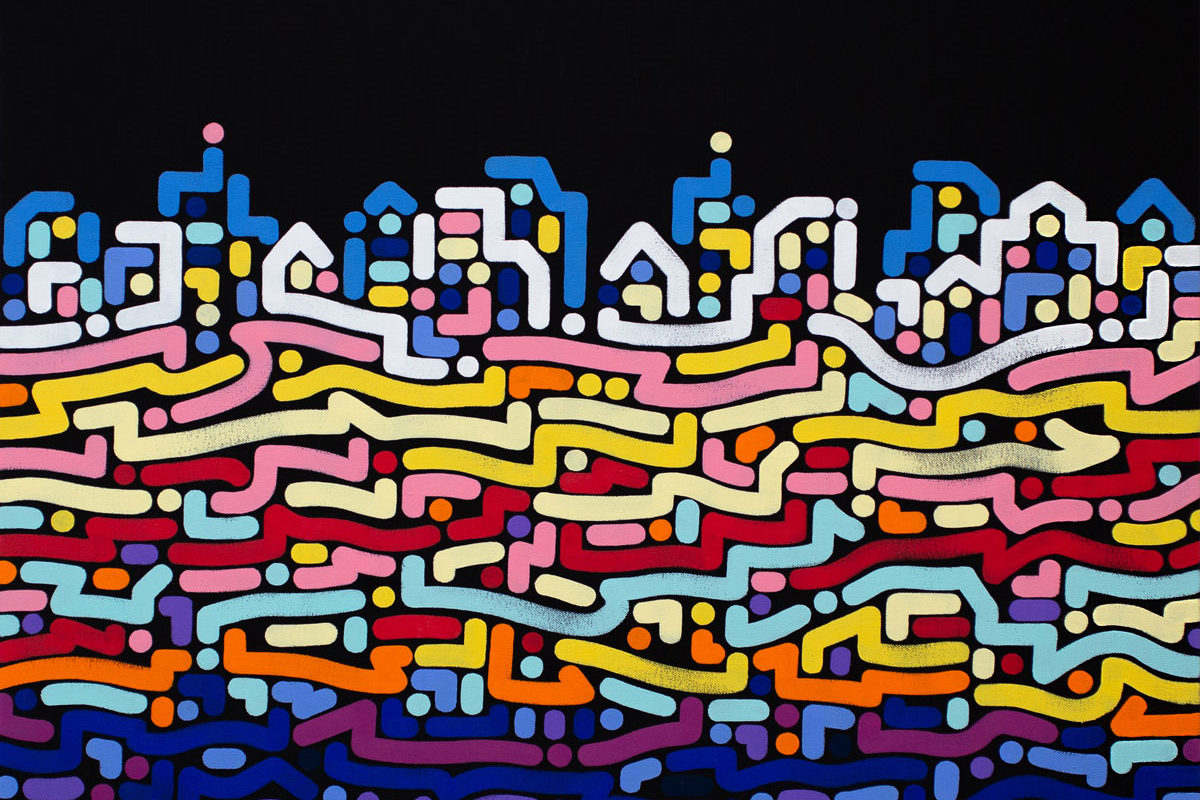 Opening Wednesday 3 April, 6.30pm
YOON HYUP – Innervisions
Antonio Colombo Arte Contemporanea is proud to present Innervisions, the solo exhibition of the Korean artist Yoon Hyup, in the Little Circus space.
Yoon began his career as an artist in the early 2000s, painting walls and participating in live paintings with DJs.
Influenced by urban culture and skateboarding, which he practiced as a professional athlete, Yoon has refined a personal way of painting, made up of lines and points, largely inspired by the rhythm of skating, but also by the improvisation of jazz, funk and hip hop music.
Yoon Hyup has taken part in solo and group exhibitions in art galleries and has created installations in public spaces.
He has worked for important international companies such as Nike, Converse, Cinelli, Facebook and many others.
His works are exhibited in numerous cities around the world, such as New York, San Francisco, Tokyo, Seoul, Shanghai, Hong Kong and San Sebastian.
For his first exhibition in Italy, Yoon Hyup has created a new series of abstract works, born from the exploration of different urban landscapes, of which the artist reproduces their rhythm, flow and positive energy.
Yoon Hyup (1982) is a Korean artist who lives and works in New York City.
Main group and solo exhibitions: in 2019 Midnight, GR Gallery, New York; in 2018 Solo Show The Yard HQ, New York; Solo show, Huf NYC Store, New York; Kinetic, Kinfolk gallery, New York; in 2017 Rhythm and Flow, 16 Shiduya, Tokyo; Pop&street –AN ANNUAL, Seibu Shibuya (Tokyo); in 2016 Elevator art exhibition, Shinjuku Lumine 1 (Japan); Quest, Hpgrp Gallery, New York, mostra collettiva, Air Max Con, Hong Kong; in 2015 The Treflip, Dennos Museum Center, Traverse City, Michigan; All is Art, All Bilbao, Spagna.
He also has collaborated with Nike, Cinelli, Wetransfer, NBA, Facebook, Rag&Bone and many others.