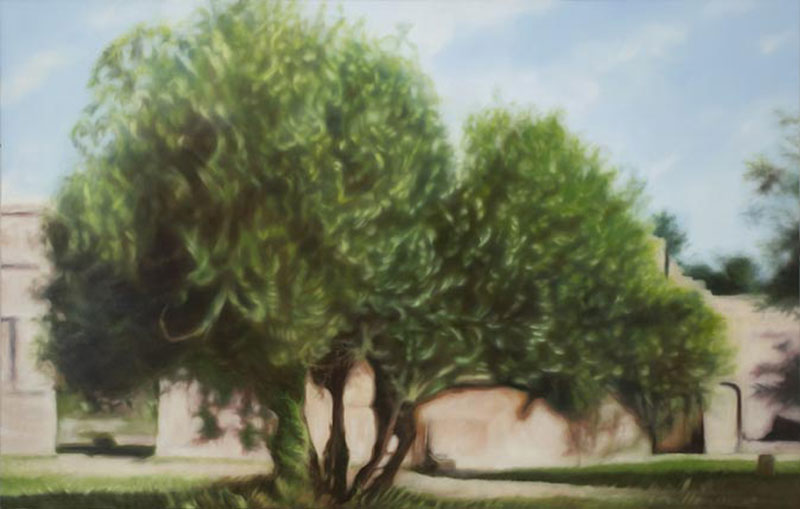 11.05 – 14.07.2006
WEARPROOF
Painting's infinite present
curated by Raffaele Gavarro
Wearproof examines the concept of painting acquiring significance when it manages to correspond to its present.
This is the way it was in the past and the way it still is in our present world.
But what does it mean today to correspond to a present that extends practically all the way to infinity?
The painting on display constitutes a fairly broad range of language and expression, stretching from Tibor's hyperrealism to Harris's liquid details and suburbs, through Hamilton's ironic geometries and Pacheco's painting so dense with images. It reaches all the way to Leal's rapid signs and Fabritius's atmospheres with their mysterious modernity.
Even though these artists already have an important place on the international scene, they are all – with the exception of Hamilton – on show in Italy for the first time.
Their most recent solo and group exhibitions are given below.
Tom Fabritius (Radeberg-Germany-1972. Lives in Leipzig)
Solo: 2006, Galerie Kleindienst, Leipzig, Germany.
Group: 2006, Zuruck zur Figur. Malerei in der Gegenwart, Hypo-Kulturstiftung, Munich, Germany.
Patrick Hamilton (Lovaina-Belgium-1974. Lives in Santiago, Chile)
Solo: 2005, Paradise Alley, White Project Arte Contemporanea, Pescara.
Group: 2006, From the other site/side, Museum of Contemporary Art,
Santiago, Chile.
Jim Harris (London-1968. Lives in Amsterdam)
Solo: 2006, Galerie Martin Mertens, Berlin, Germany.
Group: 2005 Kunstsalon Baruth, Baruth, Germany.
Miki Leal (Seville-Spain-1974. Lives in Madrid)
Solo: 2005, El Manantial, el Nadador y la Pintura, Galeria Magda Bellotti, Madrid, Spain.
Group: 2006, ¿Viva pintura!,Hangar 7, Salzburg, Austria.
Bruno Pacheco (Lisbon-1974. Lives in Lisbon)
Solo: 2006, HollyBush, Gardens Gallery, London, U.K..
Group: 2005, Barbican Gallery, New Contemporaries, London,U.K.
Iski Kocsis Tibor (Kisvarda-Hungary-1972. Lives in Budapest)
Solo: 2005, Retinentia, Deak Gallery, Budapest, Hungary.
Group: 2005, Derkovits Scholarship, Ernst Museum, Budapest, Hungary.