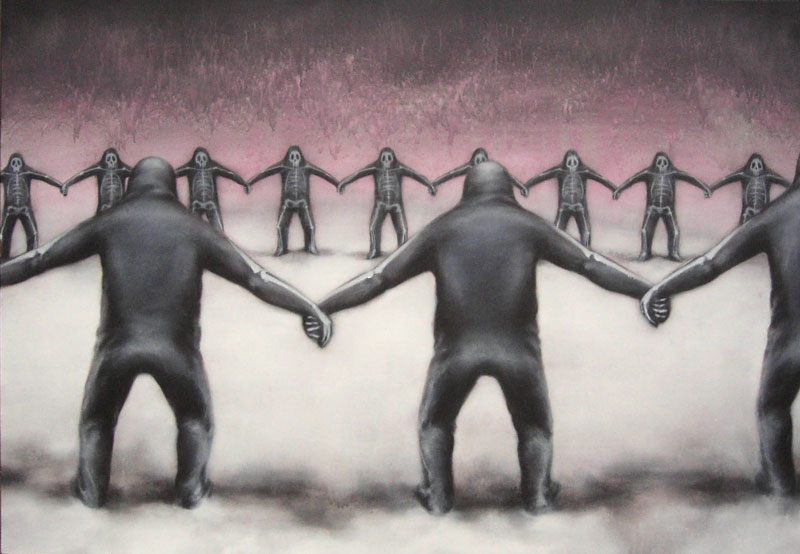 22.10 – 3.11.2006
LUIGI PRESICCE – Ventidue Perdoni
For his first solo show at Antonio Colombo Arte Contemporanea, Luigi Presicce presents a new cycle of paintings and sculptures. Starting with the rediscovery of his cultural roots, the artist has followed – through affinities and syllogisms – a cognitive path through anthropology, the study of primitive religions and occidental mythology.
The atmosphere of the exhibition one of suspense: everything seems like an omen, but nothing happens, or perhaps it has already happened.
The characters depicted in Presicce's paintings exist nowhere on earth. They are sheathed profiles, saints perhaps, clad in furs or feathers with little relation to the human dimension and a close relation to that of animals. Animal nature, for the artist, marks the point of contact between earthly knowledge and spiritual knowledge, symbolically joined in the horizontal and vertical axes of the cross. The works take the form of complex collages of symbols borrowed from Christian iconography, primitive cults and archaic rituals. Repetition, seen as a practice capable of bringing man closer to the divine (as seen in Tibetan mantras, tribal music and the liberating dance of the taranta), is the fulcrum of Presicce's sculptural works. Like the human-scale nest (over two meters in diameter) the artist has built utilizing branches collected and accumulated over time, or La danza del cervo (Deer's Dance), originally a plain branch, which thanks to the repeated action of the artist has been transformed into a precious ex-voto antler. Twenty-two pardons, the work that gives the show its title, is also its ideal conclusion: twenty-two crowns of thorns worn by hooded figures in a procession of Mysteries return to their original state as brush, no longer a symbol of suffering, but one of forgiveness and therefore rebirth.
LUIGI PRESICCE was born in Porto Cesareo (LE) in 1976. He lives and works in Milan.
Main solo shows: 2006 Ventidue perdoni, Antonio Colombo Arte Contemporanea, Milan 2004 Only happy when it rains, Iseyoshi Gallery, Tokyo; Fucking Christmas, cur. Giulia Pezzoli, Studio d'Arte Cannaviello, Milan. 2003 Introverso, Studio Ercolani, cur. Fabiola Naldi, Bologna; Fuori Luogo, cur. Fabiola Naldi, Galleria Zaion, Biella.
Main group shows: 2006 Open Air, Orto Botanico di Parma, cur. Marinella Paderni and Isotta Saccani; Il museo insostenibile, La Rada Spazio per l'Arte Contemporanea, Locarno, CH; Painting Codes, cur. Andrea Bruciati and Alessandra Galasso, Galleria Comunale d'Arte Contemporanea, Monfalcone (GO); L'infinito dentro lo sguardo. Una collezione permanente, cur. Giorgio Cortenova, Galleria d'Arte Moderna Palazzo Forti, Verona. 2005 Non ci sei solo tu, cur. Fabiola Naldi, in the context of the "Mauro Manara" Prize for Curators, Galleria Comunale di Castel San Pietro Terme (BO); Fair Play, cur. Laura Carcano, Complesso di Santa Sofia, Salerno; Clip It, cur. Luca Beatrice, Fondazione Sandretto Re Rebaudengo, Turin / British School at Rome, Rome. 2004 Italian painting: a new landscape, cur. Luca Beatrice, Galerie Hof & Huyser, Amsterdam; Assab One 2004, cur. Roberto Pinto, Ex Gea, Milan.Vernice, cur. Francesco Bonami and Sarah Cosulich Canarutto, Villa Manin, Passariano (UD) ; Fuoriuso 04, cur. Luca Beatrice, Ferrotel, Pescara; Black Album, cur. Luca Beatrice, Antonio Colombo Arte Contemporanea, Milan. 2003 Winter experiment, Monique Meloche Gallery, Chicago; Primo, Buia Gallery, New York, USA.