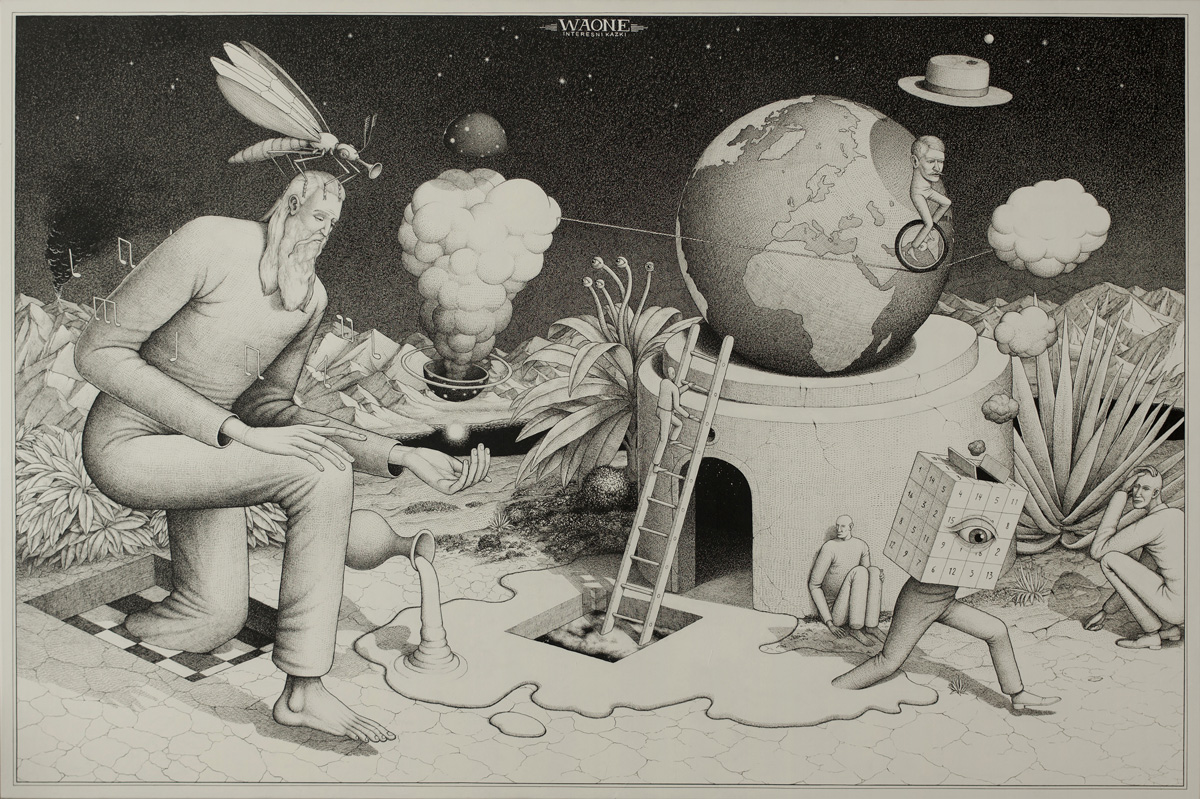 Opening: thursday 12 October
From 13 October until 18 November 2017
WAONE – Interesni Kazki | Weird Tales
curated by Ivan Quaroni
Antonio Colombo Arte Contemporanea is proud to present Weird Tales, the first solo exhibition of the Ukrainian street artist Waone (aka Vladimir Manzhos), ex member of Ingenious Kids, a crew of writers from Kiev, and later founder, along with Aec, of the muralist duo named Interesni Kazki.
The title of the show, Weird Tales, as the name of the famous American pulp magazine founded in 1923 which published the stories of writers such as H.P. Lovecraft, Clark Ashton Smith, Ray Bradbury and Richard Matheson, introduces us to the fantastic universe of Waone, where the fables and folklore of Eastern Europe blend with the tradition of surrealist painting and South American muralism.
Self-taught, but grew up in a family of art enthusiasts – his father was a collector of orthodox icons – Waone has an authentic passion for drawing since his childhood. He begins in Kiev in 1999 as a writer, but already in 2003 he abandons the bombing on the trains and the hip hop style of the lettering to create wall paintings characterized by a truly visionary and narrative mark.
In 2005 he founds the duo Interesni Kazki (which in Ukrainian means "interesting tales") together with his friend Aec (Aleksei Bordusov), with whom he shares an interest in visual narrative and esoteric symbology. In ten years of collaboration, the two make large wall paintings not only in Europe and Russia, but also in India, Mexico and United States. Their painting, influenced by the "clear line" of the Franco-Belgian comic strips and distinguished by brilliant colors, translates images of the unconscious into magical stories full of references to science fiction and numerology, to traditional cosmology and folklore, to myth and actuality.
When in 2016 the duo breaks up, Waone starts to develop a language characterized by the use of an elegant and highly detailed linearism. From Matter: Changing States, a mural realized in Kerala, India, black and white becomes one of the unmistakable traits of his style, along with the narrative attitude and the spiritual and esoteric implications that often permeate his works.
Weird Tales is a cycle of works that show various aspects of Waone's bizarre visual universe, imagined as if they were a collection of fantastic fables. For the Ukrainian artist, in fact, art is not only the reflection of his inner world, but also a way to communicate to the public a series of spiritual and symbolic values.
In addition to the paintings and drawings belonging to the Weird Tales series, Waone for the occasion will create a wall painting on the entrance wall of the gallery.
The exhibition opens on Thursday, October 12 at 18.30
until
from Tuesday to Friday: from 10 to 13 and from 15 to 19 – Saturday: from 15 to 19
WAONE, aka Vladimir Manzhos, was born in 1981 near Kiev, Ukraine, where he currently lives and works. He began painting graffiti in 1999. Between 2005 and 2016 he was part of the muralist duo Interesni Kazki and later continued his activity alone. He has created murals around the world and has held personal and group exhibitions in several European and American galleries, including Jonathan LeVine, New York; Carmichael Gallery, Los Angeles; Allouche Soho Art Gallery, New York; Avantgarden, Milano; Go-Gallery, Amsterdam.