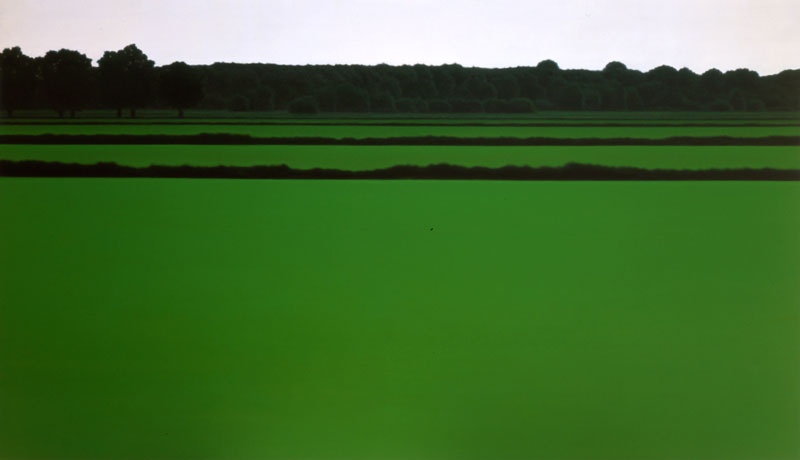 25.03 – 15.05.2004
VALENTINA D'AMARO – Senza Titolo
Galleria Antonio Colombo Arte Contemporanea is proud to present, for the first time in the gallery, a solo show by Valentina D'Amaro. The exhibition features ten new works on canvas, in medium and large formats.
In this exhibition Valentina D'Amaro returns to landscape painting. Nevertheless, these landscapes are different from the "untitled" works made over the last two years.
In this latest series the artist depicts a rarified landscape, composed of a few basic elements.
This can almost be seen as a paradoxical return to the classical which would undoubtedly meet with the approval of a more traditional public, were it not for the fact that certain fundamental components (above all the use of color and the composition) lead to the suspicion that we are looking at minimalist research, without striking gestures or actions, in an approach that is typical of all the work of Valentina D'Amaro.
A catalogue will be available at the gallery, with a critical essay by Gianni Romano.
Valentina D'Amaro: Born in 1966 in Massa (MS), lives and works in Milan. Solo shows in 2004 "Untitled", Antonio Colombo Arte Contemporanea, Milan, catalogue text by Gianni Romano; in 2002, Galleria Kunstadapter, Frankfurt; in 2001 at Galleria De March – Solbiati, Legnano (MI), with catalogue text by G. Romano; in 1999 at Nuova Artesegno, Udine, in collaboration with Studio d'arte Cannaviello. Main group shows: in 2003 "Toscana picta. Giovane pittura toscana", Italian Cultural Institute, Lisbon, curator A. Romanini; "Colectiva", Galeria Jorg e Shirley, Lisbon; "La pittura come concetto", Palazzo Ducale, Massa, curator L. Beatrice; in 2002 "Premio Lissone", Pinacoteca Civica, Lissone (MI), curator F. Gualdoni; "Faces and Places", Biagiotti Arte Contemporanea, Florence; "Contemporary portrait", Torre medievale, Moggio Udinese, Udine, curators M. Di Marzio and E. Santese; "301.302 kmq, paesaggio italiano attraverso la pittura", Galleria Alessandro Bagnai, Florence, curator L. Beatrice; "Four ways, le quattro vie del nuovo paesaggio contemporaneo italiano", Galleria d'arte moderna and church of S. Antonio Abate, Udine, curators L. Beatrice and P. Manazza; in 2001 "Junge Italienische Malerai", Galerie Binz&Kramer, Cologne, Galleria Fabjbasaglia, Rimini, Espace Ernst Hilger, Paris, Galerie Ernst Hilger, Vienna, curator G. Romano; "Cairo Communication" Prize, La posteria, Milan; "(Ultra)corpi", cloister of S.Agostino, Pietrasanta (LU), curator M.Sciaccaluga. In 2000, the "Frisia" Prize, Merate (Lecco), curator S. Fontana; "Sui Generis", Padiglione d'Arte Contemporanea, Milan, curator A. Riva; in 1999 "Aggiunte al catalogo, nuova pittura italiana negli spazi del museo", Galleria d'Arte Moderna of Udine; "Neoiconica" Studio d'Arte Cannaviello, Milan, critical text by G. Gigliotti; Museo d'Arte Paolo Pini, permanent collection, Milan; "T.R.", former Todeschini hardware store, Faenza, curator M.Zauli; "Morbì, porto insicuro", Mole Vanvitelliana, Ancona; "Italian Memories" Guangdong Museum of Art, Canton, China, curators E. Cannaviello, N. Dimitri, S. Fontana.
At a Proper Distance
by Gianni Romano
The question people ask me most often about the work of Valentina D'Amaro is "what do the landscapes have to do with the portraits?". At times it is justifiable if one thinks that art world denizens like to wonder the same things and give themselves the same answers. Probably over a century has passed in which artists have written about the lack of importance of the subject in painting. Cingolani, for example, the latest in the series of those who come to mind, has clearly stated: "Works can live without subjects. I underline the subject because I like it, but I hope the paintings can live on their own, just as I don't know what Polke's titles are, because they are in German, but I understand his images. I want a painting that speaks for itself."
A painting that speaks for itself was what Ed Ruscha expressed in a pastel in 1979, placing white letters on an orange background: "I DONT WANT NO RETRO SPECTIVE". Who knows if he is ever asked what his monochrome paintings have to do with the black & white photographs of gas stations, or the acrylics of gas stations with those of mountains, or what the latter have to do with the "Country Cityscapes" and what all this has to do with his inscriptions on monochrome fields, or in the background of banal images. "Word", Roland Barthes wrote, "simultaneously contains all the meanings from which a relational discourse might have required it to choose". Painting also belongs to a system of relations that often direct meaning toward predictable results. The artist often finds himself destroying and reconstructing the elements of this discourse. Painting, especially in its figurative version, deceives its audience with images that are often anything but what they appear to be. In the same way that the portraits by Valentina D'Amaro underlined dynamics and iconography of the group rather than the individual personality or model (a relational, more than generational, aesthetic), these latest works should undoubtedly also be analyzed for what they do not immediately display. This artist – and this latest show is proof – likes to deny appearances. As her colleagues strive to create "fine figures", she works to erase any rhetoric, getting straight to the point, shoving aside any compromise between significance and signifier. Just as she denies appearances, D'Amaro disavows belonging. She paints as only women who have gone beyond the postmodern can paint, reinventing painting. The traditional practice is thus utilized without feeling any need to conceptualize it. If anything, its contents are flattened, falsified with the artist's acknowledged painterly abilities (which deceive us, inevitably leading us back to thinking that her paintings are beautiful), perceptions, perspectives, fields of color and light. In these new works Valentina D'Amaro goes further, performing a radical operation. The subject is kept at a proper distance. The artist eliminates the presence of things and objects, showing us an estranged landscape, a complete rarefaction that achieves the quintessence of landscape, though I wouldn't say that this is the true objective.
"The intention, already in the work, is precisely that of not saying, not explaining, not revealing, of creating a suspension, of shifting communication to other planes." (Valentina D'Amaro)
The reason we find no objects in these paintings (except a house, so hidden as to seem more like a vision than a description) is that objects force the observer to focus in a certain way, to look at the whole composition in relation to the painted object. The evident photographic matrix contributes to the disorientation of the image. The subsequent glazing produces colors that seem like the result of digital manipulation (betraying, in part, the photographic nature of the original image). It seems clear that the artist has nothing to hide, that for her painting, in any case, is matter and color, a witness to the marriage between nature and artifice, something that impacts our senses without making use of special effects.
Valentina D'Amaro, precisely because she is interested in the annulment of traditional perspective, favors an uncluttered scene, without any clearly identifiable objects apart from aggregates (i.e. the trees). An object, familiar or not, forces us to insert it in a field of meanings and relations; but when its contours are confused, blending and even disappearing altogether, our gaze is free again, perception ranges at will in those windows that, by convention, we call paintings. The image becomes almost abstract, light and color mean more than any detail, a field is not a field but just a concentrate of sensations intended to keep everyday banality at a proper distance.