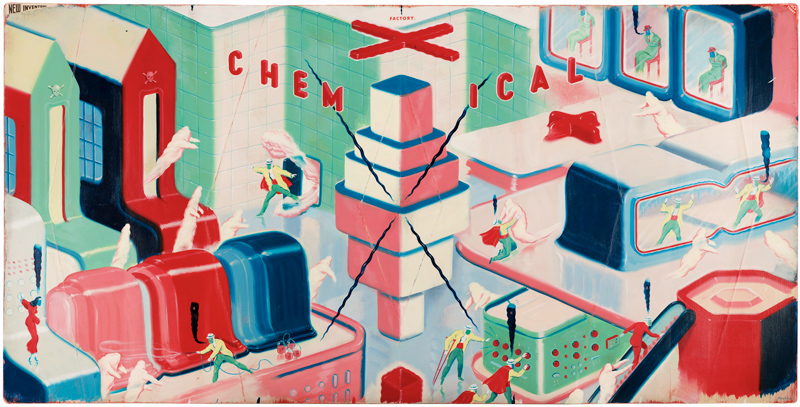 7.03 – 4.05.2013
RYAN HESHKA – Teenage Machine Age
Antonio Colombo is proud to present, at the gallery, the second solo show by Ryan Heshka, the Canadian Pop Surrealist artist.
The exhibition Teenage Machine Age picks up where his last show at the gallery (Ours) left off.
Heshka continues his reworking of the golden age of Science Fiction, imagining a fantastic universe populated by pin-up girls, futuristic computers, tin robots and humanoid monsters, exploring surreal scenes and blurred memories, mixing everything with vague hints at universal themes.
The use and abuse of technology, the mad race of mankind to escape boredom, the intertwining of the artificial world created by man with the natural environment, the commercial spirit gone haywire… All these themes find a place in paintings on panels with bright primary colors, and in refined drawings on paper, in small and large sizes.
Heshka's style reflects the naive visual language of comics, the covers of scandal magazines, advertising flyers, B movies, Steampunk retro atmospheres, old posters… The consumer culture of the past winds up mirroring the equally consumption-driven attitudes of the present. The use of clippings from old magazines, with a very glossy finish for the works on panels, of yellowed paper for the works on paper and of vintage frames, accentuate the time-worn charm of these works.
The final impression is that of a technologically advanced world that lives in a reckless adolescent dream, a glossy world of reassuring colors and seductive textures.
Ryan Heshka was born in Manitoba, Canada in 1970. He lives and works in Vancouver, Canada. He has a degree in Interior Design and worked in that sector for many years, also doing animations, until shifting into art and illustration as his main activity.
The influences on his work include a lifelong love of comics (favorite artists like Jack Kirby, Bill Everett and Basil Wolverton), pulp magazines (Frank R. Paul), children's books (Dr. Seuss), monster movies and B movies (like the films of Ray Harryhausen, King Kong, Dracula, etc), old advertisements and posters. All these sources are combined in his artistic style. Interested in drawing ever since childhood, Heshka utilized small models (little cities made with postcards) and Super 8 film to create his own world.
Heshka's work is featured in the leading illustration annuals, including American Illustration, Society of Illustrators, Communication Arts, 3 x 3, and Applied Arts. His clients include Vanity Fair, Wall Street Journal, New York Times, Playboy, Esquire, Forbes, Topps and Dreamworks SKG.
He has shown in galleries in North America (including Roq La Rue, Seattle, WA; Richard Heller, LA; Copro Nason, LA; Orbit Gallery, New Jersey; Rotofugi, Chicago) and Europe (Feinkust Kruger, Germany; Antonio Colombo Arte Contemporanea, Italy), and his work has been published many times in BLAB!, and in books on the New Underground movement, including The Upset.
His second children's book was released in the winter; his first was published by DreamWorks SKG.
The Awakening
by Monte Beauchamp
During mid-fall of 2005, I received a phone call from a Canadian artist by the name of Ryan Heshka. Immediately I took note of his clear, concise speaking manner — an unusual trait for an artist.
Ryan explained that he earned a living as a commercial illustrator and was a big fan of my art anthology BLAB!, which his girlfriend had turned him onto several years earlier. After extolling enthusiastic praise over its contributors, content, design, and high-quality production values, he inquired about the annual's submission policy.
Because we published infrequently and were already flush with talent, there were no openings. Yet here was someone with an earnest desire to contribute, so I agreed to have a look at his work.
Several days later, an impeccably hand-lettered, meticulously wrapped package from Ryan arrived. Upon reviewing the enclosed samples, I was impressed by the skill level of this unknown talent. His style was fresh. His color palette unique. And his brush work refined.
Yet his subject matter (comprised largely of pin-up gals and funny animals) proved problematic. It was terrain already being mined by several of BLAB!'s artists. When faced with this sort of editorial dilemma, my policy is to turn the work down. Yet there was something about it.
So I queried Ryan whether he was open to guidance; willing to explore new subject matter; experiment a bit to see what, if anything, might come out of it. Not only did Ryan graciously welcome the opportunity, he was eager to get started.
After batting several concepts back and forth, we hit upon one with a sci-fi/global warming twist to it, in which rays from the sun were randomly shooting through the earth's depleted ozone layer, setting humans, moving vehicles, and cities ablaze!
To make the concept more oblique and offbeat, I proposed that none of the humans' faces be fully revealed, only the barest hint of a side profile. Not only did it seem like a refreshing direction to go, visually it would help set Ryan's work apart from the rest of BLAB!'s contributors.
After concocting nearly a dozen possible scenarios, we discussed the format and settled upon a two-page spread feature comprised of eight paintings titled "Sun Rays of Death". From there, Ryan launched into creating the final art.
It seemed as if he'd just gotten started when Ryan phoned one day to say he'd completed the assignment. Upon perusing the finished artwork, I was extremely pleased to have taken a gamble on this unknown artist.
Ryan's debut feature appeared in BLAB! #17 and caused a resounding stir amongst both readers and contributors. "Who in the world is this brilliant new talent?" they clamored.
………………………….
Ryan Heshka was born September 22, 1970, in Brandon, Canada, a city in the province of Manitoba. Soon after the family moved to Winnipeg, the four-year-old Virgo began doodling…
…and doodling…
…and doodling.
He was unable to stop.
At age five, felt-tip pens became his medium of choice. Colorful scribbles of Batman gave way to those of superhero quartets. By age nine, he and younger brother Tyler, were churning out entire homespun comic books.
Inspired by claymation clips by the acclaimed stop-motion animator Ray Harryhausen shown on a television special on the making of Star Wars, the boys borrowed their grandfather's 8mm camera and began filming sci-fi and monster movies of their own.
Joan and Lorne Heshka encouraged their sons' creativity, providing them with whatever art
and camera supplies they needed.
Another pastime of Ryan's was studying pond-water critters. Not just frogs and turtles, but single-celled organisms as well. Through the lens of a microscope, the young boy observed "worlds within worlds" unfold.
Commercial radio towers fascinated him also. "Huge, wiry guardians of the prairies," was how he later described them.
From the moment his uncle handed his collection of early Fantastic Fours down to him, Ryan became hooked on the pulse-pounding comics of Jack "King" Kirby. He spent hours upon hours lost in the master's panels.
An article about American Golden Age Comics that ran in the Winnipeg Free Press blew Heshka's young mind. The examples reproduced resonated deeply.
Pioneer cartoonists Bill Everett, Basil Wolverton, Carl Burgos, Paul Gustavson, and Tarpe Mills to this day remain top favorites, as do several depression-era pulp magazine painters, most notably Frank R. Paul — the dean of science fiction illustration. In a hefty tribute to his hero for BLAB WORLD #2, Heshka reflects:
"It was The Star Wars Album, the first book on the making of Star Wars, that first turned me on to the art of Frank R. Paul. On an interior spread that revealed George Lucas's inspirations behind the making of his epic blockbuster was a wondrous antiquated cover to an early science fiction magazine, Amazing Stories. Crude, yet beautifully painted, its futuristic portrayal of a clan of nude women sporting folding, wing-like headgear, observing a distant, globe-shaped spacecraft, was so odd and alien to my seven-year-old sensibilities, I pondered whether it had been produced on some far-off planet.
This single cover, dated December 1926 (which I later learned to be the artist's own personal favorite image that he created), led me to an enduring appreciation for the art of Paul."
At the end of his high school years, Ryan's passion for drawing remained and he enrolled at The Faculty of Architecture. Graduating with a BA in Interior Design, he entered that profession.
Longing to do more drawing, four years later he left to establish himself as a commercial illustrator. Unable to secure much work, he moved to Vancouver to seek out a position in the city's growing animation field. Without any formal training, he aced a character cleanup test and was snapped up immediately.
Soon thereafter, Ryan wed. Neither his career nor his marriage, however, were meant to last.
Several years later, separated and trapped in a job that he found stifling, Ryan was forced to take a hard, cold look at his life. Heshka's love of the printed image (early packaging, movie title graphics, posters, pulps, and comics ) and his obsession for drawing spurred him to, once again, attempt to carve out a career in the commercial arts. This time around he presented his work to an array of illustration representatives. East coast-based agent Kate Larkworthy took him under her wing.
Playboy, Vanity Fair, Esquire, The New York Times and The Wall Street Journal are but a few of the venues where his work has since appeared.
………………………….
Eight years have passed since Ryan first reached out to BLAB!. Despite the time that's elapsed, I still look at his contributions with great satisfaction and utter delight. He's given the anthology many proud moments.
The little known artist I met long ago is now a top-shelf contender in the world of Pop Surrealism and Low Brow Art. Ryan's paintings are avidly collected, and exhibited in galleries throughout Europe and North America.
What a rare and immense privilege it's been to have watched him blossom into a master.