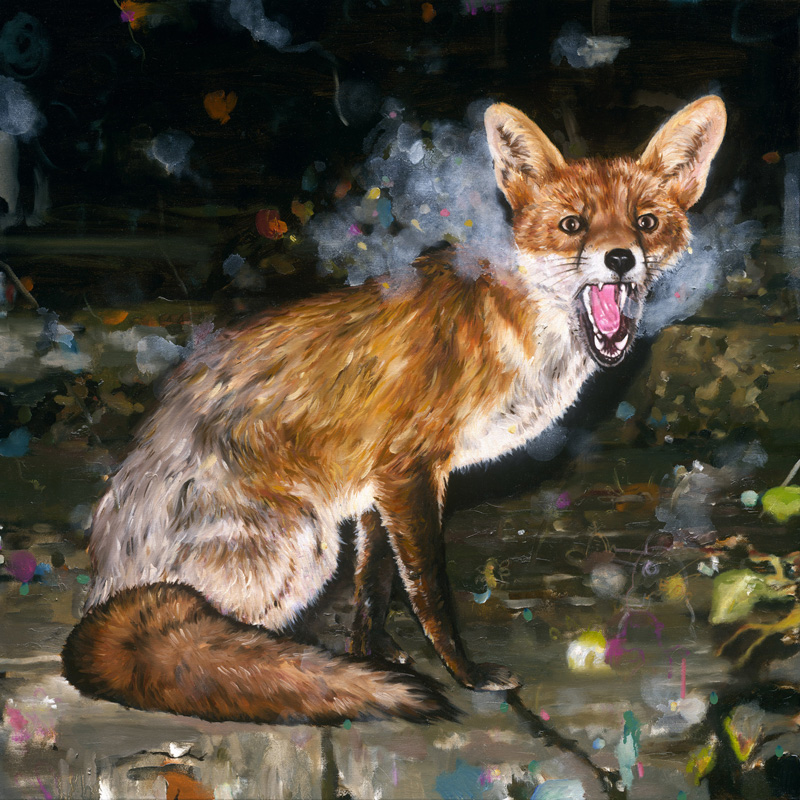 7.03 – 6.04.2013
HEIKO MULLER – The Watching Hour
Antonio Colombo presents, for Little Circus, the special project space inside the gallery, the first solo show in Italy of Heiko Müller, entitled The Watching Hour.
The German artist explores the hidden, mystical part of nature and the animal kingdom, which intertwines with folk beliefs and social structures. In his works, he manages to reveal these mechanisms, tracing back through the threads that connect religious icons and Renaissance paintings to today's comics culture. Excited by the high spiritual tension generated by the works of the Dutch Masters, Müller adds a touch of animism to the quiet serenity of rural landscapes in Central European art.
In particular, for this exhibition of oils on panels, paper and canvas, the artist focuses on the moment of twilight, the transition from day to night. His constant attraction to the landscape and the countryside makes him investigate, when faced by a natural scene, even the most hidden aspects, which he calls "the dark sides concealed behind nature in its manifestations", but also "the mechanisms that govern the animal kingdom".
There is a clear, perceptible change when the day passes from one condition to another. Just as friction produces heat, so the transition from day to night triggers a special energy that fills the atmosphere. This is a perfect moment for watching animals. The changing light seems to blur the contours of the scene, diurnal creatures seek a safe refuge for the night, as the nocturnal animals begin to awaken. It is a phase of great activity and ferment. The observer cannot fully trust his senses, and the outlines of everything around us lose their exactitude. At the same time, we also feel like we are being watched, and the feeling causes a special tension. The imagination is stimulated and, slowly, the suspense builds.
Heiko Müller was born in 1968 in Hamburg, where he lives and works. With a degree in Illustration and Design taken in that city, he has had many solo and group shows in important galleries and museums. As well as in Germany, he has shown his works in Estonia, New York, Paris, Basel, Seattle, Los Angeles, Chicago, St. Petersburg, and now Milan. Among the galleries with which he has worked: Jack Fischer Gallery, San Francisco; Feinkunst Krüger, Hamburg; etHALL, Barcelona; Copro Nason Gallery, Santa Monica (CA); Roq La Rue Gallery, Seattle (WA); Galería Víctor Saavedra, Barcelona.
His works have appeared in many publications and magazines, including Index, La Cruda, Juxtapoze, Candy Magazine, Neuroblasto, and on many album covers, including those of the Upbeats, Milkmachine, Luc Miles, Falomir!, Wigbert….