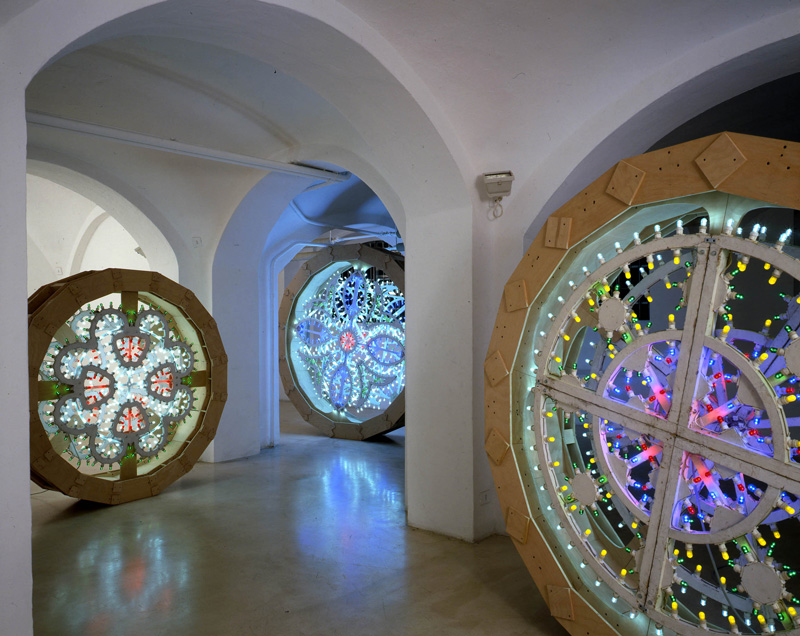 8.03 – 6.04.2007
PIERLUIGI CALIGNANO – L-Ray
curated by Marco Meneguzzo
With L-Ray Pierluigi Calignano launches a completely new cycle of works.
L-Ray stands for "Lysergic Ray", a clear reference to the drug of the Hippies in the 1960s: actually, the theme is the excitement of the imagination triggered in the artist by making art ("the poor man's high", as Calignano says), constantly urging him toward new adventures and experiments.
In this case the perceptive sensations caused (supposedly) by LSD meet with similarities in the works the artist has created specifically for this show. Five large sculptures in wood, whose form is underlined by and derived from true handmade "luminarie", the kind used for traditional celebrations in Southern Italy, are equipped with over 3000 glowing lightbulbs. These sculptures, with a generically circular form, are accompanied by 150 works on paper, obtained with the "monotype" technique, based on an intentional gesture – the spreading of ink on one part of the sheet, which is then folded – and by a random process in the application of colored enamels during the folding of the paper, required to "print" the monotype.
The obsessive, hyperdecorative, close-up, dazzling aspect is thus amplified to the point of defying the perception of proportions, making the viewer lose his points of reference in the spaces: it's the power of the L-Ray, which is simply a metaphor of art.
PIERLUIGI CALIGNANO was born in Gallipoli (Lecce) in 1971. He lives and works in Milan.
Main solo shows: 2005 – Verde a pois (with D. Petitgand), Chiostro del Palazzo delle Stelline, Centre culturel Français de Milan, Milan, curator C. Burrus. 2004 – Pierluigi Calignano, Carbone.to, Turin, curator M. Senaldi. 2003 – 80.000, Antonio Colombo Arte Contemporanea, Milan, curator R. Gavarro. 2002 – Ci sono sogni che preferirei non ricordare, Viafarini, Milan, curator R. Pinto; Stretti stretti, Perugi Arte Contemporanea, Padua, curator L. Garbarino. 1998 – L'invasione delle mono-cose, Galleria Salvatore + Caroline Ala, Milan, curator L. Parmesani; Creature antiurto, Galleria Placentia Arte, Piacenza.
Main group shows: 2006/07- La Giovine Italia, La Fabbrica, Gambettola (FC) / Pinacoteca Nazionale, Bologna. 2005 – La Scultura Italiana del XX secolo, Fondazione Arnaldo Pomodoro, Milan, project of Arnaldo Pomodoro, curator M. Meneguzzo; Z.A.T. Zone Artistiche Temporanee, Centro urbano di Gallarate / Civica Galleria d'Arte Moderna, Gallarate (MI), curators A. Abruzzese, M. Meneguzzo, R. Pinto, M. Bianchi Guenzani, E. Zanella, G. Zanella. 2003 – Tirana Biennale 2, Tirana, Albania, in the section curated by M. Robecchi; Cover Theory, Officina della Luce – ex Centrale Emilia, Piacenza, curator M. Senaldi. 2002 – Assab One, La generazione emergente dell'arte Italiana, ex Stabilimento GEA, Milan, curators L. Garbarino and R. Pinto. 2000 – Futurama, Arte in Italia 2000, Centro per l'Arte Contemporanea "Luigi Pecci", Prato, curators B. Corà, R. Gavarro, M. Meneguzzo.