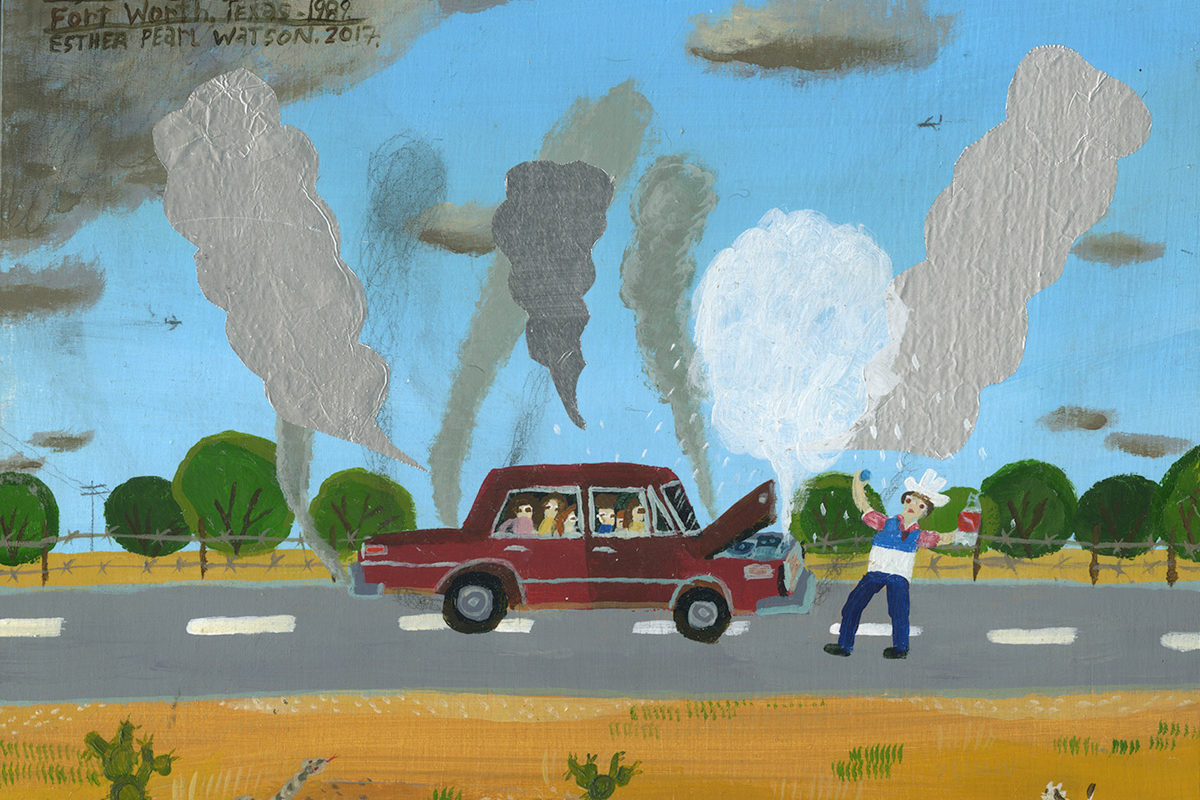 ESTHER PEARL WATSON
Starship Pegasus
Antonio Colombo Arte Contemporanea is pleased to present Starship Pegasus, the second solo show by Esther Pearl Watson at the gallery.
Taken from the name of a tourist attraction, a spaceship containing a theme restaurant, the title of the show references the Monolithic Dome in the town of Italy, Texas, which the artist remembers encountering, with the impression of having discovered a UFO. A particular relationship has grown out of this chance meeting: in the vicinity of the places where Esther spent her childhood, in the state of Texas, the presence of an installation in a place that links back to the Italian roots of her family becomes a pretext for recollections.
The works in the show represent landscapes full of these memories, fields in which to dream of the future under starry skies, the streets of Ferno traveled by bike to go and watch airplanes taking off. To accompany the scenes of everyday life, the nocturnal subjects are galaxies, starry skies, clusters of stars.
The artist's research on the relationship between past and future emerges through the coexistence of impressions: stimulated by a vision of childhood memories connected to the inventions of her father, who created flying saucers using pieces of motors and wreckage, which stud her past with their reassuring presence, the focus shifts into a voyage towards a new horizon of the future, of hopes and aspirations, experienced in an atmosphere of dreams and desires.
Opening 23 November, 18.30
On view until 27 January 2017
Tuesday to Friday, 10.00-13.00 and 15.00-19.00
Saturday 15.00-19.00
Esther Pearl Watson (Frankfurt, 1973) lives and works in Los Angeles. She is seen by critics as an insider-outsider, because she uses the pictorial language of an autodidact in spite of having graduated in Painting at the California Institute of the Arts in Valencia (California). Besides teaching at the Art Center College of Design in Pasadena (California), Esther has created many comics, including the cult publication Unlovable, which has been produced as a short animated film with the artist and Cartoon Network.
Selected solo shows. 2017: Webb Gallery, Waxahachie. 2016: Galactic Plains, Gregorio Escalante Gallery, Los Angeles, CA. 2015: The Future Arrives, Galleri Galleberg, Norway; duo exhibition Family Lexicon, Antonio Colombo Gallery, Milan, Italy (with artist Fred Stonehouse). 2014: It's Not a Circus Without a Big Top, Webb Gallery, Waxahachie (Texas); With Open Eyes, Grafikens Hus, Mariefried, Sweden (with artist Mark Todd). 2012: Fort Beavatron, CalArts Mint Gallery, Valencia (California). 2010: Big Dreams, Sandra Lee Gallery, San Francisco. 2009: Visions of the Future, Billy Shire Fine Art, Los Angeles. 2007: The Weirding Field, La Luz De Jesus, Los Angeles.
Selected group shows. 2017: Now More Than Ever, LACE Benefit Art Auction, Los Angeles, CA; For the Good Times, Sp(a)ce, Pasadena, CA. 2016: Hearsay, Artists Reveal Urban Legends, LosJoCos Gallery, Los Angeles, CA. 2015: Atrium, Amon Carter Museum of American Art, Fort Worth, TX; New Works, Webb Gallery, Waxahachie, TX. 2014: Sky, Bedford Gallery, Lesher Center for the Arts, Walnut Creek, CA (curated by DeWitt Cheng and Elizabeth Ferrer); Amazon Solitaire, Center for the Arts Eagle Rock, Eagle Rock, CA; Explorers, CSC Gallery, McLennan Community College, Waco, TX; Hexenhaus, 495 Alameda St, Altadena, CA. 2013: Incognito, Santa Monica Museum of Art, Santa Monica, CA. 2012: House: Home, NYU Kimmel 8th Floor Gallery, New York. 2007: BLAB!, Copro Nason Gallery, Santa Monica, CA.