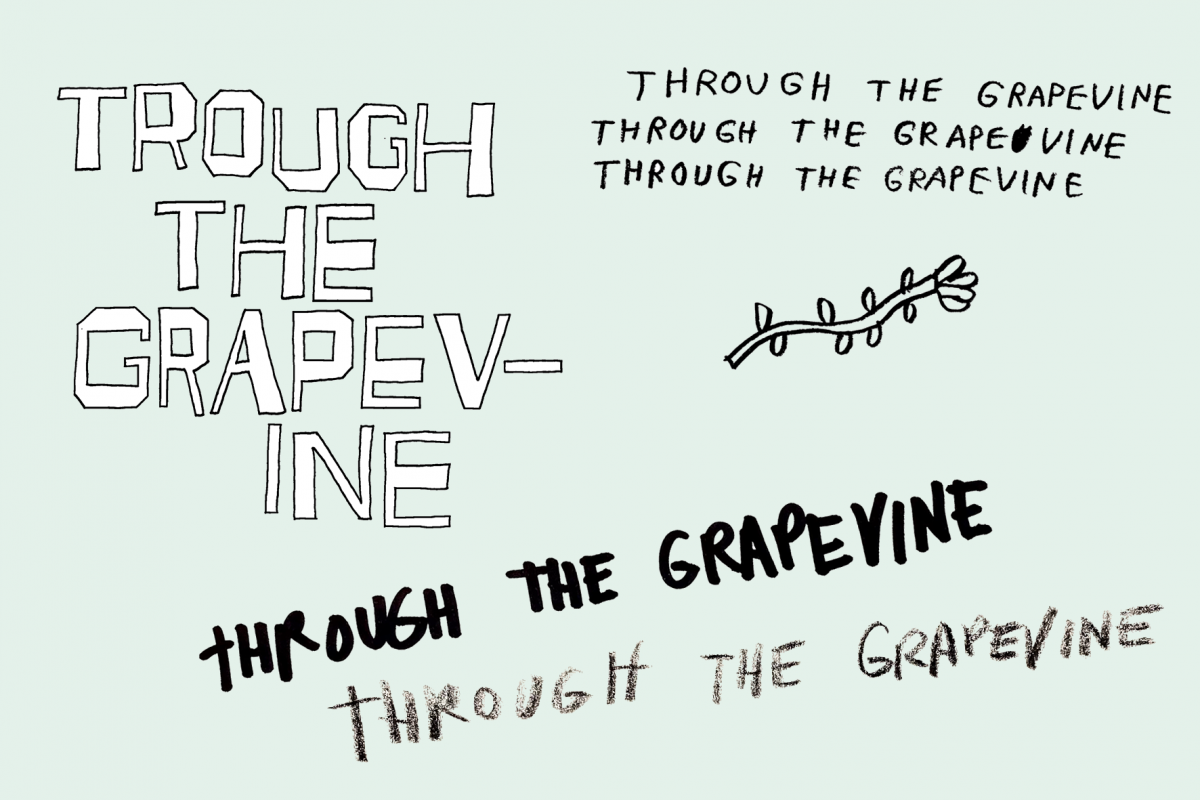 May 25 – July 14, 2023
Opening: Thursday May 25 from 18.30
Through the Grapevine
Kimou "Grotesk" Meyer – Russ Pope – Nathaniel Russell
curated by Russ Pope
Catalog text by Luca Beatrice
Antonio Colombo Gallery presents "Through The Grapevine," a show with works by Grotesk, Russ Pope and Nathaniel Russell. The exhibition title is a reference to the cover of I Heard It Through The Grapevine by the Slits. It contains works inspired by music, the act of listening, playing, sharing music with friends, dancing to music, living with and through music. The three artists, coordinated by Russ, who has collaborated with Antonio Colombo Arte Contemporanea gallery for several years, both as artist and curator, share references to street and urban culture.
Kimou, Nat and Russ have created a long collaborative playlist on Spotify, and this has been the primary source of inspiration for the exhibition. Telling stories of audible pleasure, the movement of dance, the good mental vibes of songs are the center of the drawings and paintings by the three artists, who live far from each other (in Oregon, Indiana and New Hampshire), but share a background of skateboarding, graffiti and music. They share a passion for art without borders, ranging through various collaborations with brands like Nike, Zoo York, Vans, Element, and many others. Each has an original style, a recognizable mark or stroke.
Grotesk, aka Kimou Meyer, is a Swiss artist and graphic designer. In 1999 he moved to New York, where he was strongly influenced by the culture and aesthetic of graffiti. His practice links back to Swiss minimalism, with clean designs and essential forms. His art is intrinsecally connected to his observations and interactions with people around him, focusing on their behaviours and body postures These observations can trigger an idea or leave an impression in his subconscious, ultimately inspiring his creations. As Kimou refines a sketch, old situations, breaking news, jokes, friends, or an image from the past may resurface, guiding him towards the final output.
Russ Pope focuses primarily on the unpredictability (and sometimes predictability) of everyday life, reporting on those days with wit and intimacy. He enjoys putting people and places into context and fostering the circulation of ideas and narratives. His impressionist attitude is balanced by his use of color and contour lines. He is a steadfast creator, sharing daily reportings of his life through a prolific output of drawings which often become the subject of paintings, you can count on regular visual offerings from him day to day and year to year.
Nathaniel Russell balances a fine art practice with a rich and varied body of work in design and illustration. His work runs the spectrum of traditional drawing, painting and sculpture to stage design and multi-media performance. His art stands out for essential forms and colors, generally with written words or phrases, encouraging others to fill in the blanks he intentionally leaves behind, and choosing the medium that fits the idea best. Nathaniel's work draws inspiration from music and reading and often combines text and writing with drawing. He uses economy of line and word to hint at subconscious links to universal connections and his text often reads as imagined book titles, song lyrics and poetry. Humor plays a role and is used as balance and remedy for the sometimes dark state of affairs that is being a human on planet Earth today.
Grotesk (1974) currently lives and works in Oregon.
Kimou Meyer (alias Grotesk) is a Swiss-born artist known for his distinctive and dynamic visual language that explores the mundane moments of human life. From his parents' scale model studio in Geneva to the busy streets of New York City, Kimou's creative journey has been marked by a constant drive to innovate and experiment. His work draws inspiration from diverse sources, including the minimalist architecture of his childhood environment and the chaotic visual language of Hip Hop and skate culture. In 1999 established himself as a formidable presence in the world of illustration, streetwear, and creative direction upon moving to New York City. As his alter ego Grotesk, Kimou developed a unique artistic vision that delves into themes of sport, urban life and anonymity. Kimou's expertise in character studies is evident in his exploration of body posture and emotion, employing simplified language to communicate complex ideas.
Kimou's career has flourished with his co-founding of Doubleday & Cartwright, a sports-focused creative agency, and Victory Journal, a cutting-edge publication. He has also led significant commercial projects, such as the rebranding of the NBA's Milwaukee Bucks and the development of David Beckham's MLS franchise, Inter Miami CF.
Today, Kimou resides in Portland, Oregon, with his family while continuing to push boundaries as a creative director for Nike. His ability to combine his diverse background with a relentless pursuit of new visual output is what makes Kimou Meyer a happy-to-be-unhappy artist.
Russ Pope (1970), currently lives and works in New Hampshire.
Russ Pope has been a skateboarder since age 5, and has never abandoned that world,
he owns a skateboard brand today that is celebrating it's 10 year anniversary (Transportation Unit) and was the founder of Creature Skateboards. Russ has directed and executive produced many important skateboarding films through his years in the industry. He has deep roots in skateboardings aesthetic and history.
Russ regularly designs for and collaborates with commercial partners. Most recently designing products and making illustrations for the likes of Disney, Cole Haan, K2 Ski corp, Major League Baseball, & Stance. Russ also is a regular contributor to Juxtapoz magazine writing about his travels andsharing drawings and photographs from his global journeys. Russ has often taken the role of curator, whether building shows for himself with fellow artists at Shepard Fairey's gallery Subliminal Projects in Los Angeles or selecting artists for commercial opportunities in the skate, surf and fashion space.
Nathaniel Russell (1976), currently lives and works in Indiana.
After college, he spent several years in the San Francisco Bay Area making posters, record covers, and woodcuts. He returned to his home city of Indianapolis and now spends his time creating drawings, fliers, sculptures and music. Russell's work is regularly shown around the world in both traditional galleries and informal spaces, usually surrounded by an expanding list of friends and collaborators. His drawings and paintings have been featured in the New York Times, on award-winning book and album covers, and on countless pieces of apparel, skateboards, and posters.
He has released numerous recordings of his songs and music under his own name and those of various groups and collaborations. He continues to travel and show his work internationally with upcoming solo exhibits, performances, and murals in New England, Tokyo, Marfa, and Joshua Tree.