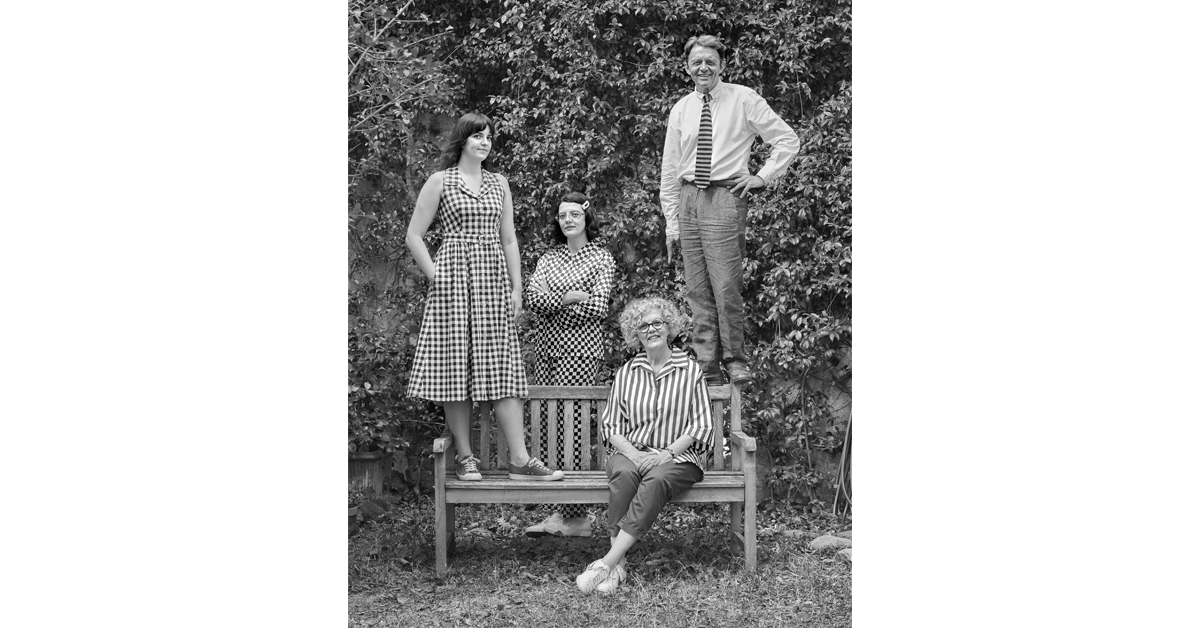 27 September – 19 November 2023
Opening: Wednesday September 27th from 18 to 20.30
ZaLiZaZa. Inventario di famiglia
Miro Zagnoli
Emi Ligabue
Olimpia Zagnoli
Emilia Zagnoli
curated by Francesca Pellicciari
exhibition design by Franco Raggi, friend-confidant of ZaLiZaZa and the gallery
Galleria Antonio Colombo is pleased to present the exhibition ZaLiZaZa. Inventario di famiglia, curated by Francesca Pellicciari, featuring a group of artists belonging to the same family: the photographer Miro Zagnoli (Za), the artist Emi Ligabue (Li) and their two daughters: the illustrator Olimpia Zagnoli (Za), already connected with the gallery, and the costume designer Emilia Zagnoli (Za).
The members of ZaLiZaZa are a very modern family, but also one of days gone by: were they not engaged in making their own various artifacts, we could imagine them operating in a family workshop in the Renaissance or Baroque spirit, experimenting with new painting techniques, revolutionizing styles or using them as examples to make their own; creating majestic theatrical wings, garbed in their style which is simultaneously classic and eccentric.
After all, this image is not so far from what ZaLiZaZa are doing today, in the 21st century, each in his or her own field – contiguous and often overlapping ambits – constantly coming to grips with their own research and experimentation, relying on a shared language, a true family lexicon.
The exhibition pathway is an inventory of works of all kinds – drawings and photographs, wooden books, collages, object/sculptures, fabrics, screens and magic boxes – in an intense dialogue of correspondences, where the four voices alternate and take turns, without a chronological order; a dialogue accompanied by a selection of items (sketches, notes, postcards, family photos) that document a methodology, while at the same time emphasizing the constant presence of art in the private life of ZaLiZaZa.
Thus it is no coincidence that many subjects are similar in the work of ZaLiZaZa.
While for decades design has pervaded the still analog settings and photographs of Miro (Za), it is also a recurring theme in the works of Emi (Li), from the Cicognino of Albini to the life and work of Charlotte Perriand, or anonymous design found for sale online: "I have no taboos, no type of respect or norm." Similar use of anonymous and unconventional materials is found in the "Souvenir" clothing series by Emilia (Za), made from touristy dishtowels with the map of Italy, just as certain archetypes return in the thousands of stripes traced by Olimpia (Za), always in pursuit of the perfect synthesis between the idea and its representation.
Beyond this, beyond design, mountains, figures, bodies, portraits, chiaroscuro effects, balconies, there is the continuing echo – in the various generations of ZaLiZaZa of what Matisse said one day to Picasso, as Emi (Li) reminds us: "In the end, Picasso, we don't have to try to be so smart. You and I are alike: what we try to rediscover in art is the atmosphere of our First Communion." To always observe the world with the eyes of children, with the gaze of ZaLiZaZa.
Miro Zagnoli, born in Reggio Emilia in 1952, lives and works in Milan.
He made his first photographs towards the end of the 1970s. His initial research was marked by a hybrid between photography and different media like printing and television. At the start of the 1980s, his interest shifted towards the artificial world; objects played an important role in his practice, leading to his encounter with the sector of design.
An intense collaboration – still in progress – thus began with designers, companies operating in the design field, including Alessi, Danese and Vitra, and shelter magazines like Interni, Domus and Abitare.
In this context, he continues to make a contribution to the transformation of the visual language and communication of design. He is a co-founder of Clodomiro, a family-run design line.
Parallel to projects of this nature, Miro Zagnoli moves forward with his personal artistic practice, whose results have been presented in group and solo shows.
Emi Ligabue, born in Mantua in 1957, lives and works in Milan.
At the start of the 1980s she worked with Studio Alchimia on the design of Casa Alessi. In the meantime, she enrolled at DAMS and began her artistic adventure as a performer, founding the group Ferrovie Equatoriali with Andrea Taddei, and then the project Padiglione Italia, taking part in the exhibition Una generazione post-moderna at Palazzo delle Esposizioni in Rome.
In 1983 she decided to begin working independently as a visual artist. She took part in the Serate infantiste of Francesca Alinovi at Galleria Neon in Bologna, and in many group exhibitions, including La Neomerce, il design dell'invenzione e l'estasi artificiale, curated by Denis Santachiara at Triennale Milano. In 1988 came her first solo show, at the Musei Civici di Reggio Emilia, and in 1990 she took part in the survey Ipotesi Arte Giovane, organized by the magazine Flash Art.
Across her long career as an artist, Emi has shown work in many solo and group exhibitions. She has also illustrated books, including the latest project for Marinoni Books, Charlotte Perriand (2023). Her practice has always focused on objects and their memory.
Olimpia Zagnoli was born in Montecchio Emilia in 1984, and lives and works in Milan.
She is an illustrator and a multidisciplinary artist; her works have appeared all over the world in various printed formats, in galleries and children's books, ad campaigns and subway stations. Her illustrations have been published in the New York Times, The New Yorker, Vogue Italia, and on the covers of books released by Penguin, Taschen and Feltrinelli, among other contexts.
Her commercial clients include Elizabeth Arden, Barilla and Apple. She has designed limited editions and accessories for brands such as Dior, Prada and Fendi. She is a co-founder of Clodomiro, a family-run design line.
Her latest published books include Caleidoscopica, a retrospective on the first decade of her career, and L'Omino di Niente, an illustrated children's book written by Gianni Rodari.
Besides working as an illustrator, Olimpia has experimented extensively with kinetic sculptures, neon design, music videos and ceramics. Her creations have been shown all over the world, at galleries in Milan, Los Angeles and Düsseldorf, and in institutions such as the Chiostri di San Pietro (Reggio Emilia) and the Sejong Center (Seoul).
She lives in Milan in an apartment with a silver bathroom.
Emilia Zagnoli was born in Milan, where she lives and works.
She moved to London to study "costume interpretation design" at the Wimbledon College of Arts. After an initial experience in the field of headwear with Edwina Ibbotson and Claire Strickland, she began to explore the world of English theater. She collaborated with costume designer Luis Carvalho for the production Out of Blixen at the Coronet Theatre, and with costume designer Catherine Zuber, winner of several Tony Awards, for various productions at the National Theatre and the English National Opera. She has continued to work with Zuber and her team in New York at Lincoln Center, and in Berlin at the StaatsOper.
She currently collaborates with various costume designers for operas at the Teatro del Maggio Fiorentino, La Fenice in Venice, Oper Frankfurt and other European theaters.
She is a professor of costume design and history at NABA in Milan.