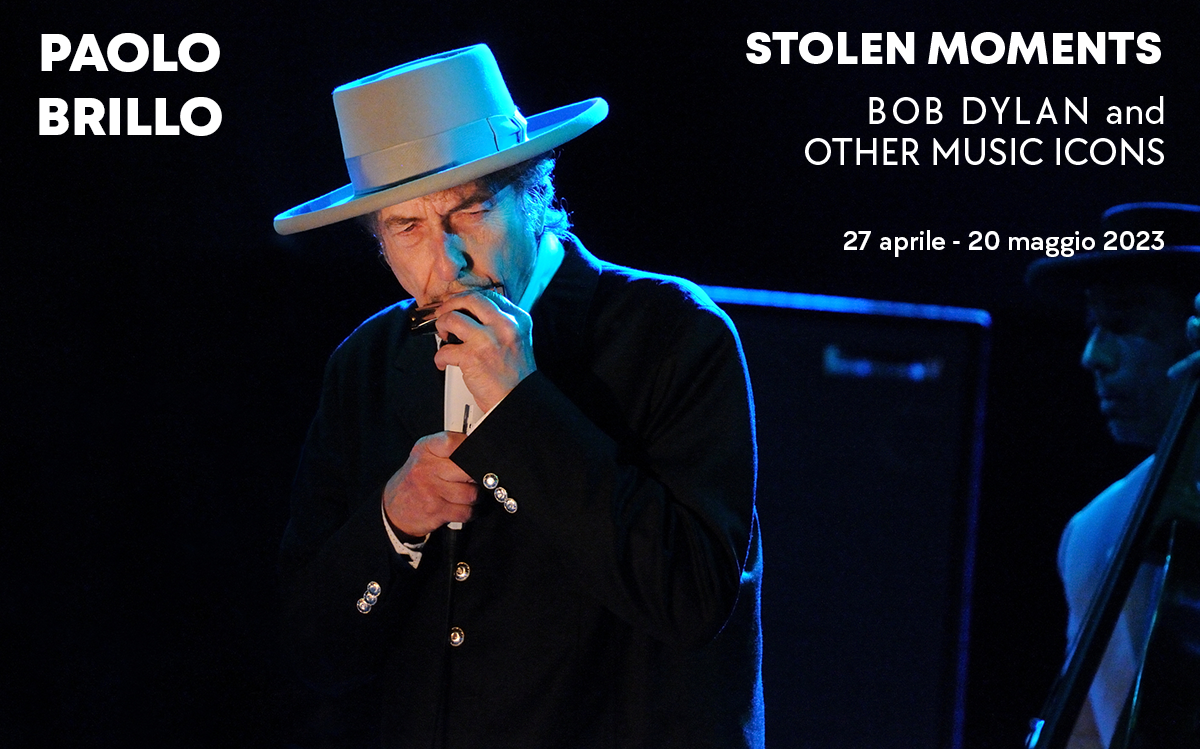 27 April – 20 May 2023
Opening: Thursday April 27th, 2023 from 6 p.m.
Paolo Brillo – Stolen Moments. Bob Dylan and other music icons
curated by Luca Beatrice
In 1984 he was 23 years old, and he still hadn't become an accountant. But he was at the Arena in Verona, to see and hear his first concert by Bob Dylan, at the time of the release of Infidels, co-produced by Mark Knopfler, the much awaited return to "secular" music after the so-called "conversion" albums.
Since then Paolo Brillo has never stopped photographing Dylan, following him from concert to concert during the gigantic undertaking of the Never Ending Tour. But he is not a professional, he wears no credentials around his neck and demands no backstage passes, which he wouldn't get anyway, because Dylan hates to be photographed. Brillo has found a way to do things that might be defined as performative. He splits the camera into parts, hiding it (sometimes even in his underwear). He mingles with the crowd, works his way into the front rows, and then shoots – or steals shots – many of which come out very well, though he is very strict about their selection. He style in these live photos is absolutely realistic, capturing what he sees, without tricks. Brillo says the best images are the ones taken towards the end of the concert, when the tension eases up, even inside Dylan, perhaps.
This enormous, obsessive labor of documentation and passion has been portrayed by Paolo Brillo in the illustrated volume No Such Thing As Forever, a selection of 250 photos from 30 years of concerts, from 1989 to 2019, published by Red Planet Books. In the first shot Dylan hasn't yet reached 50, while in the last one, taken at Hyde Park in London, he is an elderly man, with wrinkles, and extraordinarily enough he wears half a smile, though what made him grin is unknown. What emerges from these images, besides the passion, the love of their maker for the musician, intellectual, writer, painter and everything else we might add to define the undefinable is the perseverance with which Brillo has "stalked" Dylan on stage, with the obsession of an entomologist, ready to capture and convey every detail of the face, the clothing, the on-stage organization.
The Stolen Moments are not just those "filched" from Dylan: Brillo has seen and photographed hundreds of other concerts, creating a powerful rock epic archive that may also be a language on the way to extinction, a poetics for old dinosaurs, but for the moment is still without peers in terms of intensity and authenticity. The exhibition at Galleria Antonio Colombo in Milan Milan – which with this exhibition again confirms a taste for mixing of genres and languages, as well as the intention of capturing moments that have been indispensable for the cultural background of a generation, which then passed them on to generations to follow, where rock music (in particular) expressed a desire, albeit utopian, to change the world – includes 25 "greatest Dylan hits" along with a selection of other rock icons, all photographed with the same principle of the stolen shot: Keith Richards and Neil Young, Leonard Cohen and Patti Smith, Eric Clapton and Jeff Beck…
Born and working in Bolzano, where he fills out tax returns when he isn't roaming the world with his camera and his concert tickets, Brillo says his photographic idols are Helmut Newton, Richard Avedon, Annie Leibowitz, Jill Furmanovsky and Guido Harari.
Paolo Brillo was born in 1961 in Bolzano, Italy, where he lives and works as an accountant.
Since he was a boy he has cultivated his great passions, photography and live music, especially rock music. He has attended more than 1.000 live concerts and, in particular, more than 70 of his legend Bob Dylan, whom he has been following since 1984. In 2020 he has dedicated a major large-format photographic volume to him, with more than 250 images, entitled "Bob Dylan. No Such Thing as Forever. Images from 30 years of the Never Ending Tour 1989 – 2019," published by the British publishing house Red Planet Books.
He collaborates with one of the most important Italian music magazines, "Buscadero," and with the fanzine "Isis" dedicated to Dylan.
His photos have been exhibited in Italy and abroad. They include, among others, in 2012 the Rock around the click exhibition, at Palazzo Marliani Cicogna, Busto Arsizio; in 2014 Dylan & Hendrix Exhibition, at Olympus Rockarchive Image Space Gallery, London; in 2017 Obiettivo Rock, at Torinelli Museum, Ameno (NO); and Captured in a moment: 50 years of iconic Rock&Roll photographyat the Royal Albert Hall, London, where he also exhibited the following year at The main stage exhibition in 2018.