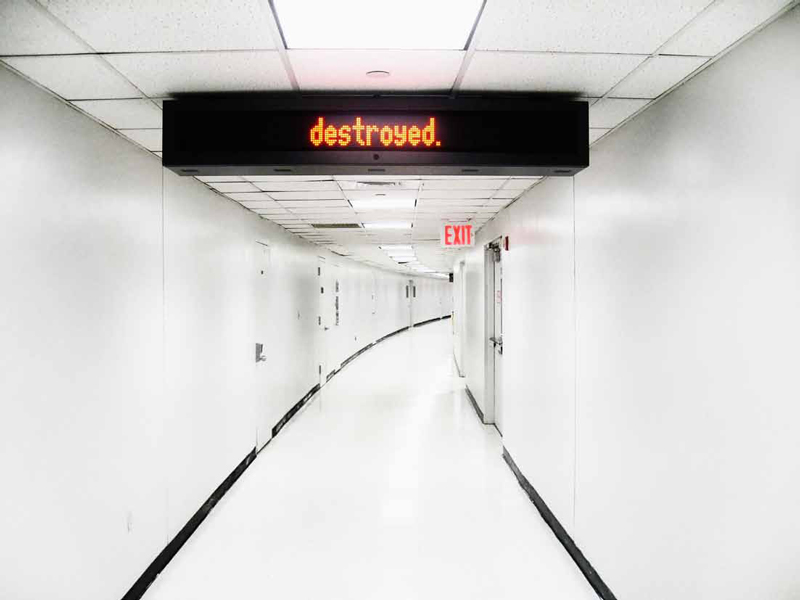 17.05 – 29.07.2011
MOBY – Destroyed
Destroyed, Moby's forthcoming new album and accompanying book of photography is set for release on May 16th, alongside an international programme of exhibition of photographs, which will take place throughout the summer. Published by Damiani, the hardback edition of Destroyed is 128 pages and features 55 photographs taken by Moby.
A litany of intriguing photo images taken all over the world, Destroyed is a by turns stark, poignant, amusing and beautiful cavalcade of surreally deserted cityscapes and urban ʻnonplaces' – airport buildings with endless corridors that seem to lead nowhere, and semiabstract compositions of cloud forms and landscapes shot from airplane windows.
A behind-the-scenes international odyssey, Destroyed introduces us to a side of touring that is often unexposed; secluded time spent in artificial spaces like hotel rooms and backstage waiting areas. The combined album and photo book provides an intimate look at Moby's world and his creative process as an artist, both the music and photos were created in the same period and draw inspiration from the strange and sublime world of touring.
There are contrasting images of luminous but lonely hotel room vistas alongside vast, swaying crowd scenes, as snapped from the stage; their juxtaposition seemingly saying everything about the very psychological dislocation, the dramatic yin and yang of the international touring musician's life. As Moby puts it, "Touring is all contrasts and strangeness, and that's what I'm trying to convey in these pictures."
Taking, developing and printing photographs are not new departures for Moby. Once a graduate student of film and photography at SUNY Purchase (State University of New York), he's been a keen SLR lensman ever since he was presented with a camera, aged ten, by his Uncle – a photographer at the New York Times.
To this day Moby carries a camera wherever he goes. The title and front cover of Destroyed depicts the final part of an LED security warning: Unattended luggage will be destroyed, which Moby snapped as it flashed up in a deserted hallway at New York's La Guardia airport.
Explains Moby, "One of my goals through my pictures is to take the normal and present it as odd and to take the odd and present it as normal."
Although keen on a number of contemporary practitioners, Moby's key photographic
influences are drawn mostly from the early-to-mid 20th century, including such names as Irving Penn, André Kertész and Edward Steichen. Other, more recent influences include Sally Mann and Wolfgang Tillmans. "The technique behind photography in the ʻ70s and ʻ80s almost took precedent over the composition itself, and then Wolfgang Tillmans came along and said, ʻby the way, if you have a crummy little instamatic camera you can make remarkable images', and there's something really liberating about that."
Moby's songs from Destroyed were written late at night in hotel rooms around the world. A soundtrack for empty cities at 2AM, Destroyed evokes nocturnal feelings of both anxious isolation and the comfort of quiet solitude. The result is a 15-track collection that conflates the atmospheric and the disconcerting with the enveloping and beautiful – a record rich in the kind of melodies that are lodged in the brain by stealth rather than with a bludgeon.