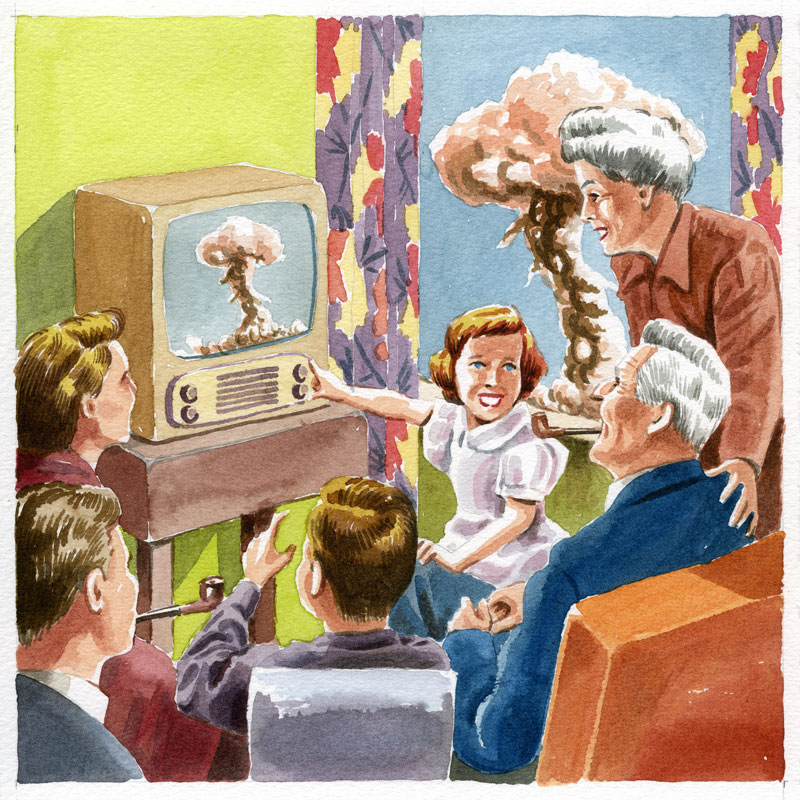 25.10 – 30.11.2012
STEFANO ZATTERA – Saldi di Fine Mondo
Antonio Colombo presents, for Little Circus – the special project place inside the gallery – the new solo show by Stefano Zattera "Saldi di fine mondo", featuring a series of new works made for the occasion.
Stefano Zattera calls himself an Apocalyptic Surrealist. He portrays a society that is making its self-destruction into spectacle. His visual research draws on American advertising from the 1950s and 1960s, B-movies, underground comics, pop icons, apocalyptic culture and Surrealism.
In his paintings, the family smiles as if they were in a television advertisement or on the promotional pages of a glossy magazine. They continue to smile, regardless of the fact that their enchanted world is collapsing around them. As if they were frozen in the economic boom years, the model family remains immobile in its pose of wellbeing, apparently oblivious to the fact that an apocalypse is happening in the background.
Zattera's paintings show peaceful scenes of everyday life that happen inside catastrophic scenarios, creating surreal and paradoxical situations that often erupt into irony.
He describes all this with a realistic but not overly meticulous technique. The brushstrokes are quick, almost like notations made on the fly, live. As if the painter had been there, at the event. Ideally, his painting strives to be almost like an illustrated report on the apocalypse.
Stefano Zattera (Vicenza, 1965)
Education: Art High School and Fine Arts Academy of Venice. Painter, illustrator, comics artist and designer. He has shown in Italian galleries, including Antonio Colombo Arte Contemporanea, Galleria d'Arte Busellato, The Don Gallery, Mondo Bizzarro, Galleria Mondo Pop and in several editions of Infart at the Musei Civici of Bassano del Grappa. In other countries, his works have been shown at La Luz de Jesus Gallery in Los Angeles, the Ilmin Museum of Art in Seoul, South Korea, the Cologne Art Fair in Germany, the KUD (French Cultural Center) in Ljubljana, Slovenia, and the comics festival of Angouleme, France.
His work has been published in many magazines, fanzines, catalogues and art books in Italy and abroad, including "XL" of Repubblica/L'Espresso, "Mater Universalis" of Mondo Bizzarro Press, and "Black" n.4 of Coconino Press. He presently works with "Il Male" of Vauro and Vincino. He is part of the group of designers "Oltremondano, forme illuminanti extraordinarie".