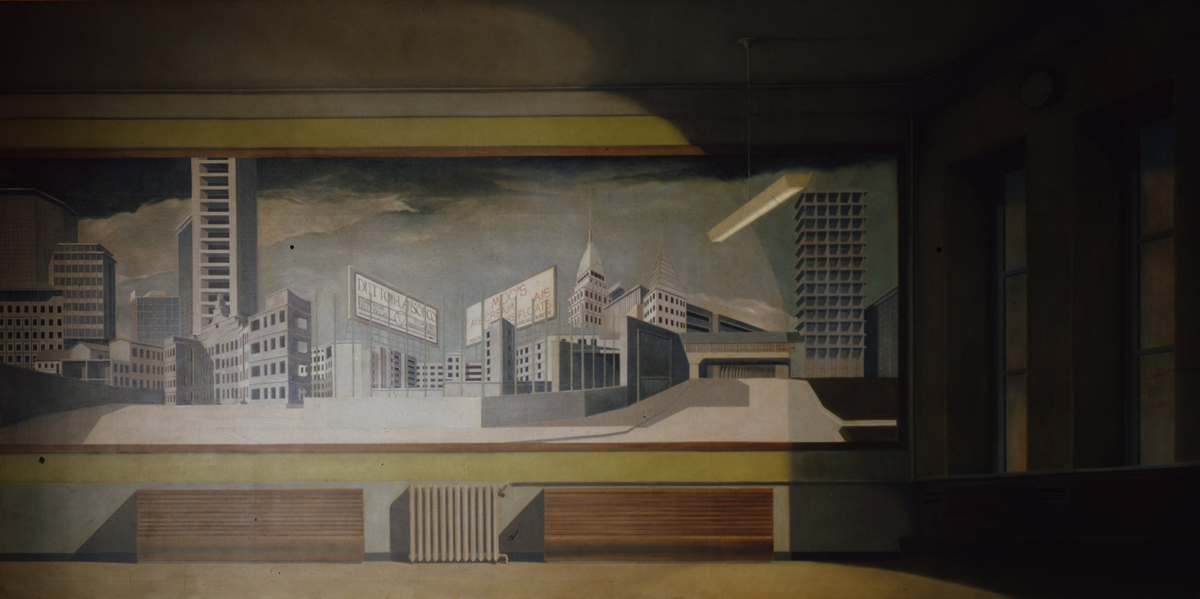 June, 3rd – July, 24th 2015
LA FAMOSA INVASIONE DEGLI ARTISTI A MILANO
Curated by Luca Beatrice and Ivan Quaroni
In a key moment for Milan, for the second time location of the Universal Exposition after the historic edition of 1906, artists, designers and writers are called to interpret, through their works, splendour and misery of a constantly evolving city. Middle earth of the subalpine plain and crossing point between the Mediterranean and the European continent, Milan has always functioned as an important melting pot of cultures, marking, with its development, the course of History. Founded by the Celts in the IV century B.C., the city, surrounded by the rivers Olona, Lambro and Seveso, already capital of the Roman Empire, of the Lombard Kingdom and of the Cisalpine Republic, wasn't just one of the landmarks of the Risorgimento, but also the epicenter of the Futurism movement and of the Industrial Revolution.
During the Twentieth Century Milan was a place of radical socio-cultural transformations, a workshop producing thoughts and contemporary art, from the Ritorno All'Ordine of the 1900s to the optical and kinetic experimentations of Azimuth and Group N. Furthermore, in the shadow of the Madonnina, grew the myth of the hard-working, somber city, but also the myth of the Milano Da Bere of the Eighties, which became the emblem of the Hedonism. Crucial center for fashion and design, today Milan is a global city, the third largest in Europe after London and Paris, and the most visited Italian one.
While the Expo tackles a broader theme, such as the agro-alimentary resources matter, this exhibition investigates the current identity of the city hosting it. The question is whether the geographical and territorial centrality inherent to Milan's own toponym (Mediolanum – middle earth) still coincides with a main and strategic role. By now, none of the artists is able to make such a judgment, because only their vision, hanging in the balance between fantasy and design, between nostalgia and utopia, is able to finally give a face and an image to a dynamic reality, ceaselessly progressing.
The show, inspired by the title of a well-known novel by Dino Buzzati (The Bears' Famous Invasion Of Sicily), is divided in two exhibition grounds, the Sala Delle Colonne at the Fabbrica Del Vapore and the gallery Antonio Colombo Arte Contemporanea in Via Solferino.
Making a comparison between the works of renowned artists and designers – from Marco Cingolani to Alessandro Mendini, from Salvo to Barnaba Fornasetti, to Giovanni Frangi and Aldo Damioli – and the works of emerging artists and street artists, The Artists' Famous Invasion Of Milan proposes to sound out the different souls of the city in a random space-temporal dimension, which alternates past and present, dream and reality, lowbrow and intellectual culture, to reconstruct, for better or worse, the identikit of a city more and more prismatic and unfathomable.
Exhibition period:
From June 3 to July 24, 2015 c/o Antonio Colombo Arte Contemporanea
From June 3 to June 27, 2015 c/o Sala Delle Colonne – Fabbrica Del Vapore
Opening: June 3, 2015 from 6 to 9 p.m. (to 11 p.m. c/o Fabbrica del Vapore)
Addresses:
ANTONIO COLOMBO ARTE CONTEMPORANEA – Via Solferino 44 – MILAN
Opening times: Tuesday / Friday 10 a.m. / 1 p.m. and 3 / 7 p.m. – Saturday 3 / 7 p.m.
SALA DELLE COLONNE c/o FABBRICA DEL VAPORE – Via Procaccini 4 – MILAN
Opening times: Tuesday / Friday 10 a.m. / 1 p.m. and 3 / 7 p.m. – Saturday 3 / 7 p.m.
Artists
108 | Aka B | Silvia Argiolas | Anthony Ausgang | Atelier Biagetti | Walter Bortolossi | Arduino Cantafora | Gianni Cella | Andrea Chiesi | Marco Cingolani | Clayton Brothers | Vanni Cuoghi | Aldo Damioli | Paolo De Biasi | Nathalie Du Pasquier | El Gato Chimney | Marco Ferreri | Enzo Forese | Giovanni Frangi | Daniele Galliano | Massimo Giacon | Alessandro Gottardo | Matteo Guarnaccia | Giuliano Guatta | Ryan Heshka | Hurricane | Massimo Kaufmann | Memphis – Galleria Post Design | Alessandro Mendini | Fulvia Mendini | Valerio Melchiotti | Olinsky | Tullio Pericoli | Marco Petrus | Giuliano Sale | Andrea Salvino | Salvo | Marta Sesana | Squaz | Fred Stonehouse | Toni Thorimbert | Mark Todd | Paolo Ventura | Nicola Verlato | Esther Pearl Watson | Zio Ziegler
Curators
Luca Beatrice
Luca Beatrice was born in 1961 in Turin, where he lives and works. Art critic and teacher at the Accademia Albertina and at the IAAD in Turin, in 2009 he curated the Italian Pavilion at the Venice Biennial. He published books and essays about young Italian art, including Nuova Scena (G. Mondadori, 1995), Nuova Arte Italiana (Castelvecchi,1998), and a  monograph dedicated to Renato Zero, titled Zero (Baldini Castoldi Dalai, 2007). He wrote Da Che Arte Stai? Una Storia Revisionista Dell'Arte Italiana (Rizzoli, 2010), and the book focusing on the relationship between art and music Visioni Di Suoni (Arcana, 2010), while in 2011 he curated, along with Marco Bazzini, Live! (Rizzoli), and Gli Uomini Della Signora (Dalai). In 2012, he published for Rizzoli Pop. L'Invenzione Dell'Artista Come Star, and in 2013 Sex. Erotismi Nell'Arte Da Courbet A YouPorn. At the end of 2014, he published for Barney the collection Write On The Wild Side. Articoli Di Critica Militante 2007-2014, and in March 2015 his latest essay Nati Sotto Il Biscione. L'Arte Ai Tempi Di Silvio Berlusconi. He collaborates with Il Giornale and writes for the magazines Arte and Riders. He's the president of the Circolo Dei Lettori in Turin.
Ivan Quaroni
Art critic, curator and journalist, he collaborated with the magazines Flash Art and Arte. In 2003, he published the book Laboratorio Italia. Nuove Tendenze In Pittura (Johan & Levi Editore, Milan). In 2009, he curated the section «Italian Newbrow» at the IV Prague Biennale. In the same year, he was one of the curators of «SerrOne Biennale Giovani Di Monza». In 2010, he published the book Italian Newbrow (Giancarlo Politi Editore, Milano). In 2012, he published the book Italian Newbrow. Cattive Compagnie (Umberto Allemandi, Torino). In 2012, he curated the Biennial Italy – China at the Villa Reale in Monza. Furthermore, he curated many exhibitions in public spaces and private art galleries, writing for important artists, such as Allen Jones, Ronnie Cutrone, Ben Patterson, Victor Vasarely, Alberto Biasi, Aldo Mondino, Turi Simeti, Paolo Icaro, Marco Lodola, Salvo, and Arcangelo. He was one of the first Italians to broadcast Pop Surrealism and Lowbrow Art, writing about artists such as Gary Baseman, Clayton Bros, Eric White, and Zio Ziegler. Since 2009, he teaches seminars and workshops about the contemporary art's system and, at the same time, primly looks for new young Italian painters.
Notes of a commuter
by Luca Beatrice
The first times I took the train from Turin to Milan were towards the end of the 1970s, when high speed was science fiction, an idea out of a cartoon. The train cars were made of wood or dirty, damaged brown plastic, but you could smoke almost anywhere and there was always a pungent, acrid odor. It took two full hours, not to mention the usual delays, to travel 140 km. Once at the Central Station, before my eyes I saw something that would only be completed many years later in my city: the subway. Even back then, in a few minutes you were at Piazza Duomo. I would go upstairs, a bit shaken by the quantity of people, and head for Via Torino to look for punks, a rather picturesque group, more extreme than the ones in Turin, with multicolored mohawks, safety pinned lips and jackets covered with badges. Or I would go to Corso Vittorio Emanuele to look at the Fiorucci store, something you could only dream about in Turin. I am convinced that Elio Fiorucci was one of the most profound cultural innovators of our country: he invented a different path to fashion, unleashing color, conveying the spirit of the legendary Studio 54 and Pop Art. Thanks to people like him generations of young people started to say no to terrorism, and got sick of the heavy atmosphere of the anni di piombo. I also felt the tug of that climate, the desire to hit the streets, wearing less gloomy, more creative clothes, to get beyond a period of tensions that wasn't our thing. But we're drifting into a very long discussion here.
Another reason for a trip to Milan, ever since then, were the two road games played by my Juventus against the two Milan-based teams, Milan and Inter. Walking down the stands at San Siro meant entering a gigantic dimension unknown to sports fans at Turin's Comunale stadium. It didn't matter that Turin, in the 1970s, was much more important than Milan when it came to football, with even the other local team, Torino, doing its part: the Scala of football was the stadium named for Peppin Meazza, which we always approached with a certain reverence, inspired more by the place than by the protagonists. The usual defect of the Torinesi, to feel out of place beyond the Palatine Gates…
The cliché says that people from Turin have an inferiority complex when it comes to their (almost) cousins from Milan. While Milan is open, quick, welcoming and – in the long run – detached, Turin is closed, family-based, slow, distrustful, false as well as courteous. But they also say that in Turin an experimental vocation is always in progress, a city that is a laboratory of ideas that later, in Milan, can be refined and sold. In a typical attitude of those suffering from a sense of inferiority, in Turin they say that Milan "takes our stuff," though that is not really what happens. Where art is concerned, Milan has always stood out for its dense network of galleries (the best in Italy) and for having attracted the most significant artists from all over the country, though the city still doesn't have a museum for only contemporary art, while Turin, on the other hand, has produced more museums than artists, wagering on policies of entertainment and tourism, forced into such a sudden transformation by the collapse, in the 1990s, of the monocratic system of its big industry, another family affair. And while Turin at the height of its splendor hosted the Winter Olympics in 2006, today Milan is the city of the Expo, and therefore appears to be the only city in Italy capable of driving a hoped-for economic rebound. In Milan you can really sense the desire for new things. The streets pulsate, the energy is finally back. Have we really gotten over the crisis?
Let's be clear, though. I am one of the few people from Turin who like Milan. Who actually love it, envy it a little and in the end wouldn't mind living there, not just due to the work opportunities and the many ideas that can quickly take form, even from occasional contacts. But those few remain in Turin, because it is objectively more beautiful and melancholy, reserved and moving, with a unique, much less costly price-quality ratio for real estate, and at this point it is not so far away, especially if you take the train. To try to feel better, I have to visit Milan very often, once a week at least, never tiring of playing the role of the commuter as I have on a regular basis for about ten years, since I decided to teach at the Fine Arts Academy of Brera, even though I was back living in Turin after a period in Rome. Not a school like all the others, but one with a lofty name that makes the city proud, where all those art critic colleagues who have managed to produce something of interest, more or less, have passed through.
Those years, which I honestly miss now and then, also because I was much younger than I am now, gave me the possibility of accelerating my work through the relationship with different artists and gallerists, a relationship that has continued in time, more or less intensely. Though mentioning some of them means unjustly omitting others, for example Marco Cingolani and Massimo Kaufmann have been true "traveling companions" over the long run, and whatever happens we always meet up again. We are the same age, but when I met them they were more famous than I was, and represented the best of that "emerging scene" that was being observed, already at the end of the 1980s, with curiosity and interest. From the outset Marco was good-natured and jovial, while Massimo was a bit aloof, but extraordinarily appealing precisely for that reason (I love people like that, who don't generally meet with unanimous adulation because they don't indulge in clever poses of fake benevolence).
In those years, much more than today, it was normal to go gallery hopping, and in effect for a provincial from Turin coming to Milan meant breathing a different atmosphere, a younger, more nonchalant air that made you think about art but also about money, while back in Turin those who are rich (and there are many) do not show it off, in the name of an understatement that has become a code of behavior, which people can't stand in other zones of Italy, and they might be right. On one of these pleasure trips I met Antonio Colombo, and our relationship has lasted for ages, flowing so easily, without any squabbles (almost a record), that every so often we get together here, as he invents in his convulsive mind, pursued by a sense of horror vacui – just consider the interminable list of this work-in-progress exhibition – and as I try to write essays and stitch his intuitions together, sometimes with our friend Ivan Quaroni, who if he doesn't mind I would like to define as something of a disciple. At Via Solferino 44, near the Corriere, another reason for the provincial syndrome of Turin, where we read La Stampa, confidentially nicknamed La Busiarda (the liar), people have passed through who have to some extent written the history of art in Milan, and elsewhere too. Antonio, with rhabdomantic and lanky movements, exactly like today when he stubbornly concentrates on near madmen from California, has never applied logic or strategy. Simply enough, he does what he wants and what he likes, getting outrageous crushes and often falling out of them with the same speed, because he is faithful only to Titti. Every so often he triggers another Copernican revolution, tosses everything out, leaving dead and wounded on the battlefield. He is countered by his alter ego, Aloisia Resch, and together they play the good cop and the bad cop. They have worked side by side for a lifetime, but they aren't yet on a first name basis. They're irresistible. Ah, what's more, Aloisia is engaged to that Carlo Benvenuto character. I hope the gods give her credit.
Of all those who have passed through here, I would like to recall a few, like Andrea Salvino who I knew back in Rome in the 1990s, and who in effect was seen as a promise of Italian painting back then, though he was hampered by the soft, seductive air of the capital. Since he is very intelligent and brave he had the right intuition and moved to Berlin, where the food is terrible but the artistic community is lively and stimulating. As I was saying, many young talents have passed through the gallery, but also people at the borders of the artworld, architects like Arduino Cantafora whose work is enigmatic and precious, also when he focuses on painting, or the magmatic talent of the great Alessandro Mendini (to whom I willingly add the daughter, Fulvia, a gifted painter and very charming woman), and then the guru of Italian psychedelia, Matteo Guarnaccia, the many street artists from Italy and elsewhere, including Zio Ziegler, the outstanding revelation of the last few years.
I know that Colombo is jealous and possessive, but I imagine he won't get made if I mention, among the many, two gallerist colleagues with whom I have had and still have important relationships, namely Enzo Cannaviello, who has always done a monstrous work on painting, firsthand (if he collaborated, for a certain period, with Daniele Galliano, I think I also deserve some credit) and Giuseppe Lezzi, a new traveling companion capable of assessing the works of erudite, refined artists like Marco Petrus and Giovanni Frangi. I am also happy that together we have remembered Andrea Chiesi, to whom I am truly bonded, also for a long shared background, who returns to Milan after a number of years, very many since the exhibition at corsoveneziaotto, which was the gallery of my close friend Alessandra Passera.
There it is. Commuting, I think, is one of the characteristics shared by many of the people you will see here, in this festive invasion of artists in Milan. Commuting means travel, movement, trains at any hour, as I said at the beginning. Which means lots of books to keep you company in all those hours that, if combined, would give rise to months and years spent between one city and the other, in a sort of no man's land. In this way, I have fed on Milanese literature, to better grasp the meaning of so much love: Dino Buzzati (to whom the exhibition is virtually dedicated) and Giorgio Scerbanenco, Luciano Bianciardi and Luca Doninelli, Giovanni Testori and Andrea De Carlo.
Every book a story, every story something of myself, to tell to those who want to listen.
The City of Miracles
(tribute to Maurizio Sciaccaluga)
by Ivan Quaroni
Milan and art. Artists and Milan. How to sum up in a few words the relationship between two realities without drifting into a morass of clichés and tour-guide platitudes? The city, after all, is a concentrate of common places, the sum of shared concepts, of constantly reiterated images, like certain things that if repeated enough begin to seem true. And the fact of the matter is: they are true. Or, more precisely, they were. But not now. This is no longer the Milan of Leonardo and the Sforza family, the severe counter-reformist city of St. Charles Borromeo and the imagery of the Procaccini. Not the tragic theater of Manzoni's plague, not the efficient neoclassical town of the Habsburgs. Today there is another reality, as far from dynamic Futurist visions as it is from the silent peripheral glimpses of Sironi. To be honest, it is not even the city of Lucio Fontana and Piero Manzoni, though Bar Jamaica still exists, as a hang-out for tourists and nostalgia buffs. In spite of the chattering local throngs at happy hour, even the "Milano da bere" of the 1980s is but a faded memory, an impression suspended between images of adverts for Amaro Ramazzotti and the notes of Birdland by Weather Report.
I grew up in this city but I have no idea what it has become. Instead, I know what it isn't.
In its relationship with art, for example, it is radically different from nearby Turin, from its cultural snobbery still clinging to Arte Povera and the Conceptual and thus tragically tetragonal, with rare exceptions, to painting. But Milan is in antithesis, above all, to Rome, to its worldly and coy grandeur that passes through the filters of political, ecclesiastic and even aristocratic potentates. Because Rome, like all capitals, is a center of immobility and conservation, that reduces every risk factor to a minimum and tends to reaffirm success rather than to favor it. With Naples it forms an impenetrable axis of resistance that prevents artistic immigration from finding fertile ground. In Bologna, as we all know, there is nothing at all except a fair for the annual, worn-out ritual rendezvous of sector professionals.
Let's be clear. While there are always exceptions, it is under this leaden sky, on the banks of a canal, between the Lambro and the Ticino, inside and outside the edges of this settled plain, that the fate of most Italian artists lies. As Maurizio Sciaccaluga, the sorely missed spirit of the Milan art scene, once said, "it is here that the market passes, the big collectors converge; this city is the home of the only magazines that count; so it is here that the descent begins, the motor stops, or the voyage starts." Maybe the seeds and ashes, births and deaths happen elsewhere, but it is here that stories reach a turning point, in this immense waiting room where the queues move quickly and your turn comes, sooner or later.
Of course Milan is not America, as Timoria sang, but it is the closest thing to the utopian "Land of Opportunity." Maurizio said that maybe it isn't a factory, a workshop, a laboratory, but for some strange reason it is a place of epiphanies and revelations, where "you can give form and weight to your dreams and your hopes."
What is certain, and I have directly witnessed it, is that the talent of many artists from all over Italy has flourished in Milan. Maybe it's the cosmopolitan air, the proximity to Europe across the Alps, the fact that the city has always been a crossroads, a sort of permanent fair for markets of all kinds, a bridge between north and south, east and west, in short a middle ground, but the fact is that here, precisely, resources, visions and ideas developed elsewhere seem to converge. Here, not in Turin, Rome or Bologna, every so often a miracle happens. Not because of some magical virtue of the city, some particular political vision or outstanding intelligentsia. I think it is simply the pragmatic, rather dismissive spirit of Milan that bears fruit. Encounters quickly become professional opportunities and working relationships often shift into lasting friendships. That has happened to me. Many of the artists armed with talent but little wherewithal who I have urged to move to Milan, even at the price of strenuous sacrifice, have become my friends. People like Giuliano Sale and Silvia Argiolas, who I met in Florence during the exhibition of the finalists of the Premio Celeste, or Vanni Cuoghi, an expat from Genoa bedazzled in the classrooms of the Brera Academy and then in the gallery of Luciano Inga Pin.
Here, I was saying, again to cite Sciaccaluga, there are "the only objective, just and sacrosanct laws of evolution that art can set for itself." Because in the city of business, art too moves fast and often sacrifices old glories on the altar of the latest novelty. Milan is generous about granting opportunities for success, but it is terribly merciless and quick to revoke them. The real miracle, perhaps, is to resist the fashions of the moment, to not get swept away by trends and to learn the art of being steadfast and constant in time. Honestly, in the end, only a very few artists survive the tremors and impacts of history, but they all at least have the possibility of taking part in that fierce, cruel game we call art.
In short, if you can't make it here, you can't make it in any other part of the peninsula. Also because inside and outside the two ring roads that circle the city center, there are over two hundred art galleries, some temporary, some well established, more than any other city in Italy.
In the midst of this sea of exhibition spaces, not to mention the institutions, the public and private foundations, banks, cultural associations and countless other places set aside for art, very few have an identity, an atmosphere, a particular scent.
One of them is undoubtedly the gallery of Antonio Colombo, where I have met many good artists for the first time, and made dozens of very interesting discoveries and rediscoveries. Over the course of almost twenty years at Via Solferino 44 many of the most promising talents of Italian painting have passed through. In the spaces, near the canal lock of Leonardo, the historic headquarters of Corriere della Sera and Brera, in the shadow of the new skyline that has swept away the sad and rather seedy image of the former Varesine amusement park, many art histories have unfolded. From Mario Schifano to Marco Cingolani, Matteo Guarnaccia to the Dutch Provos, Moby to Daniel Johnston, the Nuova Figurazione to Italian Newbrow, passing through incursions into Conceptual Art (but not excessive ones), all the way to American fantasy and California Kustom Kulture. In fact, even if Milan is not America, a bit of the vitality of American contemporary art has reached this place. The gallery has been (and still is) a fertile incubator, especially for painting, though there have also been exhibitions of photography, sculpture and design. The idea of paying tribute to Milan, for better or worse, through the bittersweet vision of artists, architects, designers and graffiti artists, happened at the tables of a bar near the gallery, under the rather flimsy pretext of the imminent Expo. We needed a different idea, something that had nothing to do with food, the main theme of the big event, something that would stand out from the avalanche of thematic exhibitions that would soon be burying the city. So while what we initially called Gran Milano was gradually taking form, only to be brilliantly renamed by Cingolani as The famous invasion of the artists in Milan, it became clear that art is the only nourishment we care about, the ingredient that would never be missing on our table.
There are all kinds of things in this show. The contribution of certified Milanese like the architects Alessandro Mendini and Arduino Cantafora and the artists Aldo Damioli, Giovanni Frangi and Paolo Ventura, of citizens of choice like Tullio Pericoli, Marco Petrus and Massimo Giacon, of expats like Nicola Verlato and Andrea Salvino, and a wild bunch of American artists composed of Zio Ziegler, Ryan Heshka, Clayton Brothers, Esther Pearl Watson, Fred Stonehouse, Anthony Ausgang and Mark Todd.
Residents or tourists, one thing is certain: artists are the only ones able to tell us something we don't already know about Milan. But readers should be warned: this is not an exhibition based on rigorous premises, not a sociological thesis, and it certainly wouldn't meet with Okwui Enwezor's approval. This is a happily confused but extremely vital show. Like any experience worth living.