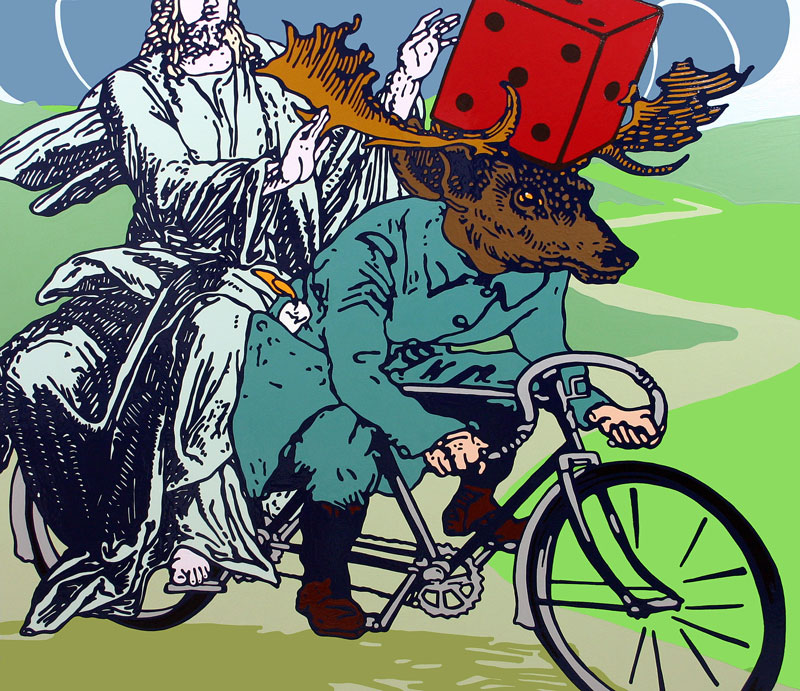 17.11 – 23.12.2005
GABRIELE ARRUZZO – The Funky Revenge
curated by Maurizio Sciaccalunga
Very colorful, full of citataions and paradoxical at first glance, the research of Gabriele Arruzzo only looks childish, glam-crazed and fun-loving.
It is fake collage and fake painting, fake hard ball and fake iconoclasm. It's a big trick, an enormous rebus, a complex construction that is very difficult to decipher. Like a gorgeous woman wearing a dazzling dress, but underneath it she's concealing much, much more. A very subtle game of reminders, overlappings and betrayals between what appears fully evident –inevitably leading many viewers astray– and what remains behind the scenes, not immediately noticed, though it is actually the foundation and motivation of the work. The paintings of this young artist, a finalist at the last edition of the Cairo Prize, are the result of long, attentive analysis of symbolism, heraldry, erudite and pop illustration.
While the skin of the work is represented in acid tones, precise fields, a cold, pre-meditated sign, the flesh of the research can be found in references to and studies of the traditions of fable, the combination and juxtaposition of images from ancient manuals or forgotten legends.
Arruzzo's voyage in contemporary painting is similar to that of Propp in the morphology of fable, or to the path of Gulliver in the universe of the without-measure, the incommensurable. Though it is friendly, amusing, captivating, each construction, each situation conceals an interpretation –even a hard, pitiless one- of the contemporary condition, the customs of men, the habits of the world.
The colors may be those of an amusement park, the appearance similar to that of certain toys or decorations, but the deeper sense of the research very earnestly explores the confusion of myths and values in the present, the difficulty of interpreting and weighing the past, the inconsistencies and contradictions of contemporary knowledge.
The exhibition presents about a dozen new works.
Gabriele Arruzzo was born in Rome in 1976. He lives and works in Pesaro.
Solo shows: 2005 Cuoredicervo, curated by Ivan Quaroni, Galleria delle Battaglie, Brescia, 2004 Suspense, Galleria San Salvatore, Modena.
Group shows (selection): 2005: Altri fantasmi, curated by Laura Carcano and Norma Mangione, Ermanno Tedeschi Gallery, Galleria In Arco, Gagliardi Art System Gallery, Turin; Altre voci, altre stanze, curated by Alessandro Riva, Le Ciminiere, Catania; Senza Dubbio! L'arte torna a scuola, curated by Marco Cingolani, scuola media A. Fogazzaro, Trissino (Vi); New Thing, curated by Luca Beatrice, Spirale Arte, Milan and Pietrasanta (Lu); 2004: Allarmi, zona creativa temporaneamente valicabile, curated by Norma Mangione and Ivan Quaroni, Alessandro Trabucco, Irina Zucca Alessandrelli, Caserma De Cristoforis, Como; La Morte ti fa Bella, curated by Norma Mangione and Ivan Quadroni, Galleria San Salvatore, Modena. 2003: Almeno 16 minuti, curated by Luca Beatrice and Guido Curto, Galleria Art&Arts, Turin; XS (Extra Small), curated by Luca Beatrice and Norma Mangione, Galleria San Salvatore, Modena.