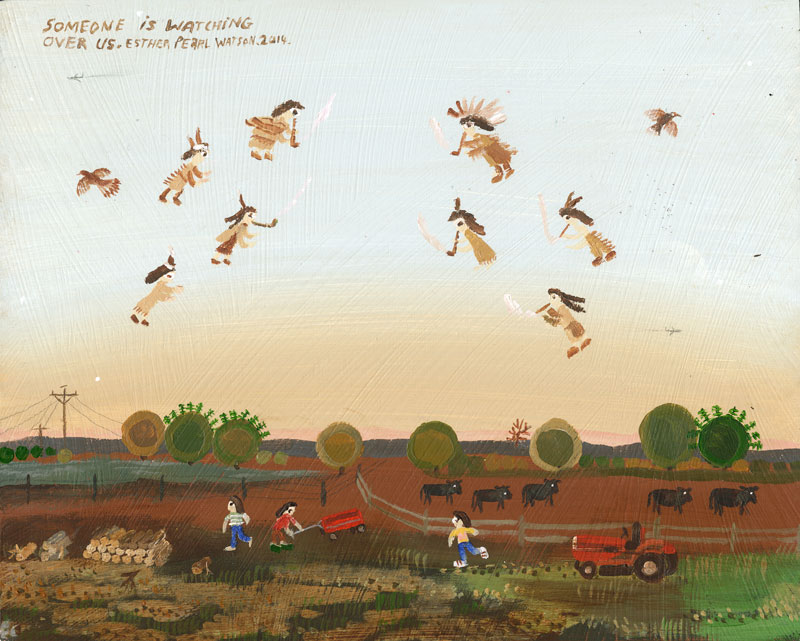 5.02 – 21.03.2015
FRED STONEHOUSE  ESTHER PEARL WATSON – Family Lexicon
Curated by Michela D'Acquisto
Antonio Colombo Arte Contemporanea is proud to present Family Lexicon, the double personal exhibition of the american artists Esther Pearl Watson and Fred Stonehouse, curated by Michela D'Acquisto.
The show proposes a new body of works intended to explore the family lexicon of the two artists, meant as the complex of sayings and terms typical of the intimate dimension of every family.
Esther Pearl Watson's confessional and distinctly naïve painting draw on the years of her very peculiar adolescence, spent on the road between Italy and Texas, in the orbit of her father, an inventor of flying saucers made of cars' motors and scrap parts.
Her memories unravel in the background of sleepy small towns and infinite Texas prairies, whose skies are always dominated by the strangely comforting presence of space shuttles: these are the double emblem of the relationship with her father, the first inspiring figure of her life, and with her own young daughter, who has learned since she was a child to associate Esther to her UFOs.
The artistic research of Fred Stonehouse, one of the cornerstones of american contemporary folk art, originates from his favourite childhood activity too: pretending to be part of an imaginary family, whose members, only apparently resembling his real parents, display completely made-up oddities and quirks.
Borrowing elements from his catholic upbringing, state fairs and folk tales, Fred inserts these characters, weird as only relatives know how to be, in the woods and the swamps of his Wisconsin, where they are moved by same logic that rules dreams.
Amongst the many similarities that the two have in common, they both teach art and have been published in the cult pages of BLAB!, Monte Beauchamp's art and comics anthology.
Irriverent and visionary, Esther and Fred are inspired by outsider art, the kind of art that best knows how to tell everyday life, openly fictional and filtered through the vernacular.
On show: paintings, site-specific installations and works on paper.
Esther Pearl Watson (Frankfurt, 1973) lives and works in Los Angeles.
She is considered by critics an insider-outsider artist, as she uses a self-taught vernacular, despite the MFA in painting from the California Institute Of The Arts of Valencia (California). In addition to teaching art at the Art Center College Of Design of Pasadena (California), Esther has written many graphic novels, such as the cult publication Unlovable. Amongst her main personal exhibitions: in 2014, It's Not A Circus Without A Big Top, Webb Gallery, Waxahachie (Texas); in 2012, Fort Beavatron, CalArts Mint Gallery, Valencia (California); in 2010, Big Dreams, Sandra Lee Gallery, San Francisco; in 2009, Visions Of The Future, Billy Shire Fine Art, Los Angeles; in 2007, The Weirding Field, La Luz De Jesus, Los Angeles. Amongst her main group shows: in 2013, Incognito, Santa Monica Museum Of Art, Santa Monica (California); in 2012, House: Home, NYU Kimmel 8th Floor Gallery, New York; in 2007, BLAB!, Copro Nason Gallery, Santa Monica (California).
Fred Stonehouse (Milwaukee, 1960) lives and works in Milwaukee, in Wisconsin.
Holding a BFA in painting from UW-Milwaukee, currently Fred teaches drawing and painting at UW-Madison (Wisconsin). His works are part of many private, such as Madonna's, and public collections: to name only a few, Mary And Leigh Block Museum Of Art, Evanston (Illinois); Milwaukee Art Museum, Milwaukee; San Jose Art Museum, San Jose (California). Amongst his main personal exhibitions: in 2013, The Deacon's Seat, St. Ambrose College, Davenport (Iowa); in 2012, Blood Relatives, Taylor Bercier Fine Art, New Orleans; in 2011, Marsh Night, Koplin Del Rio Gallery, Los Angeles; in 2010, Marshland, Howard Scott Gallery, New York; in 2007, Selections From The Natural History Portfolio Of Marshall Deerfiled, Tory Folliard Gallery, Milwaukee. Amongst his main group shows: in 2014, Don't Wake Daddy IX, Feinkunst Kruger, Amburgo; in 2013, Vice And Virtue, Northern Illinois University Art Museum, DeKalb (Illinois); in 2007, BLAB!, Copro Nason Gallery, Santa Monica (California).