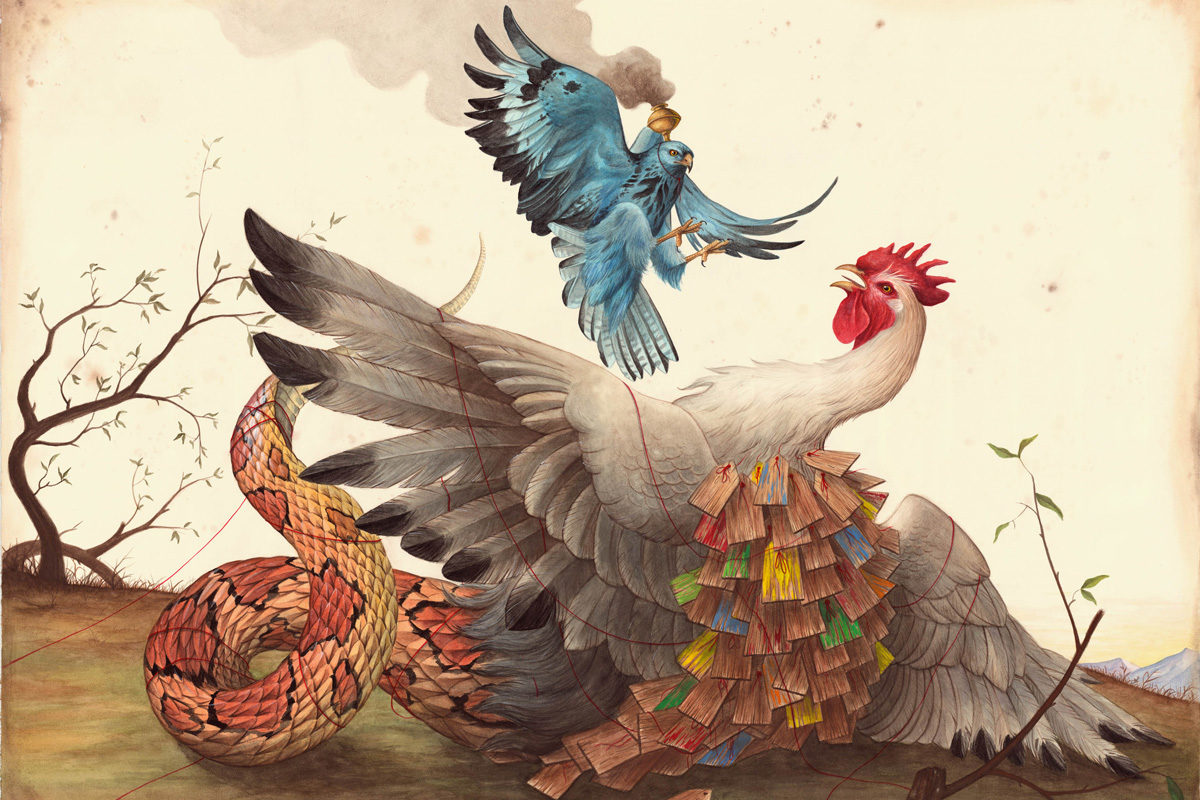 Opening thursday 26 November
from November, 26th till February 5th
EL GATO CHIMNEY – Preternatural History
curated by Michela D'Acquisto
Antonio Colombo Arte Contemporanea is proud to present Preternatural History, the new personal exhibition of the Italian artist El Gato Chimney, curated by Michela D'Acquisto.
Following the revelations of the era of great geographical discoveries, sixteenth-century Europe suddenly sees its borders expand and, aware of the fact that its knowledge of nature is now obsolete, begins to classify fauna and flora of the new and the old continent, driven by the desire to organize the world known so far.
If the collections of wonders – natural and otherwise – are the preserve of the aristocracy, thanks to the growing popularity of the press curious and scholars can now purchase books on the subject, complemented by engravings and watercolor tables.
The most prolific creator of such volumes is the Italian naturalist Ulisse Aldrovandi, who in his "microcosm", a precursor natural history museum, includes an opera omnia containing thousands of watercolors depicting not only animals and plants, but also fantastic creatures, results of the speculations about what still lies beyond the oceans.
The taste for the mysterious and the suggestion dictated by the singular continue to fascinate humanity in the centuries to come, influencing Austrian Aloys Zötl, dyer of fabrics by his trade, who in the nineteenth century illustrates a veritable made up bestiary, uncovered decades later by Breton as an extraordinary example of Surrealist aesthetics.
El Gato Chimney follows their steps, those of men guided by the interest for science, but even more moved by the passion for all that creates wonder, and in turn appropriates the intrinsic symbolism of the animal kingdom to narrate a fictional universe that, while resisting rational explanations, answers to more instinctive and visceral needs.
El Gato Chimney's preternatural history, told by anthropomorphic creatures and hybrid beings, therefore wants to encourage a typically Foucaultian curiosity, "the care one takes for what exists and could exist; […] a readiness to find strange and singular what surrounds us; a certain relentlessness to break up our familiarities and to regard otherwise the same things".
In addition to large-format watercolors, in the gallery will be present works on canvas and a site-specific installation.
El Gato Chimney was born in 1981 in Milan, where he lives and works.
Self-taught, with a background as a street artist abandoned in favor of a more introspective exploration in the studio, he dedicates his time to the research of a wide variety of subjects: primitive and sacred art, esoterism and spiritualism, folklore, magical realism in literature.
He has exhibited in galleries and museums around the world, such as Antonio Colombo Arte Contemporanea, Milan; Stephen Romano Gallery, New York; Thinkspace Gallery, Los Angeles; Musei Capitolini – Centrale Montemartini, Rome; Museo D'Arte Contemporanea MADRE, Naples; Museo Della Permanente, Milan; Summerhall, Edinburgh; Triennale Di Milano, Milan; and has participated in international art fairs, including Art Aqua, Miami; Arte Fiera, Bologna; The Metro Show, New York; Scope, New York.
Among the publications: Arte Contemporanea Volume 7 "Ambienti" (Electa per Repubblica – L'Espresso, 2008, Italy); The Encyclopedia Of Fernal Affairs (2015, France); Hunt And Gather (Mark Batty Publisher, 2010, Unite d States); Los Colores Del Underground (Astiberri, 2009, Spain).