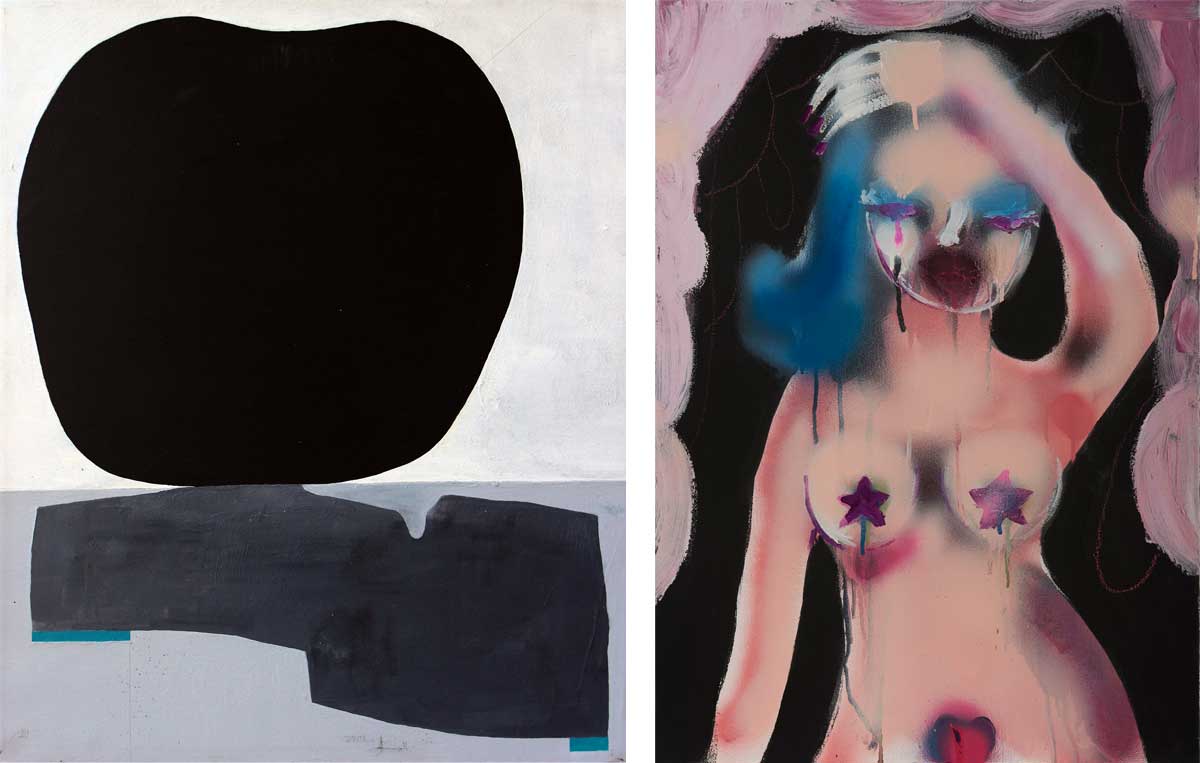 Opening thursday 26 May from 6.30pm
from 27.05 to 22.07.2016
108 | SILVIA ARGIOLAS – Both flesh and not
curated by Luca Beatrice
Antonio Colombo Arte Contemporanea is proud to present Di Carne, di Nulla (Both Flesh and Not), the double personal exhibition of the italian artists 108 and Silvia Argiolas, curated by Luca Beatrice.
A double personal exhibition is one of the most difficult challenges for a curator, whether it be about putting similar works together, or thinking in terms of difference or contrast.
In this case, however, the show arises from a precise need: Silvia Argiolas and 108 are among the most interesting artists of their generation, the second part of the Seventies, among those using painting and wondering how this language, at times set aside by the contemporary, sometimes, instead, restricted to a form of resistance compared with other media, can continue to have its say in our present.
They have very little in common: the date of birth, Silvia was born in 1977, 108 (real name Guido) in 1978. Both city dwellers, Silvia from Cagliari, 108 from Alessandria, and yet somehow attached to the suburbs. Then Silvia chooses Milan, 108 settles down in Piedmont but travels a lot: Europe, the world. She paints female figures, very aggressive yet fragile, daughters of their and our time, the outcome of current anxieties and contradictions, in a range of styles going from Bad Painting to Reality, just as Matteo Garrone had imagined in his movie. 108 is one of the few street artists that renounces the image, the narrative system, and he could be compared to the family of abstract painting – Guido reveals he studied Kandinskij, Malevic, Bauhaus, that he loves Burri and Fontana. For the rest they are different, and exactly for this they have felt attracted to each other, because what is distant is always what interests us the most.
In any case they are two very atypical talents in the Italian scene, furthermore consistent with Antonio Colombo Arte Contemporanea's cultural line. The usual bet, in conclusion.
Now: why this title, so evocative and enigmatic? Both flesh and not.
"The first time we met to discuss how to develop this exhibition – says Guido – Silvia found this title, from a collection of short stories by David Foster Wallace. The point is that if our work is diametrically opposed on a visual level, it springs from similar reflections on the world and on our life. Silvia expands upon these reflections by immersing herself in the more mundane aspects (of flesh). I am completely immersed in everyday life too, both when it comes to positive and negative experiences, I react by trying to transcend it, painting forms that have little to do with the real world".
And Silvia adds "the original expression was referring to a tennis player, and it said both flesh and light. In our case, too, flesh indicates light / life, while nothing is what inevitably awaits us.
Life, boredom, superficiality, everyday life are present in my art, while in Guido's works I have always seen the infinity of what lies ahead".
Silvia and 108 show in Milan two series of new works: the female characters, of an unripe and unresolved femininity, along with 108's black holes and denied spaces. Even the preparation for the exhibition draws attention to this ongoing exchange of ideas, this collaboration born from a thorough and excellently resolved dialogue.
Let's conclude with the words of the artists: Silvia says "I like to watch human beings, how they try to spend their existence, with their frustrations and daily relationship with the neighbor. I moved away from my female perception to try to understand what brings a man closer to sexuality. My characters are connected by a constant boredom readable in their empty eyes, in contrast with the alluring attitudes, girls waiting to be chosen, and, observing, one could grasp a repetition of objects, shoes, blankets, paintings, in a setting devoid of personality".
And Guido: "I have always been fascinated by ancient and mysterious shapes. I am thinking of a stone rough-hewn thousands of years ago that rises from the ground, so heavy and material and yet with a magical force that could immediately make me forget the world where I am in that moment. A black form in my works can appear both as a representation of an unknown physical shape or as a hole, a passage that leads to an unknown destination. The brilliance of the colors collides with the opacity of the blacks. When I paint black in geometric and rational forms, colors appear as irregular particles. But when black is a soft, heavy mass, then firm colored shapes try to bring order".
108 (Guido Bisagni), born in Alessandria in 1978, where he lives and works.
Main solo shows: 2015 Antipodas, Dinamica Galeria, Buenos Aires (Arg); Svartans Orolighet, Nevven, Goteborg (Swe); 1010 + 108 = 1118 (double solo show), Soon Switzerland (Ch); The Rite of Spring, Antonio Colombo Arte Contemporanea, Milano (Ita); La forma dell'Ignoto, Ego Gallery, Lugano (Ch); 2014 Solstizio d'Inverno, Studio Cromie, Grottaglie (Ita); Passaggi Concreti, Studio d'Ars, Milano (Ita); Genius Loci, Sale d'Arte della Città di Alessandria, Alessandria (Ita); LAVA, Van Der, Torino (Ita); 2013 The thin mountain, The soft mountain, 999Contemporary, Roma (Ita); La manipulation de la form, Bienurbain, Besancon (Fra); Lava, Ritmo, Catania (Ita); Crossroad #1" (double wit Elzo Durt), Doppelgaenger gallery, Bari (Ita); 2012 Seventeen Dens, Ego Gallery, Lugano (Switzerland); Tulpa, Spazio Arca, by Obliqua, Bassano del Grappa (Ita); Intro: 108 + Cecotto (double), Spazio Pelodrilli, Treviso (Ita); 2011 108 & Tellas, Equilibrium (double), Lanificio CLAM, Lodi (Ita); Le forme dell'Inverno, Avia Pervia, by Pietro Rivasi, Modena (Ita); Ammalarti: 108 , Malacarne, by Barbara Malacarne, Verona (Ita); 2010 Agli antipodi della realtà, Zelle Arte Contemporanea , Palermo Italy; Attack vs 108, Dada Gallery, Foligno (Ita); 108 & Dem, Wonderkammer, Cripta747, Torino(Ita).
Main group shows: 2015 Catastrofe, Studio Cromie, Grottaglie (Ita); Panorama, Bourning Giraffe Art Gallery, Torino (Ita); Un dessin est beau si la ligne est vivant, Winterlong Galerie, Niort (Fra); Outdoor Festival, Ex Caserma Guido Reni, Roma (Ita); Decimo Asalto, Centro de Historia de Zaragoza, Zaragoza (Es); Monferrato oltre il confine, Palazzo Monferrato, Alessandria (Ita); La famosa invasione degli artisti a Milano, Antonio Colombo Arte Contemporanea, Milano (Ita); Mapping the City, Somerset House, London (UK); 2014 On the Wall, Palazzo Collicola, Spoleto (Ita); Surprised Recognition, Slika Gallery, Lyon (Fra); Artmossphere, street art Biennale, Artplay, Moscow (Ru); Apertura, Mini Galerie, Amsterdam (NL); A major minority, 1 AM Gallery, San Francisco (USA); Mamuthones & Issohadores, Superbudda, Torino (Ita); 2013 La tour Paris 13, Galerie Itinerrance, Paris (Fra); Fresh Flaneurs, Doppelgaenger Gallery, by Doppelgaenger, Bari (Ita); Italian DIY, Galerii Miasta Ogrod, by Angelo Milano, Katowice (Pol); Abstract Stories, A word of art gallery, Cape Town (South Africa); Outer Spaces, Wall paintings, Poznan (Pol); 2012 Rodeo Drawing, Antonio Colombo Arte Contemporanea, Milano (Ita); A group show 2, August 13 Gallery, by Gunter Muller, Wellington (New Zealand), Le 4me Mur, Wall Painting and live performance, Winterlong Galerie, Niort (Fra); I, A+ A Gallery, by No Title Gallery, Venezia (Ita)
Silvia Argiolas, (Cagliari, 1977) lives and works in Milano.
Main solo shows: 2015 Last Moments, Robert Kannaj gallery, Toronto, Canada; 2014 A Day in the Life, LEM, Sassari; Walk on the wild side (Conversion Of Evil), Antonio Colombo Colombo Arte Contemporanea, Milano; 2013 Opere scelte, Catania Art Gallery, Catania; Silvia Argiolas Solo Show, Robert Kananaj gallery, Toronto; 2012 You are not really so bad, Galleria D406, Modena; 2011 The Season of the Witch, Antonio Colombo Arte Contemporanea, Milano; 2010 Rainbrow
Wrong, Fondazione Durini, Milano; 2010 I and I Little Circus, Antonio Colombo Arte Contemporanea, Milano; 2009 Magica Arborea, Galleria Tubegallery, Milano.
Main group shows: 2015 La famosa invasione degli artisti a Milano, Antonio Colombo Arte Contemporanea, Milano; 2014 Selvatico tre una testa che guarda, Museo Civico delle Cappuccine, Ravenna; The Dark Knight , Piancoteca Carlo Contini, Oristano; 2012 Altrove Luogo o poesia, Catania Art Gallery, Catania; Something Else, Antonio Colombo Arte Contemporanea, Milano; Big Bang, Galleria Lem, Sassari; Biennale Italia/Cina, Villa Reale, Monza; Italian Newbrow. Cattive Compagnie, Fortino, Forte dei Marmi; Racconti selvatici, Galleria delle Battaglie, Brescia; Italian Newbrow, Pinacoteca civica palazzo Volpi, Como; 2011 Mito del Vero: Situatio, Palazzo Guidobuono, Milano; 54 Esposizione della Biennale di Venezia, Sardegna, Museo Masedu (Sassari); 2010 Christmas Rodeo, Antonio Colombo Arte Contemporanea, Milano; Forward_Rewind, Antonio Colombo Arte Contemporanea, Milano; 2009 Biennale giovani Monza 09, Serrone della Villa Reale, Monza; Overture, Galleria San Salvatore, Modena.