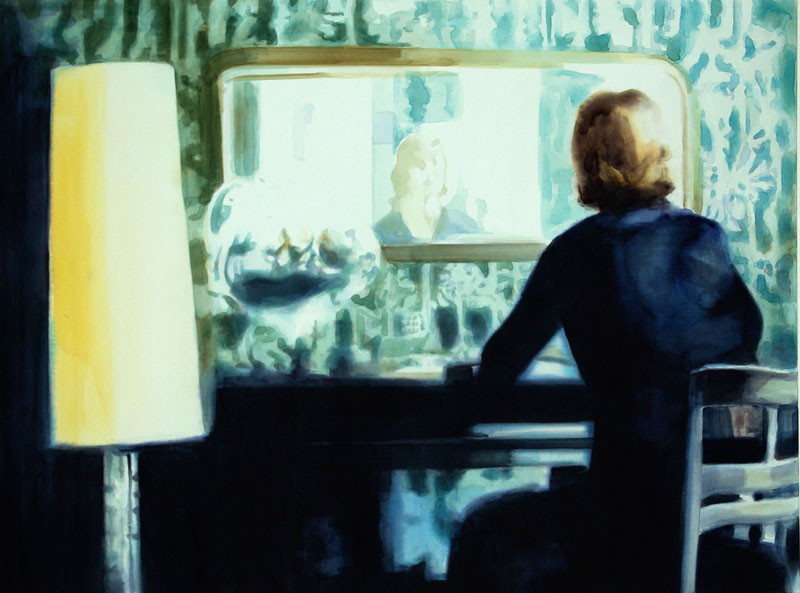 22.11 – 15.02.2008
Tom Fabritius – Suspicion
On 22 November Galleria Antonio Colombo in Milan presents Suspicion, the first solo show in Italy by Tom Fabritius, curated by Raffaele Gavarro.
Suspicion features the most recent work of the German artist, a series of paintings using a light, liquid, at times almost gasseous technique. Painting that does not attempt to align itself with the clear impact of the medium in which the images originate. All the scenes, figures and spaces in the paintings of Fabritius, in fact, come from television. They are true frames lifted from the televised continuum, through a photographic survey that is as random as it is constant. The passage from television to photograph to painting is conducted with awareness of movement through the multiple planes that form our environment. Photographing a televised image, in fact, means detaching the scene from the real media plane and bringing it toward that of the "real reality" traditionally documented by photography. The passage to painting is then a further, different distancing. Fabritius traces the slender thread of the identity of images, in search of the secret that makes them persist. A pursuit that touches on thematic tensions, as in this exhibition, in which the paintings convey an atmosphere of ambiguity and, indeed, Suspicion.
Suspicion is accompanied by a catalogue with a text by the curator.
TOM FABRITIUS was born in Radeberg (Germany) in 1972. He lives and works in Leipzig.
Main solo shows: 2007 Bilder, Galerie Kampl, Munich. 2006 Laird ist der Beste, Galerie Kleindienst, Leipzig. 2005 Open Art Munich, Neue Bilder Galerie Tanit & Galerie Kampl, Munich. 2004 Malerei, Galerie Liga, Berlin. 2003 Malerei, Sandroni.Rey, Los Angeles; Junge Malerei aus Leipzig, Galerie Kampl, Munich; Kanal 54, Galerie LIGA, Berlin. 2002 Kurz angehoben, Laden fur Nichts, Leipzig. 2001 Homegrown, Galerie im Rathaus, Radeberg; me. myself and I, Diplomausstellung, HGB, Leipzig, Germany.
Main group shows: 2007 The Sanctuary and The Scrum, Black & White Gallery, New York; Story and Structure – New Painting from Germany, Galleria Marella, Milan; Wearproof, Antonio Colombo Arte Contemporanea, Milan; Zurück zur Figur. Malerei in der Gegenwart, Hypo-Kulturstiftung, Munich. 2005 Prague Biennal 2, Prague; Not Too Loose And Not Too Tight, DCKT Contemporary, New York. 2004 Looking at Painting II, Galerie Tanit, Munich; New Location, Sandroni.Rey, Los Angeles. 2003. Liga – Junge Kunst aus Leipzig, Kunstverein Neustadt am Rübenberge e.V., Meisterschuleraus stellung, HGB, Leipzig; Halbzeit, Galerie Liga, Berlin; 3 aus Leipzig, Galerie Kampl, Munich; 5aus11, Galerie LIGA, Berlin.