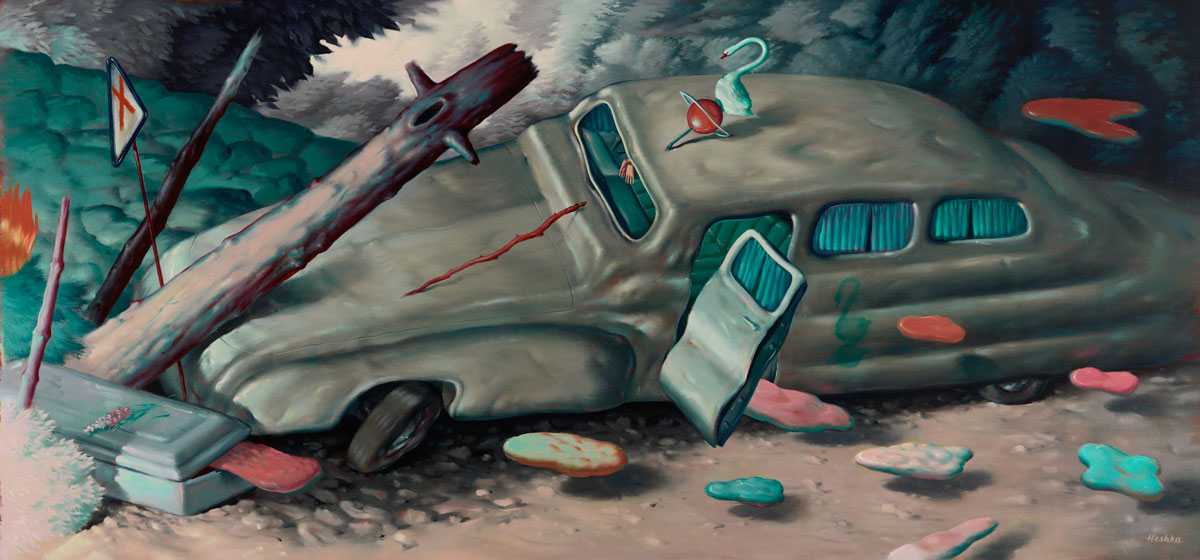 Opening Thursday 22 November
23.11.2018 – 18.01.2019
RYAN HESHKA – Midnight Movie
Antonio Colombo Arte Contemporanea is proud to present Midnight Movie, the fourth exhibition of the Canadian artist Ryan Heshka in the gallery's spaces, curated by Michela D'Acquisto.
Ryan Heshka, whose artistic production is undeniably influenced by the stylistic expression
of the pulp magazines and B movies that have always fascinated him, on the occasion of his new exhibition pays tribute to the bizarre and dreamlike atmospheres of the latter,
re-elaborating them in order to give life to a one-of-a-kind body of works.
The "midnight movies" to which the artist refers were low-budget horror films of dubious quality, which, in the United States of the fifties, were aired after the usual programming. Precisely because of their unsophistication, today, rather than causing terror, they turn out to be amusing both for the naive scenic devices and for the improbability of the plots. Heshka appropriates not only the aesthetics, but also the spontaneous approach of these, painting in a manner not dissimilar from the one they were shot in: in one-take, never mind the fact that the acting or the direction were anything but perfect. What results therefore is a series of mature works featuring a dynamic and energetic painting style, strongly narrative, which suggest a surprising evolution if compared to the previous ones, while keeping its distinctive characteristics unaltered.
In a singular overlap of familiar and at the same time inaccessible images, the artist's peculiar figures alternate with indefinite, almost abstract forms. No more meticulous details, thus, but vibrant brushstrokes of color on dark and distorted backgrounds, grainy and out of focus textures. In interpreting, as an impulsive mode of escapism from reality, his own fantasies on paper and on canvas, Ryan Heshka explores the scenes of a feverish midnight movie broadcast in a foreign language – recognizable, in fragments, only by the plane of the subconscious.
On show: works on canvas and on paper.
Ryan Heshka was born in the Canadian province of Manitoba in 1970.
He currently lives and works in Vancouver, Canada.
After earning a degree in interior design, he worked for many years in this field, and later devoted himself to animation and illustration – among his clients there are magazines from the likes of Esquire, The New York Times, Playboy, Vanity Fair, Wall Street Journal; furthermore, he is present in the most important illustration annuals, such as American Illustration, Communication Arts, Society Of Illustrators.
His artistic training is self-taught, developed during his childhood spent building cardboard cities, drawing and shooting Super 8 films.
Among his most relevant influences, he cites pulp comics and magazines, the graphics of the fifties, and the imagery of B movies.
In 2016, his first graphic novel, Mean Girls Club (Nobrow Press), was published, expanded in 2018 by its sequel, Mean Girls Club: Pink Dawn.
In 2017, Cernunnos printed Fatales: The Art Of Ryan Heshka, the first monograph on his art, which had already been celebrated several times by BLAB! anthology and by the cult book The Upset: Young Contemporary Art (Die Gestalten Verlag, 2008).
His works have been exhibited in numerous international galleries: Antonio Colombo Contemporary Art, Milan; CoproGallery, Santa Monica; Feinkunst Krüger, Hamburg; Giant Robot, Los Angeles; Roq La Rue Gallery, Seattle.