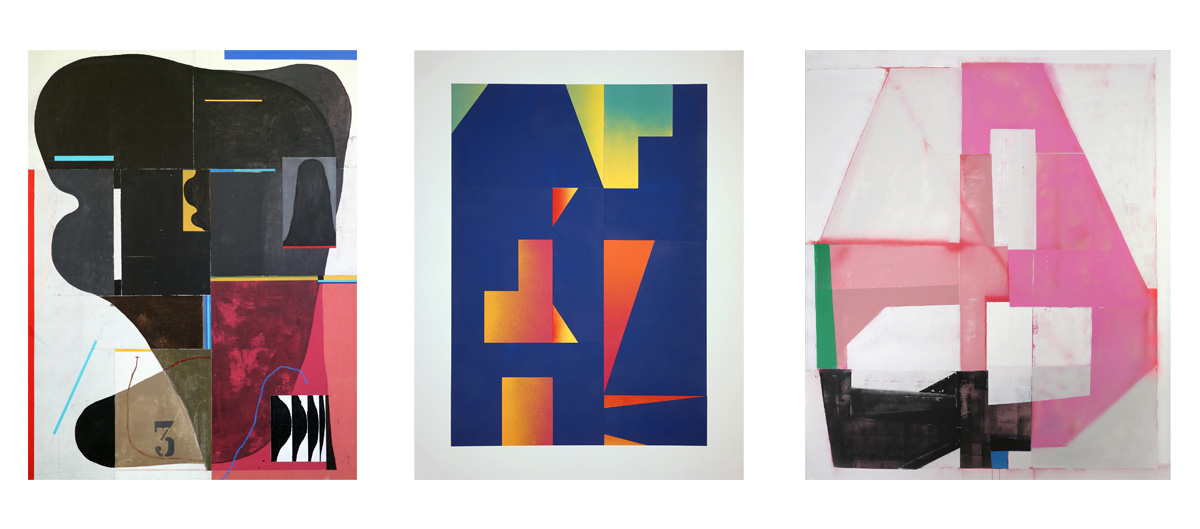 December 1st, 2022 – February 18th, 2023
Opening: Thursday, December 1st, 18-20.30
Out of Disorder
108 – Eltono – Erosie
Antonio Colombo is pleased to present Out of Disorder, the new exhibition that explores today's trends in abstract wall painting, with three of its most important and internationally renowned exponents: the Italian artist 108 (at his fifth show in the gallery), the Dutch artist Erosie and the French mural painter Eltono.
The critic Vittorio Parisi, specialized in urban art and contemporary muralism, has been asked to describe this exhibition.
"To get out of chaos without erasing chaos": with this phrase, Gilles Deleuze tackled the question of abstract painting, underlining its ability to transform chaos into cosmos, without however allowing the latter to disavow the former Great abstract painting is, to all effects, a way for force disorder into a form, producing images that do not resemble anything, but precisely for this reason have a universal function. To take this path, the painter has to paradoxically yield part of the control he exerts on material, in order to usher it out from the disorder of the world. This momentary loss of control is the basis for the work of three great exponents of abstract muralism: 108, Eltono and Erosie.
Starting from a shared background – that of graffiti writing – although with three very different approaches to painting, these artists produce forms with the goal of putting the chaos of reality back into an unprecedented order: graphic, dense with signs that simulate letters and pictograms, in the case of Erosie; geometric, the result of a creative process to some extent externalized and open to chance, in the case of Eltono; mystical, inhabited by irregular, spectral forms, in the work of 108. Whether this happens within the boundaries of a wall, a canvas or a sheet of paper, the principle that governs the works in this show does not change, which is the principle of all great abstract art: on the very thin borderline between chaos and cosmos, the realm of pure form begins.
108 (Guido Bisagni) was born in Alessandria, Italy, in 1978
A long-term presence on the Italian urban art scene, with a degree in Industrial Drawing from the Milan Polytechnic, he is considered one of the first and leading exponents of abstract post-graffiti on a national and European level.
He approached the world of graffiti at the age of 13, by way of punk culture and the practice of skateboarding. At the end of the 1990s, influenced by the artists venturing beyond the widespread idea of graffiti in the world across the Alps, he abandoned traditional lettering to focus on more expressive and distinctive approaches, reflecting a combination of interests in oriental philosophies and geometry. Signs, symbols, abstract materializations of organic features have become the components of his new poetic and spiritual imaginary, conceived through contaminations from different sources, from abstract art to the historical avant-gardes deriving from Dada, from numerology to primitive painting. Besides murals, he has also worked with sculptures, sounds, paintings and installations in dozens of solo and group shows, in Italy and abroad, held in museums and galleries, as well as in many festivals of Street Art, in Paris and Moscow, London and Lyon, Madrid and Lugano, Buenos Aires, Rome and Valencia. Among the most important events, he took part in the fundamental "Nusing" in Paris (2004), the first major exhibition on European post-graffiti, and in 2007 in the 52nd Venice Art Biennale. He has shown work at Galleria Colombo in 2015, 2016, 2017 and 2019
Eltono was born in Paris, France, in 1975.
He worked in Madrid for eleven years then in Beijing for four years and now lives in southern France. Flâneur, stubborn walker and chronic observer, for years Eltono has used public space as support, studio and inspiration source. His sensitivity to what is happening around him and his knowledge of the nature of the street – its whims and its unpredictability – are his main tools when generating works.
He has worked in the streets of more than ninety cities and has shown his works in many world-renowned galleries and museums, including the Tate Modern, the Somerset House, Fundacion Miro and Artium Museum. Over the last fifteen years, the development of Eltono's work in galleries has focused on finding solutions to address the problems of showing public art in private indoor spaces.
Eltono's enthusiasm for randomness and his desire to set limits and constraints on his artistic process have led him to develop several projects that revolve around the element of chance. His original exploration of generative art has come to define his work over the last 10 years. Before embarking on a new generative project, Eltono spends time writing rules and defining parameters for each step of the process. This ensures that despite the unknown, the end result will be harmonious. These self-imposed limits help push him as an artist, while allowing him a unique opportunity to be a spectator in his creative process. The final result is a surprise for everyone, even him.
Erosie (Jeroen Heeman) was born in Roosendaal, Netherlands, in 1976.
Since the mid 90's Jeroen Erosie has been active both working in the street as well as in gallery and museum spaces. From painting murals in France, Italy, Japan ,the UK and Germany to museum exhibitions in Bonn, Eindhoven, Brussels and many gallery shows around Europe. Jeroen's practice originates from the fluidity and restless process of graffiti lettering. This discipline – where lines, letters and shapes evolve gradually and almost imperceptibly towards unpredictable results – has been such at the core of his production it leaves a unique mark on all of his practice. His canvases, drawings and collages appear like a paused instant in a restless dynamic, a continuous morphing and superimposition of shapes, lines and textures. Jeroen Erosie's work reflects a poetic journey of rounded forms and geometric lines, a language that channels the natural landscapes of his endless bike rides as much as the architectural observations of the city's forgotten spaces and cultural symbols. On a more subliminal level this research reflects a need to visually translate his personal thought processes through an iterative approach, almost like searching for a personal ideographic vocabulary. A rare balance, where very physical and intuitive gestures are mixed with an extremely methodic process of creation, reinterpretation and relentless research.
Vittorio Parisi (Bari, Italy, 1986) is a researcher, art critic and curator. He is currently acting as director of studies and research at Villa Arson in Nice. He holds a doctorate in research in aesthetics from Université Panthéon-Sorbonne in Paris, where he taught from 2015 to 2019. He has written many articles and essays for international catalogues and magazines; his studies investigate the relationship between graffiti writing, street art and non-urban locations.
To read the full catalogue essay:
Out of Disorder by Vittorio Parisi