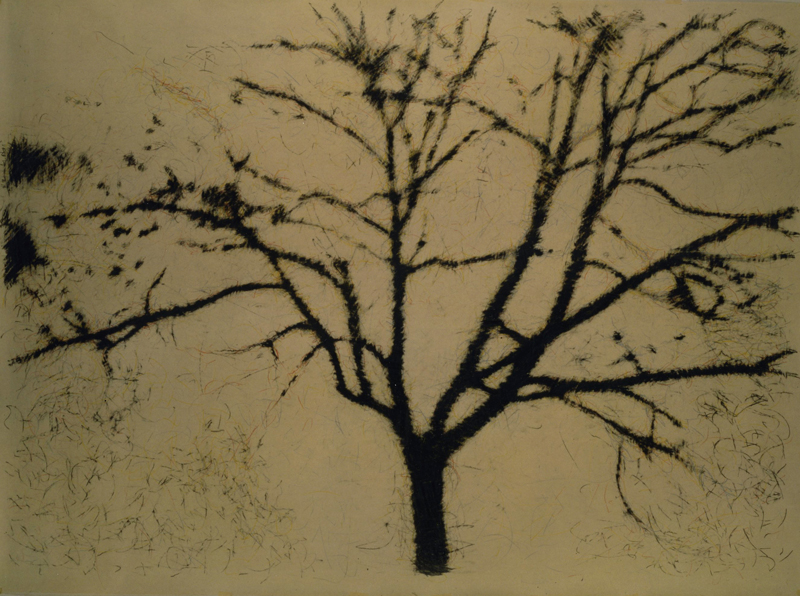 20.10 – 20.11.1998
Luca Pancrazzi – Endogenous Landscape
curated by Gianni Romano
The work of Luca Pancrazzi blends different approaches to art: starting with a solid foundation in painting, the Tuscan artist also brings sculpture and photography into his take on this tradition. His reflection on spatial factors is not evident only in his choice of figurative subjects, but also in the way in which he often adapts his works to their surroundings.
A good example of this is the exhibition Luca Pancrazzi has created for Antonio Colombo. In the gallery on Via Solferino visitors enter the (recently renovated) space through a glazing that is also a screen for a projection by the artist. In this way the spectator immediately penetrates the work, because the projection is a closed-circuit recording of a landscape model found in the second room utilized for the exhibition: a 3D sculpture sandwiched into a column at eye level, a landscape of urban outskirts composed of handyman's scrap.
After the projection and before approaching the sculpture, a large painting looms over the visitor. In the last room, where the sculpture is installed, the artist has built a staircase that draws visitors toward the outside, where an old passage once led to the banks of a canal that has now been covered.
The critic Gianni Romano describes the work in his essay for the catalogue: "For this space Pancrazzi has created a continuing play of visual reminders obtained with different disciplines – painting, video, sculpture, installation – but that would not suffice to make this project a manifesto of the contemporary. The artist manages, instead, to channel the ideal of traditional landscape, that of media landscape and an idea of feasibility of architecture into these works, reviving the attempt to harmonize the figuration of the contemporary world through the landscape".