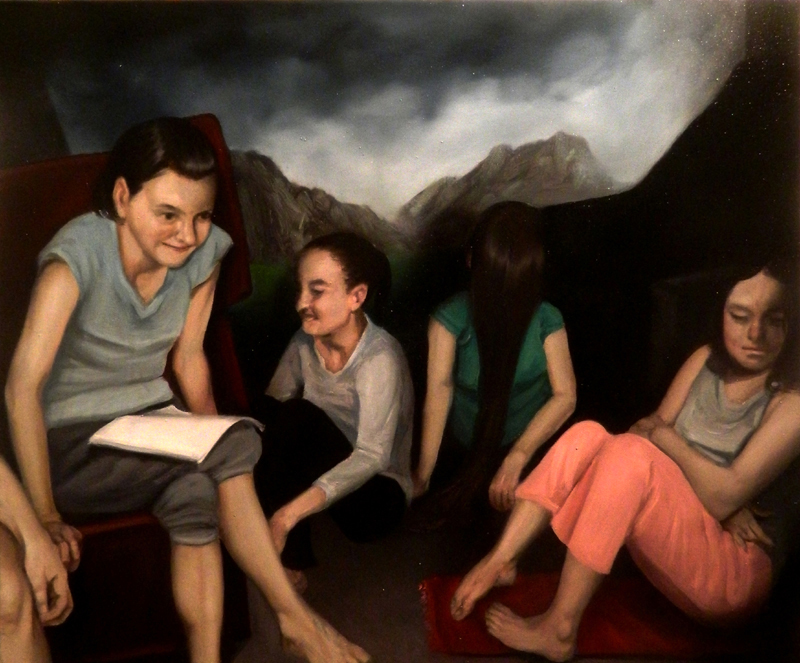 26.09 – 19.10.2013
GIULIANO SALE – Happiness is a Warm Gun
curated by Roberto Fantoni
By choosing this title – Happiness is a Warm Gun – for his intriguing new show in the intimate Little Circus space of Galleria Antonio Colombo, Giuliano Sale is probably trying to offer us a parallel key of interpretation, a way to get our bearings in his artistic imaginary.
John Lennon wrote songs with a characteristic visionary and metaphorical language that at times bordered on nonsense, permitting multiple and allusive interpretations. Sweetness and elegance wrapped often harsh and violent messages, descriptions of absurd yet terribly real situations, approached with irony and humor. In the song from the Beatles' White Album, different musical themes are cunningly intertwined with surreal images that alternate with personal references and erotic allusions.
In the exhibition works based on folklore swerve into disturbing, emblematic and unpredictable situations. Eroticism is investigated with a detachment that clashes with the force and beauty of the representation. The portrait is approached in all its ambiguity, freed of present-day aesthetic canons. In the nature scenes, just one small detail, one thing out of place or out of register can suffice to make everything take on an unexpected tension, where certainties and interpretations collapse. Faced with these works, one has a pleasant sensation of temporal disorientation, absorbing history without scholastic knowledge. Giuliano Sale reveals himself as a painter of doubts, the indefinite, the uncertain. We witness the loss of boundaries between genres, between beauty and ugliness, good and evil. In this voyage to the center of man the reference points, the cardinal points, are missing… we have strayed form the path. Giuliano Sale is a severe, rigorous painter, far from fashions, irreverent and caustic, an artist of nuances, explorer of indefinite borderlines, masterful interpreter of the Gray Zone that holds sway in our time. Never as in this case, in an era of easy serial reproduction, theatrical gigantism and mannered conceptualism, has the ancient yet always timely art of painting so clearly demonstrated its ability to stimulate unique, unrepeatable emotions, exclusively through natural sensitivity and talent. Getting back to the apparently "white" album, it is worth repeating: nothing is as it seems and, to paraphrase the Stones' "it's only rock'n'roll": it's only painting… very good painting.
Giuliano Sale was born in Cagliari in 1977. He lives and works in Milan.
Main solo shows: 2013 Cadono Pietre, Catania Art Gallery, Catania, cur. I. Quaroni; 2011 Biedernaier, L'umanità al crepuscolo, Antonio Colombo Arte Contemporanea, Milan; 2010 L'Oblio, Antonio Colombo Arte Contemporanea (Little Circus), Milan, cur. M. C. Valacchi; 2007 Lullaby, Galleria Capsula, Rome, cur. S. Elena and E. Olmetto; 2006 Embryo-Onis, Galleria Studio 20, Cagliari; 2005 Spinky & Co, Galleria My Mask, Cagliari, cur. R. Vanali.
Main group shows: 2013 The Dark Night, Pinacoteca Carlo Contini, Oristano; 2012 Something Else, Antonio Colombo Arte Contemporanea, Milan, cur. R. Fantoni; Premio Terna04 sezione gigawatt Rome; The shape of painting to come, Galleria Lem, Sassari; L'isola dei morti, Exma, Cagliari, cur. R. Vanali; Italian Newbrow.Cattive Compagnie, Fortino, Forte dei Marmi, cur. I. Quaroni, Altrove Luogo o poesia, Catania Art Gallery, Catania; Big Bang, Galleria Lem, Sassari; Biennale Italia-Cina, Villa Reale di Monza, Monza; Italian Newbrow, Como Pinacoteca Civica Palazzo Volpi; 2011 54th Venice Biennale, Sardinia Pavilion, 2010 Quattordicesima Biennale d'Arte Sacra – Le Beatitudini evangeliche, Museo Stauros d'Arte Sacra Contemporanea, Isola del Gran Sasso, cur. Luca Beatrice; The Berlin Wall, Promenade Gallery Contemporary Art, Vlore, Albania; Forward_Rewind, Colombo Arte Contemporanea, Milan; 2009 SerrONE – Biennale Giovani, Serrone della Villa Reale, Monza; 2008 Alone, TubeGallery, Milan, cur. Arsprima; Overture, Galleria San Salvatore, Modena, cur. I. Quaroni; Whaleless , Strychnin Gallery, London, cur. G. Cervi and R. Pira; Allarmi 2008 Caserma de Cristoforis, Como, cur. I. Quaroni, A. Zanchetta and A. Trabucco; Arrivi e Partenze, Mole Vanvitelliana, Ancona, cur. A. Fiz and W. Gasperoni.