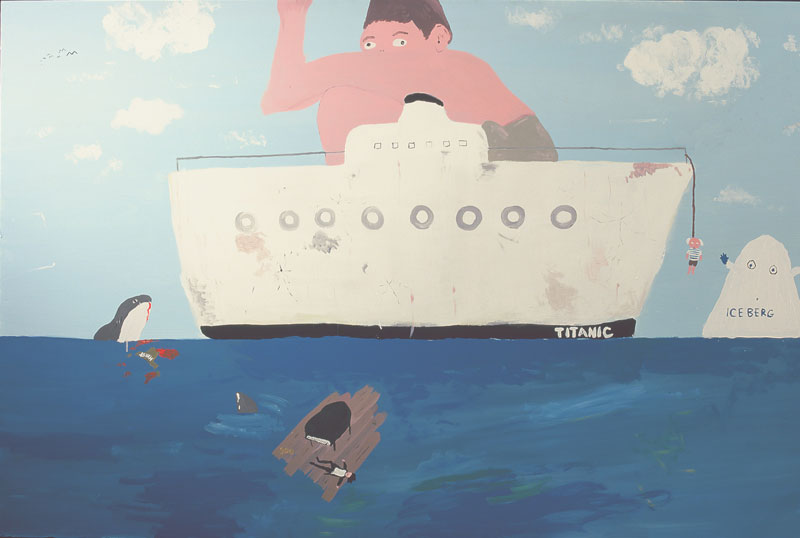 12.01 – 11.02.2006
LABORATORIO SACCARDI – La Biennale di Venezia
In art everything changes except for the need to provoke. So we have a new generation of provocateurs, who quite correctly believe they are the first. We jaded cynics know that's not the case, but we also know cynicism is worse than ignorance… and then we also know that a society, a culture (?) need to be provoked at regular intervals, like taking a dose of a medicine familiar for its results and benefits, one that keeps on working in spite of this familiarity.
Laboratorio Saccardi is the latest of these medicines – and this temporal status alone would suffice to also make it the best – and therefore it should be used: as long as the novelty lasts we're "covered", then we shall see… but if provocation is just the guise of language, as if to furnish a "false purpose" for the sense of what is provocatively being said, then this medicine runs the risk of finding a definitive place in the linguistic formulary of art. For the moment we are amused by the pies in the face of Warhol or Picasso, distributed with great largesse by the Laboratorio (or maybe they should be cannoli in the face, given the group's roots in Palermo…): there's still time to see if the pies are those of Chaplin or, on the other hand, of the forgotten Fats Domino, but at least these works allow us, from this point on, to ask the question.
Laboratorio Saccardi writes:
The project La Biennale di Venezia is a grouping of non-works, videos, paintings, performance. A set of statements like banners at the stadium, howling… amidst painterly atmospheres of bakeries on the outskirts of town, intimate emotions of apartment-house folk. Getting free of art.
Pataphysical, inferior knowledge, absence and essence, the personal experience of rec room painting, combined with the performance potential of a kindergarten.
Videos downloaded and unloaded from us to you. Installations, maybe photos, again up/unloaded by us to you.
An off-off Biennale, with annexed Biennale, Venice in Milan, Milan in Venice from Palermo.
Inspired and explanted by the figure of the maestro Albert Saccardi, who back in the early years of the 1900s unhesitatingly painted the Swiss flag, years ahead of that glorified jasper jones from pop-art.
Our Biennale di Venezia, practically a bridge of Messina connecting Sicily to the contemporary.
A mystical, almost religious experience of pure painting, like paving over the mediterranean to enlarge Europe, to finally join us to Africa.
A Greatest Hits of contemporary art entirely remixed by Laboratorio Saccardi, a biennale dj-set that lasts a month, in which we are the observer, you are the works, a SGT PEPPER'S SACCARDI CLUB BAND group show. A biennale without art, where art is finally set apart, non-local, this time rigorously, even classically, logo.
"I've always done what I wanted to do, I haven't done what the others thought I was doing."
(Albert Saccardi)
Laboratorio Saccardi: Marco Barone: born in Palermo in 1978 – Giuseppe Borgia: born in Palermo in 1978 – Vincenzo Profeta: born in Palermo in 1977 – Tothi Folisi: born in Sant'Agata Militello (ME) in 1979. All the artists live and work in Palermo.
Main solo shows: 2004 L'occasione fa l'uomo ladro, Nifca Institute, Helsinki, B.O.T.O.L.A., Facoltà d'ingegneria idraulica, Palermo, Obnubilante, Area contemporanea, Palermo; 2003 Tributo a Pier Antonio Caffi, Assocazione Culturale Litania, Palermo; Laboratorio Saccardi remix, Galleria Pantaleone Arte Contemporanea, Palermo; Gaetano Cavallaio, Chiosco dei Decollati, Palermo; 2002 Bubu, Associazione Culturale Ferro e Fuoco, Palermo; Frozen, Monreale.
Main group shows: 2005 Altri fantasmi, Ermanno Tedeschi Gallery, Galleria In Arco, Gagliardi Art System Gallery, Turin, curators Laura Carcano and Norma Mangione; Il Genio di Palermo, VI ed., Palermo, curator Eva di Stefano; Senza Dubbio, l'arte torna a scuola, for the 30th Biennale d'Arte of Trissino, scuola media A. Fogazzaro, Trissino (VI), curator Marco Cingolani; Premio Cairo 2005, Palazzo della Permanente, Milan, final selection; Beauty Not so Difficult, Fondazione delle Stelline, Milan, curator Marco Cingolani – Istituto Italiano di Cultura, Berlin; ANIMArTION a play list of video art animation, Galleria Sogospatty, Rome, curator Raffaele Gavarro; SerrOne, Biennalegiovani, Serrone della Villa Reale, Monza, curators Luca Beatrice, Martina Corgnati, Gianluca Marziani, Marco Meneguzzo and Marisa Vescovo; PragueBiennale2 Expanded Painting / Acción Directa, Karlin Hall, curators G. Politi and H. Kontova; II° Edizione Premio Gallo, Pastificio Antonio Mario Gallo, Valle D'Olmo, Palermo; 2004 Senza Freni! Galleria Antonio Colombo, Milan; XXXVII premio Vasto d'arte contemporanea, Vasto; Premio Gallo, Pastificio Antonio Mario Gallo, Valle d'Olmo, Palermo; Il genio di Palermo, Palermo; Passport, Cantieri culturali della Zisa, Palermo; 2003 Document, Cantieri culturali della Zisa, Palermo; 2002 Oggetti d'uso comune come la forchetta, Ristorante l'Ottangolo, Palermo