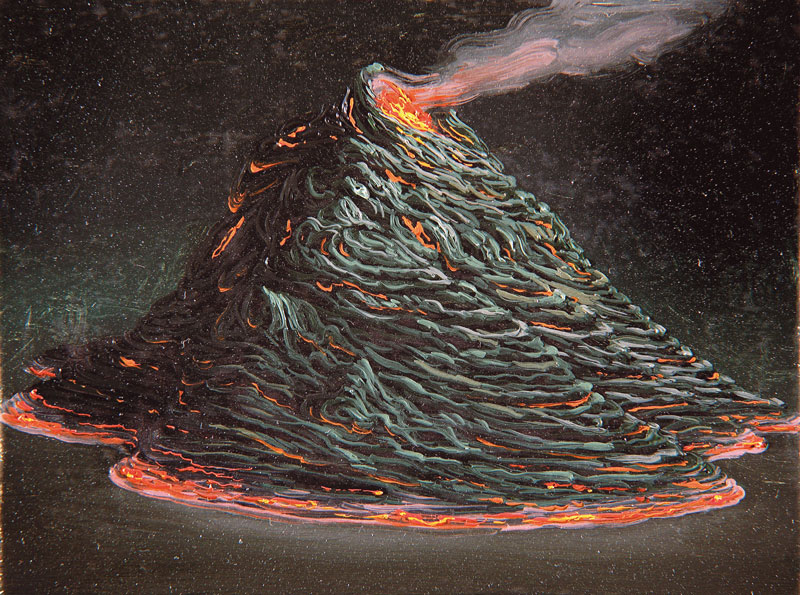 26.11 – 30.01.2009
FULVIO DI PIAZZA – Dio Frana
Antonio Colombo presents, in November, Dio Frana, the first solo show by Fulvio Di Piazza in Milan.
From Siracusa, Sicily, born in 1969, Di Piazza is one of the most original artists on the present Italian figurative scene.
Always fascinated by nature, not a wicked step-mother but not too reassuring either, in recent years he has made close study of natural forms, taking them to their extreme consequences, through an increasingly anthropomorphic representation of nature. His talent for fantastic, baroque painting, with painstaking attention to detail and almost Flemish workmanship, has its roots in venerable ground, from Arcimboldo to Bosch, but also with the influence of the pop culture of comix, and a tip of the hat to the Surrealists. Painting that is always able to trigger astonishment and wonder, with a myriad of characters, forms and chromatic effects that fill every space on the canvas, a proliferation of images that responds to current models of communication, to the everyday life of the civilization of images.
The artist himself underscores the new directions taken in the works made for this exhibition, about fifteen in all.
"The nature depicted in this new cycle of works is dramatic, and the research on the microcosm of the underbrush found in my early representations, which served to attenuate a vision of nature that was already hostile, is gone now." He continues: "I have removed a bit of the humorous filtering of the representation, and moved from a vision of details to one of the overall landscape. It is a perishable, decadent landscape, as if nature were at the end of its trajectory, but it might also be seen as a nature that having reached the point of collapse evolves and reinvents itself."
In rapid painting, often done with a spatula, Di Piazza proposes laden images and foggy landscapes dominated by the dark tones of lava and exposed earth. Where at first the gaze sees a precise pictorial representation of a forest, a closer look reveals zoomorphic plant forms, trees with eyes, poisonous animals.
The great rocks that often "fill" the paintings come alive, animated by the flow of the elements. Water, magma, earth and stone overlap and give rise to a game of references and resemblances that, as a whole, determines their anthropomorphic nature, always one of the foundations of the work of this artist. The skies, which were once clear and colorful, have become foggy and flat, lit only by pale sunlight filtered by clouds, adding drama to the depiction.
As Di Piazza puts it: "If I had to find an adjective to describe these works, I would say they are romantic."
Fulvio Di Piazza was born on 8 September 1969 in Siracusa. He lives and works in Palermo.
Selected solo shows: 2008 Succuland, Bonelli Contemporary, Los Angeles; 2006 Clorofilla, Bonelli Arte Contemporanea, Mantua; 2004 Fuso nella tempesta, Galleria Civica d'Arte Contemporanea di San Marino, San Marino; 2003 Popolare, Sergio Tossi Arte Contemporanea, Florence; 2002 Galleria Es, Turin; 1998 Caccia all'alba, Sergio Tossi Arte Contemporanea, Prato.
Selected group shows: 2009 Plenitudini, Loggia dei Balestrieri, San Marino, cur. A. Zanchetta; Contemplazioni. Bellezza, Verità e Tradizione del nuovo nella pittura italiana contemporanea, Castel Sismondo and Palazzo del Podestà, Rimini, cur. A. Agazzani; Ditalia. Contemporanei 2009, Civica Pinacoteca di Follonica Amedeo Modigliani, Follonica (GR), cur. M.C. Valacchi; Italian Calling, Bonelli LAB, Canneto Sull'Oglio (MN); 2008 XV Quadriennale di Roma, Palazzo delle Esposizioni, Rome; Bateau Ivre, Azienda Agricola Icario, Montepulciano (SI), cur. M. Meneguzzo; 2007 Junge Italienische Kunst, Galerie Binz & Kramer, Cologne; Scuola di pittura, Galleria Civica di Trento, cur. O. Berlanda and G.M. Montesano; 2006 Painting Codes, Galleria Comunale d'Arte Contemporanea, Monfalcone (GO), cur. A. Bruciati and A. Galasso; Global Theatre, Fabbrica del Vapore, Milan, cur. M. Mojana and G. Montrasio; 2005 Il paesaggio italiano contemporaneo, Palazzo Ducale, Gubbio (PG); Miracolo a Milano, Palazzo della Ragione, Milan; 2004 L'occhio L'orecchio Il cuore, Palazzo Ducale, Lucca; 100% Acid Free Show, White Columns, New York; 2003 Kids Are Us, Galleria Civica d'Arte Contemporanea, Trent, cur. M. Sciaccaluga; Italian Factory, Parlamento Europeo, Strasbourg (France), cur. A. Riva; Italian Factory, Istituto Santa Maria della Pietà, 50a Esposizione Internazionale d'Arte di Venezia, Venice, cur. A. Riva; L'isolachenonc'è, Musei Civici, Reggio Emilia; 2002 Sconfinamenti, Castello di Spezzano, Spezzano (MO), cur. M. Sciaccaluga; 2001 Trailers, Studio d'Arte Cannaviello, Milan; Palermo Blues, Cantieri Culturali alla Zisa, Palermo; Palermo Blues, Cartiere Vannucci, Milan; Tutto l'odio del mondo, Palazzo dell'Arengario, Milan, cur. A. Riva; 2000 Trapassato Futuro, Cartiere Vannucci, Milan; Sui generis, PAC, Milan; Premio Cairo, La Posteria, Milan; Il Genio di Palermo, Studi Aperti degli Artisti, Palermo; 1999 Mir. Arte nello spazio, Galleria Civica, Bolzano; Cose inverosimili, Viafarini, Milan; 1998 Scusi tanto disse un riccio scendendo da una spazzola, Pio Monti, Rome, cur. L. Beatrice; 1997 Comic Art, Galleria Studio 10, Chur (CH); 1996 Project Room, Sergio Tossi Arte Contemporanea, Prato.