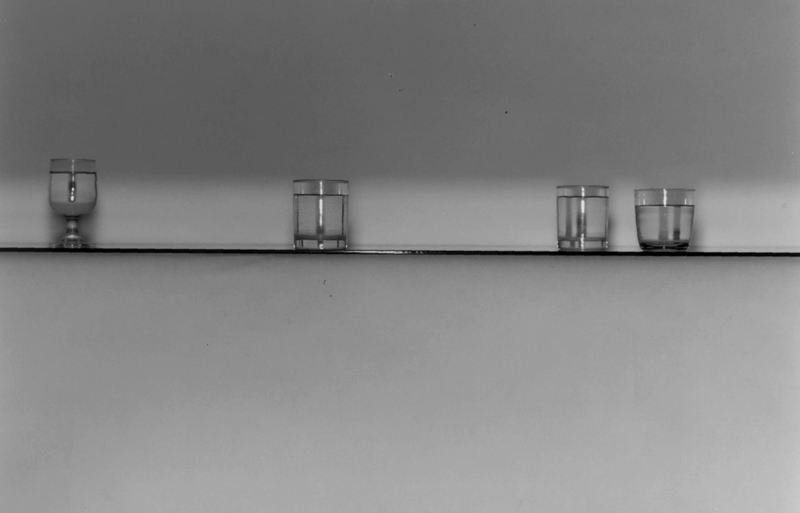 18.11 – 22.01.2000
Carlo Benvenuto – La Mostra di Carlo
curated by Achille Bonito Oliva
For this exhibition held in the gallery of Antonio Colombo, Carlo Benvenuto has conceived a project in which large-sized photographs and sculptures converse in space.
The living accommodation and the objects contained in it are the everyday and private symbols that Carlo Benvenuto exhibits in his work. The objects which are photographed are withdrawn from reality to result in a state of suspense.
Plates and crockery, arranged in a cupboard, are fixed and described as in the Flemish paintings; very transparent water glasses, placed on a white tablecloth, are concrete and light and induce you to stop for a while, to remain in silence, waiting for something to happen.
Achille Bonito Oliva writes the following in the catalogue: "Benvenuto stoically accepts the philosophic essence of the photograph. He removes every pulsation from the physiological sensibility of his eyes in order to bring it in the position of the square; the geometry of a look which does not intend to affirm the work of art in the present, but rather the silent spaciousness of an image of everyday objects assembled in its absence, so to speak" and also "A good diachronia encourages the relation between the artist and the world that surrounds him, the parallel separation of a double solitude: Carlo and the things that surround him, Carlo and the peaceful silence of the routine business".
Benvenuto writes: "My work consists in becoming aware of the transformation that our feelings have on the world and to bring the reality of the things to light, not out of necessity to reconquer, but to let the two aspects coexist simultaneously. To reflect on the cycle of the events, the transitoriness, the loss of things: the idea is to appear on the edge of the abyss and to discover that I also find this abyss in my house".
The catalogue will be available in the gallery. It includes a text by Achille Bonito Oliva on the exhibited works and a poem by Nanni Balestrini especially written for Benvenuto.
Carlo Benvenuto (Stresa, 1966) has held a one-man show at the Gallery of Emilio Mazzoli, of Modena, this year. He has participated in numerous exhibitions in Italy and abroad, among which the Biennial Exhibition of Photography of Turin, the Triennial Exhibition of Modern Art of New Delhi, the Festival of the Two Worlds of Spoleto, and, in private galleries, in the L'Attico (The Attic) gallery in Rome and the Art & Public gallery in Geneva.
Carlo Benvenuto has been chosen as the only young artist to back up Marcel Duchamp in the television programme: A.B.O. collana d'arte (art collection), which will be broadcast on Rai Uno in the winter of 1999/2000.