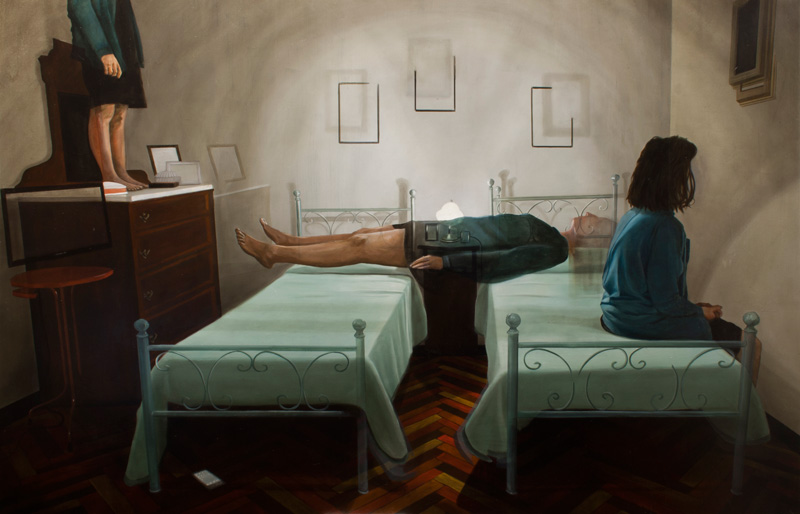 16.02 – 31.03.2017
DARIO MAGLIONICO
EVERYTHING AT ONCE
curated by Ivan Quaroni
Antonio Colombo Arte Contemporanea is proud to present in Little Circus, the gallery space dedicated to special projects, Everything At Once, the first solo show in Milan of the artist Dario Maglionico, who on this occasion will exhibit several new works.
Dario Maglionico operates a destabilization of the figurative language through the synchronic representation of elements that fragment the continuity of the visual narration. The simultaneous superimposition of people, places and objects within the home assumes, in fact, the quality of a partial and dynamic recording of different moments, which are fixed on the canvas, as residues of a diachronic narrative.
The title Everything At Once testifies this attention towards the subject of synchronicity, which Maglionico retrieves through the reading of Jung, the Swiss psychoanalyst who first addresses this concept, then examined in depth in the formulation of the acausal connecting principle, considering it "a coincidence, not infrequent, between subjective states and objective facts."
Dominated by a feeling of estrangement and suspension, Maglionico's painting represents in figurative terms – that is, without ever resorting to the expedient of abstract synthesis – a liminal dimension where the inner reality of the emotional states intersects the exterior of the concrete forms, a kind of middle ground that suggests the physical theories about parallel worlds and David Deutsch's multiverse.
DARIO MAGLIONICO was born in Naples in 1986. After graduating in Biomedical Engineering at the Polytechnic University of Milan, from 2014 he lives and works in Milan, devoting himself exclusively to painting. He was recently a finalist of the Bugatti-Segantini Prize in the under-35 category, and of the Arte Laguna Prize in Venice. In 2016 he held a solo show titled Sincronie, in collaboration with the Department of Culture of the city of Legnano at the Pinacoteca del Castello, curated by Claudia Contu. In 2015 he inaugurates the solo show Claustrophilia at Galleria RivaArtecontemporanea in Lecce and the group exhibition Painting As A Mindfield at the gallery Area/B in Milan, curated by Ivan Quaroni. He also took part in numerous group exhibitions in various cities including Milan, Varese, Venice and Verona. In 2015 he was a finalist of the Como Contemporary Contest. In 2016 Einaudi includes a detail of "Reification #9" on the cover of "Scherzetto" by Domenico Starnone, whom he collaborates with for the realization of some illustrations for the book. In 2017 he is selected among emerging artists by the editors of Hi-Fructose and published in January's n°42 volume.