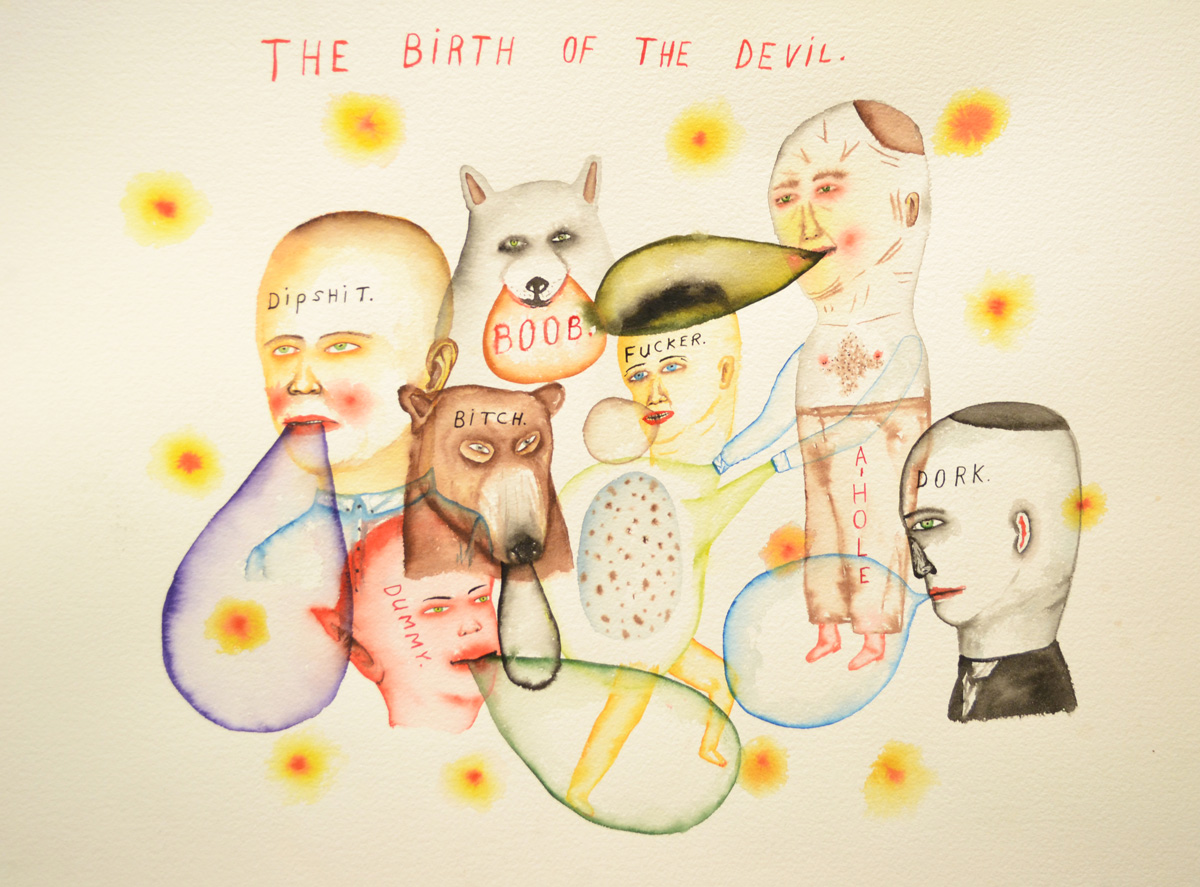 FRED STONEHOUSE  nasce a Milwaukee nel 1960. Vive e lavora a Milwaukee, in Wisconsin.
Diplomato in pittura all'UW-Milwaukee, attualmente Fred insegna disegno e pittura all'UW-Madison (Wisconsin).
Uno dei maggiori rappresentanti dell'arte del Wisconsin, Fred Stonehouse è riconosciuto per i suoi lavori raffinati contenenti un acuto senso di ribellione. Il suo stile presenta una sofisticatezza che riflette i suoi diversi interessi inter-culturali, insieme all'influenza folk e da outsider. Spesso presentando scenari religiosi e surreali, i suoi quadri risultano la materializzazione della sua nostalgia per le figure famigliari dei cartoon del passato, accostate al suo delicato bilanciamento umoristico, estetico e sconvolgente. L'artista orignario di Milwaukee ha preso parte ad oltre quindici mostre per la nazione tra cui un a retrospettiva al Madison Museum of Contemporary Art ed è stato citato in riviste come Blab e Juxtapose.
I suoi lavori fanno parte di numerose collezioni private, come quella di Madonna, e pubbliche: Mary And Leigh Block Museum Of Art, Evanston (Illinois); Milwaukee Art Museum, Milwaukee; San Jose Art Museum, San Jose (California), per citarne solo alcune.
Tra le principali mostre personali: nel 2013, The Deacon's Seat, St. Ambrose College, Davenport (Iowa); nel 2012, Blood Relatives, Taylor Bercier Fine Art, New Orleans; nel 2011, Marsh Night, Koplin Del Rio Gallery, Los Angeles; nel 2010, Marshland, Howard Scott Gallery, New York; nel 2007, Selections From The Natural History Portfolio Of Marshall Deerfiled, Tory Folliard Gallery, Milwaukee.
Tra le principali mostre collettive: nel 2014, Don't Wake Daddy IX, Feinkunst Kruger, Amburgo; nel 2013, Vice And Virtue, Northern Illinois University Art Museum, DeKalb (Illinois); nel 2007, BLAB!, Copro Nason Gallery, Santa Monica (California).