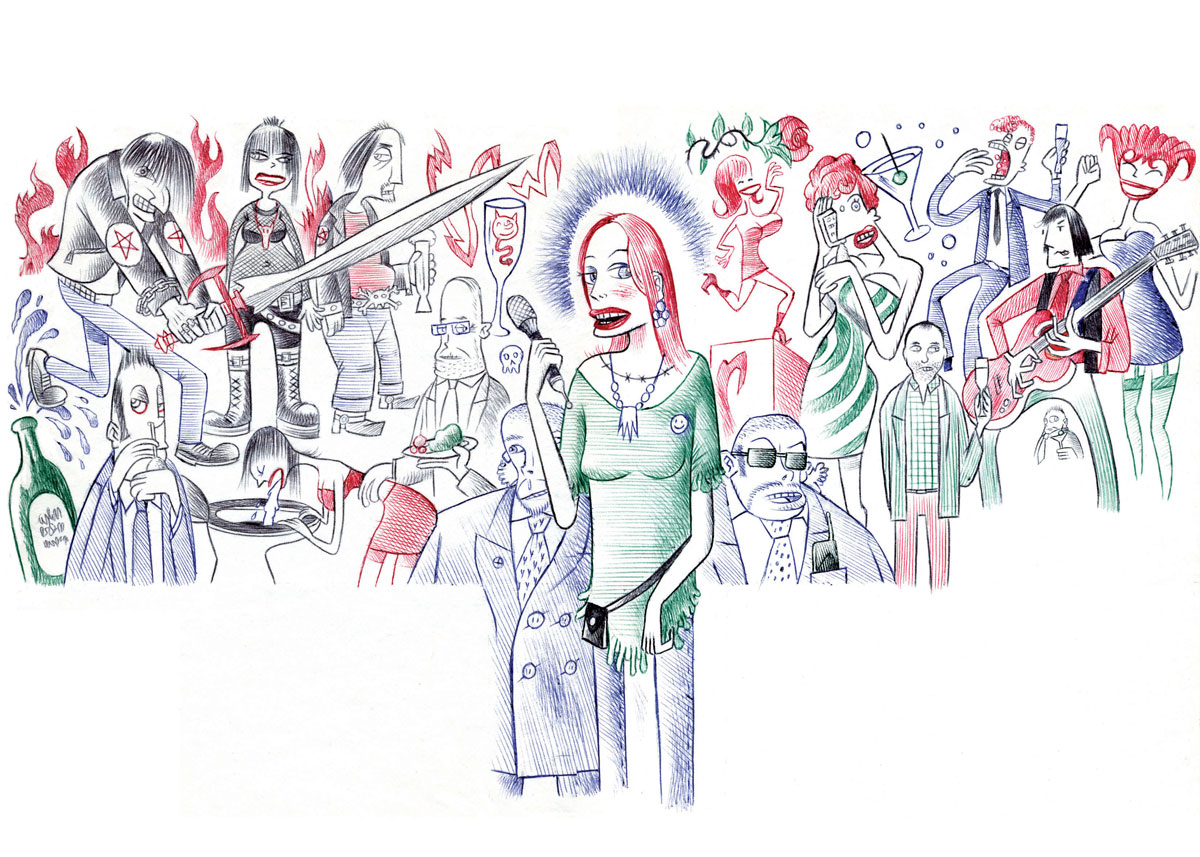 MASSIMO GIACON
Massimo Giacon was born in Padova in 1961.
He began to draw comics in 1980, and still does so today, collaborating with the following magazines and publishers: Frigidaire, Tempi Supplementari, Frizzer (pub. Primo Carnera), Linus, Alter (pub. Milano Libri), Dolce Vita, Tic, Nova Express (pub. Granata Press), Cyborg (pub. Telemaco), Blue (Mare Nero) and the publishers Coconino Press, Black Velvet, Mondadori, Rizzoli Lizard RCS.
He has also worked as an illustrator for La Gola, Alfabeta, Elle, Per Lui, Glamour, Rockerilla, Rumore, XL Magazine, Rolling Stone.
Giacon has published two collections of short illustrated stories, containing works done in collaboration with Mimì Colucci (texts): Mecanostorie (Primo Carnera, 1985) and Rattletown (Granata Press 1995).
For the magazine XL he has created the character Bogie.
In 2009 Black Velvet Editore released the graphic novel Boy Rocket, written by Mimì Colucci.
In 2011 came the publication of La Quarta Necessità, a graphic novel based on a text by Daniele Luttazzi, Rizzoli Lizard/RCS Editore.
In 2013 Giacon began work on the graphic novel "il mondo di Alfio", featuring texts by Tiziano Scarpa for Rizzoli Lizard/RCS Editore.
In the field of design, he began working in 1985 for Studio Sottsass Associati in Milan, and has also designed objects for innovative and historic design companies like Memphis and Olivetti, and later for Swatch, Artemide and Alessi. He has also designed tapestries, laminates, websites, packaging, cookware, flatware, ceramics.
Over the last 5 years he has worked with the company Superego, creating a series of limited-edition ceramic sculptures (The Pop Will Eat Himself), and he is one of the protagonists of the production of Alessi's line of gadgets for the holiday season (Alessi Xtraordinary Xmas).
In the field of art, together with Vittore Baroni and Piermario Ciani he has founded "TRAX", a multimedia experiment open to unlimited external collaborations, active since 1988. His works have been shown in many galleries in Italy and abroad.
In 1980, together with Enrico Friso and Alberto Mineo, he founded the band of "deranged" electronic music "Spirocheta Pergoli"; later, in 1984, with Alberto Mineo and Mimì Colucci, he formed a new, bizarre art-rock band, "I Nipoti Del Faraone". In 1996 his first solo album was released, "Horror Vacui". In December 2002 he published his second solo record, "Nella città Ideale". From 2003 to 2013 he has performed in concerts and as a DJ, on his own and with a new band, under the name Massimo Giacon & The Blass.
In 1984 he made a number of short animated films and illustrations for the television program "Mister Fantasy", and later for the RAI programs Obladì Obladà and Moda. With Giacomo Verde and Stefano Roveda he created "Bit", a virtual character of "La Città della Scienza" (Naples).
From 2009 to 2012, together with Studio Alienatio, he made many animated videos, including advertisements for Xtraordinary Xmas, the collection of holiday objects of Alessi.
Main selected group and solo shows:
1982
participation at the Nuremberg Drawing Triennial curated by Luciano Francalanci.
1984
participation in the first group show "Swatch Street Art Painting" in Basel.
1990
February, first solo show of paintings for the Spazio Romeo Gigli – Corso Como 10 in Milan.
1993
February, solo show at Galleria Inter Nos in Milan. Project entitled "Via Crucis", catalogue published by RR edizioni of Spoleto, introduction by Ettore Sottsass.
1994
May, solo show at Jay Chiat, New York, con preface by Alessandro Mendini.
1995
February, solo show "Esilio domestico", Spazio Juliet, Trieste, curator Roberto Vidali.
1996
July, the city of Reggio Emilia holds a major retrospective of his work (Horror Vacui, catalogue Kum Fut, with music CD) at the spaces of the Ex Stalloni, preface of catalogue by E. L. Francalanci.
November, in collaboration with Marco Zanini he presents, at Galleria Inter Nos in Milan, "Ceramicomix", a collection of 28 limited-edition decorated vases. In 1997 the show is held in many galleries, including the Swatch Gallery in New York, La Luz de Jesus Gallery in Los Angeles, the TDK Space in Tokyo and the Spazio Sbaiz of Lignano (Venice).
1997
September, solo show ("I 50 comic books più importanti del pensiero occidentale, i primi 10: religione"), at Galleria Cattelani in Modena.
2000
February, opening of the exhibition-happening "Sexorcismo 2000", at the LipanjePuntin gallery in Trieste. A book of the same title is released by Mare Nero edizioni.
November, participation in the group show "Sui Generis", curated by Alessandro Riva at PAC (Padiglione di Arte Contemporanea) in Milan.
2001
November, the exhibition "Philosophers in the Pop Planet" opens in Trieste, at the Lipanjepuntin gallery.
2003
June, solo show "Love Me Tender" at the Mondo Bizzarro gallery in Bologna.
2004
March, participation with two installations ("Amami" and "Mondo Macho") at the Flash Art Fair in Milan.
May, the installation "Personal Jesus" at MIART, Milan.
2005
November, participation in the exhibition "A Band A Part", curated by Gianluca Marziani.
2006
September, participation in the group show "Imperfect Realities" curated by Olivia Spatola at the ArtSinergy gallery in Bologna.
November, two simultaneous major solo shows in Rome: "The Pop Will Eat Itself" at the Mondo Bizzarro gallery and "S. P. Q. R." at the Lipanjepuntin gallery.
2007
February, his installation of drawings from 2004 ("Amami") becomes a book, done together with the writer Tiziano Scarpa, published by Mondadori editore. The same installation is reprised at Fondazione Bevilacqua la Masa, in Venice.
April, participation in the group show "Essi Vivono", curated by Gianluca Marziani at the Guidi&Shoen gallery.
2008:
December, "Il Piccolo Circo Diabolico", solo show for Galleria Tingo, Milan.
2009:
May, Showcase, group show curated by Gianluca Marziani, Spazio Margo, Rome.
2010
May, participation in the group show "Back from Black" curated by David Vecchiato, MADRE Museum, Naples.
2011
February, participation in the group show "XX Century Mirabilia" at Avant Garden Gallery, Milan.
March, participation in the group show "Down the Rabbit Hole", together with Antonio Riello and Arnold Mario Dall'O, at the LipanjePuntin gallery, Trieste.
June, participation at the Venice Biennale, Italian Pavilion – Lombardy, curated by Vittorio Sgarbi.
November, participation in the group show for the 25th anniversary of the Luz de Jesus Gallery in Los Angeles, California
2012
May, solo show "at work, at home, at play" at Antonio Colombo Arte Contemporanea in Milan.
October, participation in the first Biennale Italia-Cina, at Villa Reale in Monza, curated by Ivan Quaroni.
2013
February, La Triennale di Milano holds a solo show on his ceramics designed for Superego Edition, with preface by Luciano Francalanci.