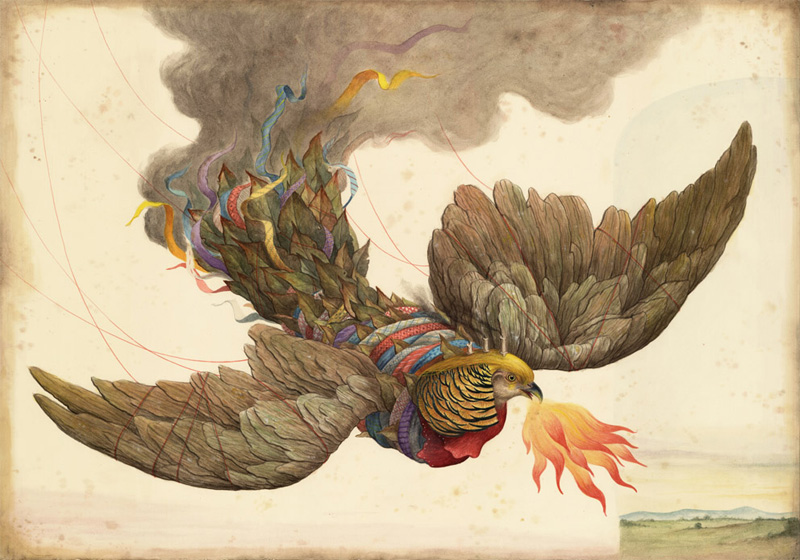 EL GATO CHIMNEY
El Gato Chimney è nato nel 1981 a Milano, dove vive e lavora.
Autodidatta, con un background da street artist abbandonato in favore di un'esplorazione più introspettiva in studio, si dedica alla ricerca di una grande varietà di soggetti: l'arte primitiva e sacra, l'esoterismo e lo spiritismo, il folklore, il realismo magico in letteratura.
Ha esposto in gallerie e musei internazionali, come Antonio Colombo Arte Contemporanea, Milano; Stephen Romano Gallery, New York; Thinkspace Gallery, Los Angeles; Musei Capitolini –  Centrale Montemartini, Roma; Museo D'Arte Contemporanea MADRE, Napoli; Museo Della Permanente, Milano; Summerhall, Edimburgo; Triennale Di Milano, Milano; e ha partecipato a fiere d'arte internazionali, fra cui Aqua Art, Miami; Arte Fiera, Bologna; The Metro Show, New York; Scope, New York.
Tra le pubblicazioni, si ricordano Arte Contemporanea Volume 7 "Ambienti" (Electa per Repubblica – L'Espresso, 2008, Italia); The Encyclopedia Of Fernal Affairs (2015, Francia); Hunt And Gather (Mark Batty Publisher, 2010, Stati Uniti); Los Colores Del Underground (Astiberri, 2009, Spagna).
Solo Exhibitions
2015
PRETERNATURAL HISTORY – Antonio Colombo Arte Contemporanea, Milano , Cur. Michela D'Acquisto
DE RERUM NATURA – Stephen Romano Gallery, Brooklyn, NY, USA
2014
METAPSYCHIC PATHS – Combustion Espontanea Art Gallery, Madrid, Spain
2013
CROSSROADS – Antonio Colombo Arte Contemporanea, Milano, Cur. Michela D'Acquisto
2011
DOUBLE FANTASY – Studio D'Arte Fioretti, Bergamo, Cur. Ivan Quaroni
2010
STEAM BOX – Two Windows Project, Berlin, Germany, Cur. Gregory Teodory
STEAM FUNFAIR – Avantgarden Gallery, Milano, Cur. Fiammetta De Michele
Selected Group Exhibitions
2015
LEXICON INFERNALI – Stephen Romano Gallery, Brooklyn, NY, USA
OPUS HYPNAGOGIA: Sacred Space of the Visionary and Vernacular – Morbid Anatomy Museum, Brooklyn, NY, USA, Cur. Stephen Romano
MAPPA DELL'ARTE NUOVA, Collezione Benetton – Fondazione Cini, Venezia, Cur. Luca Beatrice
NOT MAN THE LESS, BUT NATURE MORE – Summerhall, Edinburgh, UK, Cur. M. D'Acquisto and H. Yeoman
LA FAMOSA INVASIONE DEGLI ARTISTI A MILANO – Antonio Colombo Arte Contemporanea, Milano, Cur. L. Beatrice and I. Quaroni
PRAESTIGIUM ITALIA – IMAGO MUNDI, Collezione Benetton – Fondazione Sandretto Re Rebaudengo, Torino, Cur. Luca Beatrice
2014
ABUNDANTIA CORNU COPIAE – Stephen Romano Gallery, Brooklyn, NY, USA
IN MISSA INTERFECTIONIS – Stephen Romano Gallery, Brooklyn, NY, USA
MYSTERIUM COSMOGRAPHICUM – Stephen Romano Gallery, Brooklyn, NY, USA
MAL D'AFRICA – Ego Gallery, Lugano, Switzerland
2013
IMMAGINI D'IO – Triennale di Milano, Milano, Cur. A. Guerriero and A. Mendini
THE ECONOMICS OF ART – Vertical Gallery, Chicago, USA, Cur. B. Schuman-Stoler and P. Hull
ALIENS – Palazzo Vernazza, Lecce, Cur. E-lite Studiogallery and Frattura Scomposta
THE SPRING SHOW – Stattbad, Berlin, Germany, Cur. Giacomo Spazio
SURREALITY SHOW – Officina delle Zattere, Venezia, Cur. Sofia F. Micciche' and Julie Kogler
2012
COEXIST – E-lite Studiogallery, Lecce, Cur. Ivan Quaroni
SUBTERRANEAN MODERN – The Don Gallery, Milano, Cur. Giacomo Spazio
PAST FORWARD – Museo Civico, Bassano Del Grappa (VI), Cur. Giovanni Cervi
POP SURREALISM-STAY FOOLISH! – Museo Casa Del Conte Verde in Rivoli, Torino, Cur. A.Icardi, A.Mazzanti
CASOLI PINTA – Biennale Nazionale di Pittura Murale – Palazzo Ducale, Atri (TE), Cur. M.C.Ricciardi
2011
INTO THE FUTURE – Musei Capitolini – Centrale Montemartini, Roma, Cur. Andrea Oppenheimer
SANRIO FOR SMILES – Fundacio Joan Miro, Barcelona, Spain, Cur. Christian Gancitano
ITALIAN POP SURREALISM – Mondo Bizzarro Gallery, Roma, Cur. Andrea Oppenheimer
VULPES PILUM MUTARE – Museo Civico, Bassano Del Grappa (VI), Cur. C. Lio
BRAND NEW ART – Mambo – Villa Delle Rose, Bologna, Cur. L.Beatrice
BRAND NEW ART – Museo del Palazzo della Penna, Perugia, Cur. L.Beatrice
TWENTY CENTURY MIRABILIA – Avantgarden Gallery, Milano
2010
BRAND NEW ART – Museo Della Permanente, Milano
LA FORMA DELLE RETI – Museo Nazionale della Scienza e della Tecnica Leonardo da Vinci, Milano
HUNT & GATHER – Thinkspace Gallery, Los Angeles, USA, Cur. Tina Ziegler
AMBIGUOUS PAINTING – Galleria Spazioinmostra, Milano, Cur. Ivan Quaroni